Agricultural equipment giant Deere (NYSE:DE) posted fantastic third quarter results. Revenue jumped 4% year-over-year to $10 billion, topping consensus expectations by a comfortable margin. Consequently, earnings per share surged 29% year-over-year to $2.56, crushing consensus estimates. Because of its financing business Deere's cash flows aren't that easy to follow, but management noted that operating cash flow from equipment operations should total $3.8 billion during fiscal year 2013-a solid figure, in our view.
Deere's third quarter results really demonstrate the tremendous operating leverage inherent in the firm's business model. Sales in the Agricultural & Turf segment grew 8% year-over-year to $7.8 billion, but operating profit surged 32% year-over-year to $1.3 billion. Incremental margins for the segment were a robust 56%, showing tremendous acceleration from the second quarter where incremental margins were just 19%. Deere is obtaining superior prices and improving shipment volumes.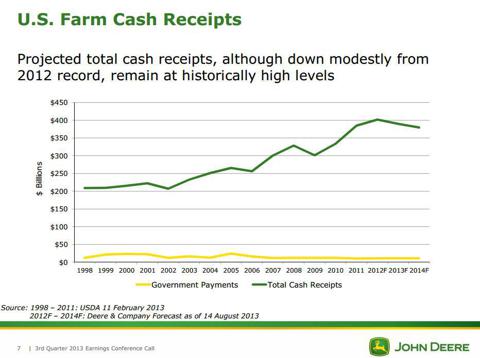 Click to enlarge
Image Source: DE 3Q FY2013 Slides
Cash receipts for farmers remain incredibly strong, though it appears we are seeing income decline modestly from the record-setting prior-year period (shown above). Though the Street seems incredibly concerned about the combination of moderating farm income growth and lower crop prices, we believe the negativity is a tad overblown. With the Belarusian Potash Cartel no longer intact, we could see some downward momentum in crop nutrient prices. There may be some lag time as the Canpotex cartel continues to control North American production, but we think the end game is lower potash prices, freeing up spending for equipment investments. The net equipment sales forecast for the fourth quarter is -5%, but management did note that the comparison period is strong.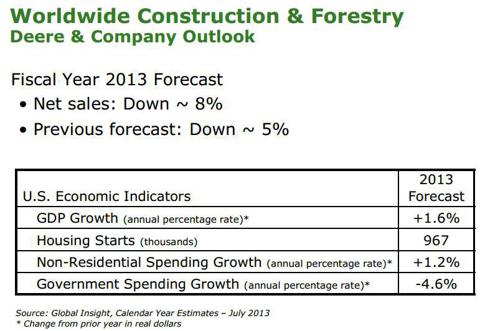 Click to enlarge
Image Source: DE 3Q FY2013 Slides
Construction & Forestry segment performance wasn't that great, with sales declining 11% year-over-year to $1.5 billion, and operating profit falling 5% year-over-year to $105 million. Obviously, this segment is largely overshadowed by the agricultural segment, which is also far more important to the firm's overall performance. Still, we were a bit disappointed to see management lower its sales forecast to down 8% (was down 5%).
Management's commentary suggested pricing wasn't too negative, with CFO Marie Ziegler acknowledging on the conference call:
"In terms of the construction market, since the market has, candidly, been softer than I think all expected. I'm not surprised to hear that there's some conversation about dynamics in the market. But we certainly don't have any comments related to pricing and our construction equipment division is a solid contributor to the 3 points of price realization that we announced for the year, and certainly for the quarter."
This doesn't seem to corroborate what competitor Caterpillar (NYSE:CAT) said about a competitive market earlier this earnings season. However, Cat's weakness may be due more to the weak mining capital investment environment than the broader construction market.
Looking ahead, management expects full-year sales to be 5% higher than the prior year thanks to 3 points of price improvement offset by 1 point of currency headwinds. Management also anticipates net income of $3.45 billion, up from its previous forecast of $3.3 billion.
Valuentum's Take
With US farm receipts down off a peak, some market participants seem to think Deere's fortunes have also peaked. Though Deere's business is highly cyclical, we think current industry dynamics favor continued strong income for farmers. In fact, Deere's provision for loan losses currently sits at an all-time low of 0.03%! Still, we demand a wide margin of safety before we'd consider the company for the portfolio of our Best Ideas Newsletter.
Disclosure: I have no positions in any stocks mentioned, and no plans to initiate any positions within the next 72 hours. I wrote this article myself, and it expresses my own opinions. I am not receiving compensation for it (other than from Seeking Alpha). I have no business relationship with any company whose stock is mentioned in this article.