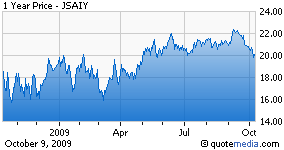 Sainsbury (OTCQX:JSAIY), one of the big four UK supermarkets, continues to fight ably for the top end of the retail marketplace. In the 16 weeks to 3rd October total sales rose 3.2% (6.8% excluding fuel). Like for like sales rose 1.3% (4.6% excluding fuel).
The difference between total and like for like sales is partly attributable to the company's policy of building a convenience store network which saw an additional 12 stores open in the quarter more or less in line with the full year target of 50 new convenience stores. Of more significance is the full-size store expansion plan which resulted in 19 more supermarkets including 14 Somerfield and Co-operative stores acquired early in 2009.
The expansion of Sainsbury's non food range continues and is helping to compensate for relative weakness in grocery shopping revenues as more consumers embrace perceived lower cost outlets such as Morrisons. That trend was proven again in the most recent quarter with non-food sales accelerating at nearly three times the rate of food sales.
Of course cost isn't everything and Sainsbury is sure to make a song and dance of its recent Supermarket of the Year Award, for 2009.
Despite the recession further expansion is planned and Sainsbury has re-affirmed its recruitment plans, initially announced some months ago, to increase staff numbers by 10,000 in the two years to March 2011. 1,500 of the target number were recruited in the most recent quarter.
An additional short-term boost will also see 20,000 seasonal vacancies filled in the run-up to Christmas.
The shares remain a solid if uninspiring choice for buy and hold investors especially at this stage of the economic cycle and day traders are likely to doze off watching SBRY charts such is the sloth like movement of the stock compared to equities in other sectors. Volatility temporarily spikes following quarterly updates though when institutions pursue their herd instincts and pick a new favourite retail share for the next quarter.