CEF Weekly Review: The 13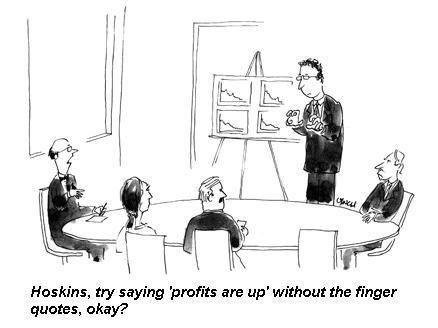 closed end fund (CEF) types on average were up 2.0% for the week ending 10/9/09. On an aggregate, unweighted basis, the weekly average price change for 523 CEFs was also up 2.0%. The weighted 49 CEFs comprising the Claymore CEF Index registered an average advance of 3.9% for the week. The S&P 500, as measured by the SPDR S&P 500 ETF (NYSEARCA:SPY), registered a surge of 4.7%.
(Click here for YTD CEF performance. The table is based on a 275 CEF sample size as all the data fields are not available for the CEF universe.)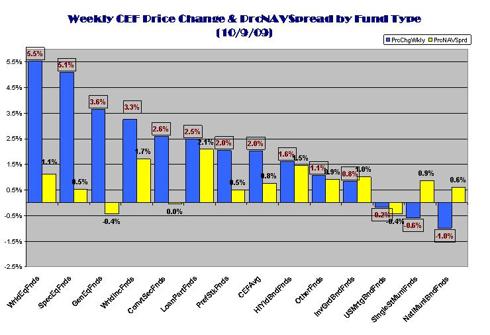 Click to enlarge
The Eqcome CEF Fear Index reversed course and popped into positive territory (less perceived risk) as investors dove back into the risk pool. CEF share prices advance 2.0% versus a related NAV share price advance of 0.7%. The CBOE Volatility Index (VIX), which typically moves inversely with the stock market, plunged 19.4% for the week. The VIX is pennies from its July 24th low. The VIX is projecting an absence of clouds on the horizon and it would appear vulnerable to increased volatility during earnings season.
CEF Weekly Fund Type Performance: CEF fund type weekly performance was like a country song played backwards: your girl comes back, your dog's resurrected, you stop drinking and you're recalled from a layoff. That was pretty much it when comparing relative CEF fund type performance this week with last. Equities surged and fixed-income lagged.
With the risk trade on, the further investors reached up the risk curve, the greater the performance. Winning CEF sectors included global equities (Russia, Turkey, etc.), energy, real estate and precious metals. The energy sector continues to show strength in anticipation of a promised global recovery.
CEF Spread Changes: Changes in PrcNAVSprds generally follow the trend of price movement. This is typically the case when markets generate meaningful price changes. Bucking the trend was GenEqFnds which showed a meaningful advance, yet NAVs advanced at a still greater pace. This was also true of both muni fund types moving in the opposite direction.
Individual CEF PrcNAVSprd Changes: The largest PrcNAVSprd was for PIMCO FLTG RT INC FD (NYSE:PFL). PFL generated a positive PrcNAVSprd of 7.6% with a similar weekly price appreciation. PFL's performance is somewhat quizzical as it went ex-dividend on October the 8th.
On Saturday the 10th, PFL released its annual performance for its FY ending July 31, 2009. Its net investment income per share after preferred payments was $1.33 per share, an increase 4.7% for FY '09. However, its portfolio losses were almost double at $5.18 per share; NAV decline YOY 38.4%. Based on these numbers and estimates for FY '10, FPL is almost covering its reduced annualized distribution ($.7524) from net investment income. The stock trades at a 13.7% premium and at a 6.3% distribution yield.
(A positive spread between the change in price and NAV could be viewed unfavorably subject to other metrics. This is because the stock has advanced greater than its underlying NAV. All things equal, they should move in tandem. The opposite would also be true.)
HELIOS STG MTG (NYSE:HSM) posted the lowest PrcNAVSprd at a negative 7.5% while its price slipped 4.2% for the week. Earlier in the week, HSM's board suspended its $.0725 monthly distribution for October and November but declared its regular monthly distribution for December. Additionally, the board declared a special distribution of $.145 per share also in December—presumably a return of capital distribution. It is essentially postponing and changing the character of the October and November distributions to be paid in December.
Market Perspective: The "Wall of Worry" seemed to dissipate this week as investors plunged forward into equities. The VIX plunged and equities surged. Commodities again benefited from US dollar weakness.
Expectations of positive 3Q earnings surprises fueled much of the advance. Next week's earnings of some of the big financials will set the tone. If they exceed expectations you may see a continuation of the current upward trend. Bet on greater volatility next week as each earnings announcement could move the markets. (Click here for next week's economic calendar.)
ETFs: (Click here for ETF YTD sector performance.)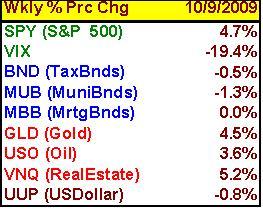 Insider Trading: October is typically a significant month for insider transactions. Last October ('08) CEF insiders added $229.2 million dollars of market value to their holdings. In that regard this October is off to a slow start.
Michael T. Tokarz, chairman of MVC Capital, Inc. (NYSE:MVC) and its advisor The Tokarz Group Advisers LLC purchased 24,938 shares at $8.97 for a total expenditure of $223,694 in early October. This brings his total holdings to 643,405 shares.
MVC is a business development company (BDC) that specializes in small company private financing for the purpose of private equity investments. Its typical investment is between $3 to $25 million in control and non-control stakes in companies with revenues between $10 million and $25 million.
Wynnefield Capital Partners Small Cap Value LP owns directly or indirectly 4.8 million shares of MVC representing 19.8% of the outstanding shares. Wynnefield files as a long-term investor in numerous small cap companies.
MVC typically needs a liquidating event, i.e. sales, refinancing, public offering, to realize its investments. The unthawing of the capital markets may provide enhanced access to such capital. There was also insider buying in MCG Capital Corporation (NASDAQ:MCGC), also a BDC, in late September, possibly lending credence to the prospects for BDC's such as MVC.
Two managing directors of Putnam Investments recently have been purchasing shares of Putnam Premier Income Trust (NYSE:PPT). Raman Srivastava and Stephane Choquette began purchasing shares last month and have accumulated another 13,700 shares for an additional $80,063 in stock value in October. Their combined holdings are 22,850 shares for a value of $130,219.
PPT recently raised its monthly distribution 16.3% to a $.05 per share monthly rate. Of that new rate it is estimated $.0462 came from net investment income and $.0038 per share came from foreign currency gains. PPT is currently trading at a 10.1% distribution yield and a 4.8% discount.
The last time there was insider buying in the stock was in June this year. Messrs Srivastava and Choquette acquisitions were recent; interesting?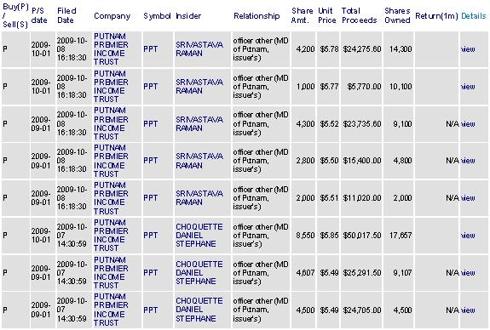 Click to enlarge
Daniel Neidich, Director of General American Investors (NYSE:GAM) continues to add to his position. Unfortunately, none of his fellow board members seem so inclined.
Insider transaction for the month of October '09:

Click to enlarge
CEF Distribution Announcements This Week: The following is a link to a table of CEF distribution announcements announced this week. The list is not intended to be inclusive. While reasonable care was taken in its construction, please confirm its accuracy independently prior to making an investment decision based on this table.
(Click here for weekly CEF distribution announcements.)
CEF Focus for the Week: As part of the merger of four Nuveen CEFs, NWF, NFL, NQF and NUF, into other existing Nuveen
CEFs on October 16th, all four will be making a special liquidating distribution of accumulated net investment income. The upcoming distribution for these tax-exempt CEFs is roughly double the normal distribution. Whether this makes sense in picking up this additional income this month is based on the effective valuation of the stocks once merged (see "CEF Distribution Announcements This Week" Section).
This information has been available for a while, so the special distributions may already be priced in. If anyone has a view on the post-valuation of the merged CEFs please share it.
Consider it food for discussion.
Disclosures: Long SPY & GLD and a diverse portfolio of CEFs