Technology heavyweight Cisco (NASDAQ:CSCO) reported solid results for its fiscal year 2013 fourth quarter. Revenue increased 6.2% year-over-year to $12.4 billion, a touch above consensus estimates. Earnings-per-share was also strong, increasing 11% year-over-year to $0.52, also a few cents above consensus expectations. Free cash flow for the fourth quarter tallied $3.7 billion, equal to an impressive 30% of total revenue. For the full-year, free cash flow was $11.7 billion, or 24% of revenue.
Cisco has been one of our better calls in the land of technology. Below, please find our rating track record of the firm (listed most recent to least recent). Our rating history for each firm in our coverage universe can always be found on page 16 of the respective report. Please note Cisco's consistently high Valuentum Buying Index (VBI) rating-it flashed a 9 in September 2011 at just under $16 per share-and our belief of its valuation upside potential ever since.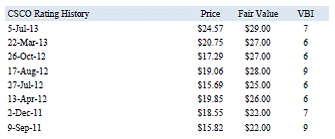 Source: Valuentum Cisco Report
While fourth quarter results were decidedly positive, a plan to "recalibrate" 4,000 workers (5% of global headcount) and lackluster guidance stole headlines. We use the term "recalibrate" since Cisco CEO John Chambers made it clear that it wasn't a complete layoff program. Rather, some workers will be moved into higher-growth segments of the company, while others will (presumably) be out of a job. Chambers, never one to enjoy laying off workers, provided plenty of commentary on the situation, but made it clear that the decision had to do with flexibility, saying:
My key takeaway is I am really pleased with our momentum in the market; it just is not growing as fast as we need. And there are enough inconsistencies in the market that we think we need to remain agile and flexible to be able to grow for our growth markets…quickly putting the resources behind that is needed. This is what we strongly believe we will do as a company.
Chambers also noted that the company removed a good chunk of middle-management that it hopes will boost decision-making times and take some costs out of the business.
Theoretically, the plan sounds fundamentally sound, but the lack of upside guidance for its fiscal first quarter has generated some skepticism. For the first quarter, management forecasts revenue growth of 3-5%, generating $0.50-$0.51 of earnings per share on a non-GAAP basis-a growth rate of 4-6% compared to the prior year. Management regurgitated the same story about a challenging or mixed economic environment that it has told regarding the global economy for the past several quarters. We simply think the firm is being ultra-conservative to temper Street expectations.The conference call from the fourth quarter of 2012 suggests management held a similar attitude about fiscal year 2013.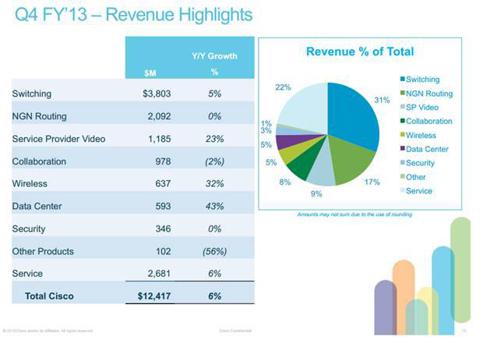 Image Source: CSCO 4Q FY2013 Slides
Cisco certainly had some strong areas of performance during the fourth quarter of fiscal year 2013. 'Switching', Cisco's largest business by far, displayed relatively healthy results, with revenue up 5% year-over-year to $3.8 billion. Nexus switch momentum appears to be accelerating with 20% year-over-year revenue growth, and we think switch demand looks healthy going forward.
The 'Data Center' segment posted robust revenue growth of 43% year-over-year to $593 million. Management specifically pointed to increasing x86 blade server sales, which Cisco now bills itself as the number two player in the market with 20% share. This could be negative for some of the other industry players like Oracle (NASDAQ:ORCL), which seems to be performing poorly in the hardware arena. IBM (NYSE:IBM), HP (NYSE:HPQ), and Dell (NASDAQ:DELL) are the other major competitors in the space.
In addition to robust 'Data Center' growth, Cisco's 'Wireless' segment performed exceptionally well, with revenue growing 32% year-over-year to $637 million. Management also noted that the Wireless LAN business is hot with no signs of deceleration. We think demand will remain strong as companies continue to invest in secure networks.
Valuentum's Take
Though Cisco's fiscal first quarter guidance implies lower-than-desired top and bottom line expansion, the firm has plenty of businesses with near-term upside. We also think it's a positive sign that management labeled the company's book-to-bill ratio as "comfortably above 1," implying plenty of demand for products in the near term. With robust cash flow generation, a healthy cash hoard, and a safe dividend, we'll be looking to add shares of Cisco to the portfolio of our Dividend Growth Newsletter on additional price weakness (and thus a higher yield). Shares currently yield 2.6% at the time of this writing; we'd be looking for an entry point in the 3%-3.5% range (assuming no change in underlying fundamentals).
Disclosure: I have no positions in any stocks mentioned, and no plans to initiate any positions within the next 72 hours. I wrote this article myself, and it expresses my own opinions. I am not receiving compensation for it (other than from Seeking Alpha). I have no business relationship with any company whose stock is mentioned in this article.