Cal-Maine (NASDAQ:CALM) is the largest producer and marketer of shell eggs in the U.S. The egg business is highly cyclical, and profits are unpredictable. However, if you know the prices of eggs, then you have a pretty good sense of how well egg companies like CALM are doing: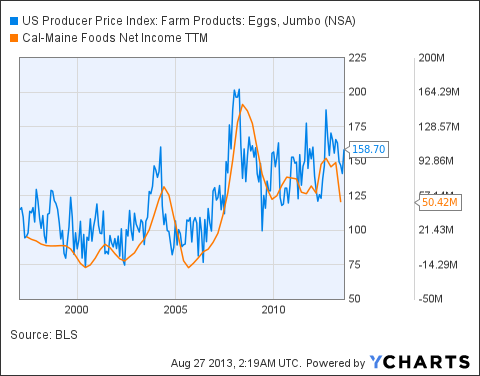 US Producer Price Index: Farm Products: Eggs, Jumbo data by YCharts
Not surprisingly, Cal-Maine's operating performance has closely tracked the prices of eggs, which have been on a roller coaster ride for more than a decade. Of course, one would expect that such a volatile commodity business should trade at a depressed multiple relative to the market, given its unpredictability. All else equal, investors should apply a much higher discount rate to CALM because long-term earnings growth is far from certain.
But it looks like the market has suddenly fallen in love with the company, bidding up the stock to record multiples: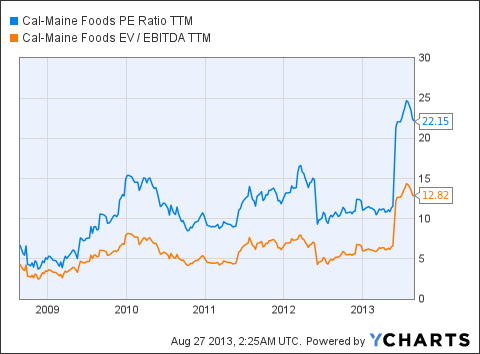 CALM PE Ratio TTM data by YCharts
CALM significantly reduced its debt in the last few years, so enterprise value to EBITDA is the best way to compare valuations over time as the capital structure changed. Yet the trailing PE ratio also shows a similar spike, revealing that the company is trading at a multiple to the market.
There are a few possible explanations for this premium, but I believe such optimism is unjustified. First, it is clear that the egg industry is quite mature. Accoirding to the American Egg Board, yearly production has grown annually in the low single digits since the late 1980s. Additionally, the difficulties with storage and transportation limit the possibilities for export-driven growth. CALM bulls must therefore look for a rise in egg prices or an alternative driver of growth. While the egg industry has undergone a massive consolidation in recent decades, it is clear from the price gyrations of the last decade that producers have been unable to maintain pricing power.
The USDA agrees with me. Whereas the price of New York eggs averaged $1.15 in 2011 and $1.17 in 2012, the average price for 2013 is expected to be $1.17-$1.20 and $1.07-$1.16 for 2014. If anything, it looks like egg prices will be soft for the next 18 months. No reason for optimism here.
As a supplement to its main commodity egg business, CALM has also built up its specialty shell business using the brands Egg-Land's Best, Land O' Lake, Farmhouse, and 4-Grain. Organic, cage-free, and other specialty shells offer the potential for higher margins and perhaps more pricing power. However, growth in this area is weak relative to the overall business. Specialty shells accounted for 23.7% of sales by dollar volume in fiscal 2013 compared to 24.0% in fiscal 2012. Specialty shells have also not prevented the erosion of operating margins as feed costs increase but egg prices remain soft: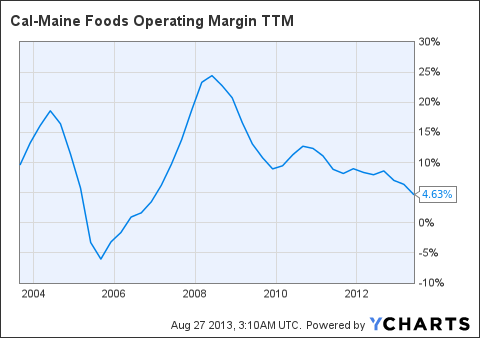 CALM Operating Margin TTM data by YCharts
Overall, I think CALM is a decent operator in a tough business. The company has done well in the last decade, although shareholders appear to have given up on the caution displayed in the past. I believe the company has been caught up in the rising bull market tide. If investor sentiment turns sour and realism replaces the wild optimism embodied in the current price, CALM investors may end up with egg on their face.
Disclosure: I have no positions in any stocks mentioned, and no plans to initiate any positions within the next 72 hours. I wrote this article myself, and it expresses my own opinions. I am not receiving compensation for it (other than from Seeking Alpha). I have no business relationship with any company whose stock is mentioned in this article.