When any new CEO comes into a company, he or she has the leeway to make strategic changes. But, certain CEOs in certain situations have a blank check to make sweeping changes - Thorstein Heins at BlackBerry (NASDAQ:BBRY), Don Mattrick at Zynga (NASDAQ:ZNGA) and Meg Whitman at Hewlett-Packard (NYSE:HPQ) come to mind. And investors give them the benefit of the doubt, at least until they disappoint.
For Meg Whitman, that disappointment came last week during the HPQ earnings call when the visionary CEO abandoned her prediction that HP would have year-over-year revenue growth in 2014. That is a problem.
Since then, the price slipped 12.3 percent, from $25.38 to a $22.27 close on Monday. And, I have no doubt now - HPQ is heading back to the teens. The simple fact is - there's no reason to buy HPQ at current levels. Analysts estimate that the company is valued at a forward P/E of 6.10. But, over the past 12 months, the company was unprofitable due to the Autonomy write-down, and without revenue growth, I believe the company will find it difficult to realize shareholder value in the near term.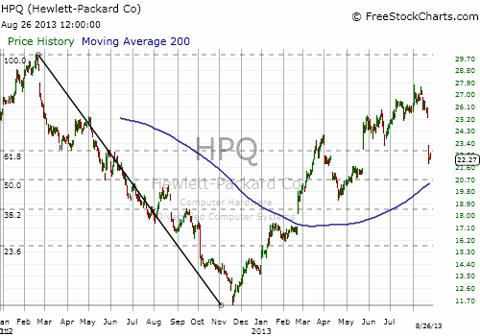 Click to enlarge
(Click to enlarge)
Doing a Fibonacci Retracement of the decline from $30 in February 2012 to $11.55 in November 2012 suggests that prices are now trading below the 61.8 percent retracement (near $22.85). The 200-day moving average could provide some support, currently at $20.37 - though ultimately, I would expect prices to trend towards the 38.2 percent retracement at $18.50.
Future Prospects Unclear
In the latest quarter, revenues declined 8 percent, while net income was at $1.39 billion. Net income was up from a year ago, when HP took the large Autonomy write-down. Long-term debt declined nearly 14 percent from the prior quarter, one promise Meg Whitman is delivering on. Year-over-year, long-term debt is down nearly 30 percent.
Those are good signs, but HP's future is uncertain at best. The PC market is in secular decline - as evidenced by Dell's (NASDAQ:DELL) problems. And, HP needs to move more into enterprise business. That is a must as the enterprise group lost 5 percentage points of market share in servers. In her conference call, Whitman said that this loss in market share was due to "management mistakes." That's the opposite of a confidence booster.
HP has a couple projects, Moonshot particularly, that could help. Moonshot is HP's new, more efficient server class - and this is like the Q10 and Z10 are for BlackBerry, perhaps the best shot at "making it." But unlike the dismal interest in BlackBerry's products, HP is reportedly getting interest from Apple (NASDAQ:AAPL) and Google (NASDAQ:GOOG), among other companies.
Whitman Still a Leader
But, if Whitman is not expecting YoY revenue growth, Moonshot is not going to ramp up anytime soon. And we are back to square one - which is there will be better places to put your money.
Meg Whitman is still a world-class CEO, and she is making progress to put HPQ's costs in line with expenses. But, you can only cut costs so much. And, for me, the year-over-year revenue growth is the line in the sand - without it, HPQ is not a security worth investing in.
Disclosure: I have no positions in any stocks mentioned, and no plans to initiate any positions within the next 72 hours. I wrote this article myself, and it expresses my own opinions. I am not receiving compensation for it (other than from Seeking Alpha). I have no business relationship with any company whose stock is mentioned in this article.