The Canadian smartphone maker BlackBerry (NASDAQ:BBRY) recently announced that it was looking at strategic alternatives for joint ventures, partnerships or a complete sale of the company. The stock saw a sharp jump from the ~$9 level, as investors thought that the company was undervalued from an asset-based perspective rather than a going concern. I have been bullish on BBRY since the beginning of 2013, as I thought that the company was cheap compared to its asset value. I had also advocated that BBRY should find a partner or sell itself as the company's small size prevented it from marketing its products effectively in a global market. The news that the company was looking to sell itself was a vindication of my opinion, but the company seems to have made a mistake by publicly announcing this. This news has led to the company's value decreasing, as customers and suppliers become less engaged with the company. It is a natural reaction for partners to go slow due to uncertainty. There is also some negative news that BBRY's market share is declining in different countries and I think that the telecom carriers will also be rethinking their agreements with BBRY. Even BBRY employees would be worried about their future, making them less engaged. Given the changed circumstances, I would recommend that investors not buy the stock as the upside opportunities look limited now.
BlackBerry is Losing Customers and Employees
There are rumors that BlackBerry's BB 10 sales are decreasing rapidly and there are credible market reports that BBRY is losing marketshare. The company fired another 100 employees on top of the 250 R&D employees that it fired last month. The company also let go some top executives recently while others have left. The employee morale in this situation would be pretty low and this will put additional pressure on the company's shipments and profits. I would be wary of buying a BBRY product now given that there is no certainty of future support. A future buyer may decide to kill the BBRY OS leaving customers in the lurch. I see a faster decline in BBRY's subscriber base, on top of the 5% quarterly decline being seen. Enterprise customers are even more sensitive to such issues and CTOs will be looking at alternatives.
BlackBerry sales have declined in several key markets as consumers ditch the once-iconic brand in favor of handsets made by rival Samsung, Middle East retailers say. One large UAE-based electronics chain says its revenues from selling BlackBerry handsets are a little above half what they were a year ago, with the much-heralded BlackBerry 10 (BB10) range having failed to revive the fortunes of the struggling Canadian brand. The UAE and a handful of other emerging markets had been a glimmer of hope for BlackBerry over recent years, despite its share of the global smartphone market declining, which led to this month's admission that the company is up for sale.

Source - Arabiya
News is getting progressively worse for BlackBerry
One of the major selling points of the new BB 10 OS was its large number of apps, which could compete effectively with Android and iOS. The company devised an Android emulator to allow easy porting of apps from the Android OS to its new BB 10 OS. This was cited as a major advantage over the Windows OS, which had a very small number of apps. However, this has proven to be a false claim with most of the apps now revealed to be of very little value. Some developers have gamed the BBRY apps team to release an astounding number of apps. The sheer size of apps is only possible if the apps are of extremely low quality. It seems that as BBRY is facing issues, more skeletons are tumbling out of the cupboard.
Why did BlackBerry make a Public Announcement now?
I am perplexed why BBRY had to go public with the announcement. The reason might be the management would have faced a conflict of interest with one of the potential buyers Fairfax, having Prem Watsa on the board. However, this decision has been pretty bad for the company. The stock price is also going down as the market factors in the deterioration of the company's fundamentals. There are also rumors that BBRY has been looking at potential suitor for the last one and half years. This means that BBRY has not found a buyer in a long time making the company's investment case weaker. Each passing day without a deal is weakening BBRY as customers, partners and suppliers start to abandon BBRY. If the company does not find a buyer quickly, its stock price might go even lower.
What is the Potential Buyout Value?
A number of analysts and market research firms have been coming out with projections on BBRY's sale value. The valuation predictions fall in a very wide range of ~$ 5-8 billion. The company currently trades at ~$5.5 billion, so there is a ~45% maximum upside. However, that value will be achieved if the company manages to sell itself today. BBRY is losing money every day and its cash hoard is depleting. I think that the losses have accelerated after the announcement, which means the cash outflow is becoming greater by the day. Given that the company sells at the midpoint of the estimates at ~$6.5 billion, BBRY stock will give only an 18% return to the investor. At this point in time, BBRY stock has become a special situations story, which might not be a good investment for investors, who lack the expertise to analyze and invest in such event-driven situations.
The stock saw its price jump from $9 to $11 after the announcement was made. Since then the stock has been slowly trending down.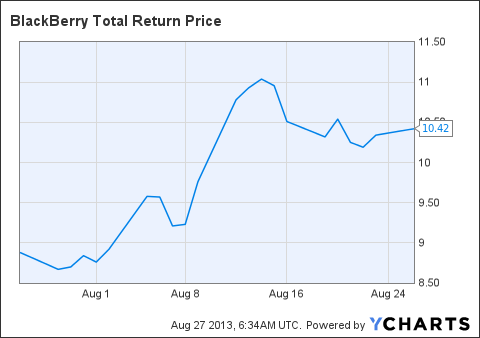 BBRY Total Return Price data by YCharts
Summary
The investment case for BBRY has weakened considerably after its public announcement. The company's fundamentals are deteriorating at an accelerated pace now as customers, employees and supplies look at alternatives. There are also credible reports that BBRY is losing market share in different markets. The loss of its position as the third-most popular OS to Microsoft (NASDAQ:MSFT) is also not helping the company. The management is also looking passive with no major new announcements or events after the failure of the flagship Q10 and Z10. The new Q5 seems a total disaster to me. Investors can hold for a 15-20% upside, however it does not make sense to buy the stock now.
Disclosure: I have no positions in any stocks mentioned, and no plans to initiate any positions within the next 72 hours. I wrote this article myself, and it expresses my own opinions. I am not receiving compensation for it (other than from Seeking Alpha). I have no business relationship with any company whose stock is mentioned in this article.