What is the VXX?
The VXX is an exchange traded fund used to replicate, net of expenses, the S&P 500 VIX short term futures total return index. It's an index that offers exposure to a daily rolling long position in the first and second month VIX futures. In addition, the VXX reflects the implied volatility of the (NYSEARCA:SPY) index at points along the volatility forward curve.
The index futures roll continuously throughout each month from the first money VIX futures contract into the second month VIX futures contract.
iPath S&P 500 VIX Short-Term Futures ETN
| | |
| --- | --- |
| Category: | Volatility |
| Fund Family: | Barclays Funds |
| Net Assets: | 1.39B |
| Yield: | 0.00% |
| Fund Inception Date: | 2009-01-29 |
| Legal Type: | Exchange Traded Fund |
The VIX (Chicago Board Options Exchange Market Volatility Index), commonly referred to as the fear index, measures the implied volatility of index options traded. Basically, it represents the market's expectation of volatility in the coming thirty day period.
Why is the VIX an Important Indicator?
The VIX is really a rather interesting instrument used to get a feel for how the market feels. If the VIX is riding under the 20s, generally the market sentiment is good and well. Should the VIX move up over the 30's, market sentiment usually drifts toward unease or tension of some sort.
In a bull market, like we're currently been in over the last three years, the VIX generally rides nice and low. In a bear market, or the midst of global unease of some sort, the VIX can take breakneck spikes upward. Just today, Tuesday, in the face of the tensions in Syria, the VIX has risen 10%.
In this day and age, there are no shortage of crazy things that happen that can spike the VIX: terrorism, psychotic artificial intelligence trading algorithms gone wrong, devaluation of global currency, random NASDAQ market halts, or (even worse) swarms of viral Twitter posts about Miley Cyrus' performance at this year's MTV video music awards.
The VXX is a good short-term tool - read it again, short term tool - to make money off volatility that you may see coming. So, let's talk a little bit about it, and why now could be the right time to take a long position in VXX.
How Has VXX Performed?
Let's start out with the statement that "past performance is not necessarily indicative of coming future results." Better read it again: "past performance is not necessarily indicative of coming future results." Want to see something ugly? Check out a chart of the VXX's performance since mid 2010:
This slow deterioration is a result of the contango associated with VXX. Pretty ugly, huh? However, if you look closer, there are certain areas where no doubt money was made going long - notably August of 2011, May/June of 2012, and on this July's recent spike up through 25. These quick moves, fueled by speculation in VIX futures, are usually catalyzed by momentary short covering before people go back to the default "short VXX due to the contango" investing method, and the VXX continues to drop.
What is Contango and How Will It Affect VXX?
Contango is one of the first things you need to learn about when dealing with ETFs like VXX. Contango occurs when the delivery price of a futures contract has to converge downward to meet the futures price. Due to the fact that futures prices fall, contango winds up costing long positions and you wind up with a chart like the one above.
Investopedia offers up a good example of contango:
For example, assume an investor goes long a futures contract today at $100. The contract is due in one year. If the expected future spot price is $70, the market is in contango, and the futures price will have to fall (unless the future spot price changes) to converge with the expected future spot price.

The opposite of contango is known as normal backwardation. A market is "in backwardation" when the futures price is below the expected future spot price for a particular commodity. This is favorable for investors who have long positions since they want the futures price to rise.
It's because of this contango that Macro Investor points out the following on volatility ETPs:
However, the charts also show another thing. On average, over a week VXX is going to lose ~1.4%, and over two weeks ~4.1%. Hence, while the level of volatility cannot be used to predict when to short VXX, you can short VXX pretty much any day of the week at whatever level of VIX, and odds are you will come out a winner.

By the same token, if you buy VXX or UVXY when VIX is low (as now, for example), chances are you will likely lose money as well. This doesn't mean it is guaranteed to lose money. It just means on average it will lose money.
So, we know the obvious cons of a situation like this - your ETF is literally shedding value on a daily basis just due to the roll in the futures market. However, it's worth noting that contango situations sometimes make very desirable short positions and that if you catch a contango short squeeze before it occurs, you can potentially make absurd gains.
SA contributor Larry Trefz had this correct (in principle) back in May of this year. The only thing off was his timing - he wrote:
ETFs and ETNs that reflect long volatility positions have seen huge and relatively steady declines over the past few years. There has been increasing chatter in the financial community about what great short positions many of the long volatility ETFs and ETNS make. This led me to consider what the short interest in these products might be and whether a short squeeze in them may be setting up.

My information on the short interest in these products is sourced from Bloomberg on May 6 2013, however I ask you to verify it for yourself before taking any action.

VXX shares outstanding: 64.4 million. Shares short: 41.4 million or about 79% of float.

UVXY shares outstanding: 53 million. Shares short: 8.5 million or about 26% of float.

VIXY shares outstanding: 19.5 million. Shares short: 658,000 or about 3% of float.

Given the above information, I would carefully watch for any sign of a market correction which will likely cause a significant spike in volatility from current levels. This could set off a significant short squeeze, especially in the extremely heavily shorted VXX.
Well, Larry - there's no doubt you've been "getting the business" from investors and readers based on your long position in VXX at the time - however, your time to shine could be coming up relatively soon.
Why Buy VXX Now?
1. We're on the Cusp of Attacking Syria
In case you've been on Jupiter for the last week or so, you would have noticed that tensions between the U.S. and Syria are boiling over. Without giving you a lesson on current events, Syria has been suspected of using chemical weapons on its own people in the midst of a civil war between its government and - you guessed it - people trying to oust the government.
The war had been going on since 2011, but these were the first reports of chemical attacks of this nature. The U.N. was in Syria to investigate the alleged chemical attack, when the vehicles the U.N. was using were fired on in the Syrian capital. So, the U.N. is pissed off, and the U.S. is once again likely to stick its neck out into another country's business.
On Tuesday of this week, the foreign minister of Syria denied both using chemical weapons and hindering inspectors that the U.N. sent. He then made the ominous Kim Jong Un-like statement that "[Syria] has the materials to defend ourselves. We will surprise others." Sure, you will.
(courtesy cbc.ca)
The above pictures shows the scenes that the world has seen suggesting that Syria is, in fact, using chemical weapons on their own people. Regardless, it's being reported that American forces are on the ready to strike Syria if they're ordered by the president - so it looks like we're about to get ourselves into a situation here:
The U.S. military stands ready to strike Syria at once if President Barack Obama gives the order, Defence Secretary Chuck Hagel said Tuesday as the United States prepared to formally declare that chemical weapons had been used in Syria's civil war.

U.S. officials said the growing intelligence pointed strongly toward Bashar Assad's government as the culprit in the chemical attack in the Damascus suburbs last week that activists say killed hundreds of people -- a claim Assad called "preposterous."

The U.S., along with allies in Europe, appeared to be laying the groundwork for the most aggressive response since the civil war began more than two years ago.
Not that I'm worried about a bunch of Syrians throwing rocks at U.S. tanks while we go in and try and find some resolution, but it's my opinion that the volatility involved that's going to act as a catalyst to an already overblown market. When that happens, look for the VIX to spike and VIX futures to go through the roof.
2. Bubble Burst Coming From Fed's Exit
Lest we forget the situation we have going on here in our own country - the Federal reserve is about to taper off their bond buying program that has acted as main catalyst for the bull market the last three years. Jeez, great timing, guys!
Despite comments made by perpetual talking head Jim Cramer last month, I contend that there is a direct correlation between how often and when the Fed injects money into the economy and the state of the global markets. The Federal Reserve has been the ultimate kind of insurance for people looking to go long in the market - essentially an entity that can prevent the market from heading to a recession whenever it wants.
No wonder everyone has been throwing as much money as they possibly can into stocks these last 3 years; we're betting with the house, and so far in the Keynesian era, the house always seems to win. It almost seems like the perfect crime, and it reminds me of every time as a child when my mother said to me "If something seems too good to be true, it probably is."
It's going to likely be extremely catastrophic when the day comes (in the not-too-distant future, in my opinion) not when the Fed tapers, but when QE actually ceases to make an effect on the confidence of the market. That's when we'll have reached the top of the QE parabola, and are going to experience a downside that'll make the housing bubble burst look like losing change that fell from your pocket when you sat down on your couch.
There is no doubt about it - at some point the general public will lose faith in QE, see it as a crutch, and will subject itself to wicked consequences.
If you're from the camp that I am, which is that we are producing another Fed inspired bubble that will soon burst, there is absolutely no excuse for you not holding the VIX long through some financial instrument in your portfolio. The VIX will likely rise in the face of a bearish "taper induced" market. In the face of the Syrian tensions, it's likely that VIX futures will also be effected, causing a short term price rise in VXX.
Make no mistakes about it, the Fed is going to be an enormous catalyst for how stocks in general perform in the upcoming year. The market over the past month has looked like a bloated old man with gout and horrible gas from eating too much pastrami and drinking in excess the last three years. The market could be starting to spin its wheels in the midst of the Fed alluding to the fact that they're going to start tapering their bond buying this fall.
Bernanke wondering, "Is gold money?"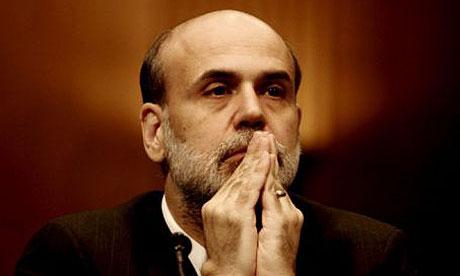 As I've pointed out before, Bernanke's bull market is the 3rd strongest bull market in modern history. Bears contest the same thing that I've pointed out in previous articles; that this market is fueled solely by Bernanke at this point. What is going to happen when the Federal Reserve exits the party? The same people that were behind QE taking place, let's call them the "smart money" (not because they're ACTUALLY smart, but because they control the markets and have an inside horse) loaded up before hand and have made their money. Now, it's time for the smart money to make money heading in the other direction, and it's my contention that the smart money is going to follow Ben directly out the door.
Conclusion
It's all about the timing, however - and this is why I'm contending the VXX as a short term buy here.
Making money on VXX or other volatility instruments is all about making sure that the short term timing is right. With the market looking like its losing steam, the upcoming Syria conflict, and the Fed backing out of QE, this investor contends that the time is right to take a long position on volatility for the next couple of weeks or months, depending on how things go.
Again, be wary of the risk associated with contango and make sure that you lock in and realize any and all profits that you can from a position like this, as you're betting against the house here - and there's substantial inherent risk that comes with that.
Other Ways to Trade Volatility
Buy ETPs that track the VIX, like CVOL
Buy VIX call options
Buy call options for VXV
Buy S&P VIX Mid-Term Futures VXZ
Buy S&P 500 VIX ETF listed as VIXS
Other Ways to Trade a Bearish Upcoming Market
If you're still looking for ways to take a bit of a bearish stance going forward here, you could adjust your portfolio as a whole, instead of simply adding VXX.
My portfolio for this situation would be similar to my "end of the world" portfolio that I laid out in a previous article. The portfolio would include any or all of the following:
Small 5%-10% long position in staple stocks [American Capital Agency (AGNC), NuStar Energy (NS), ACCO Brands (ACCO)]
Medium sized position in actual gold or silver bullion
Medium sized cash position in FDIC insured account or in person
Small position in volatility ETFs and ETNs to be traded in the very short term
Medium sized long positions in inflation-adjusted Treasuries (AAA rated)
Disclosure: I have no positions in any stocks mentioned, and no plans to initiate any positions within the next 72 hours. I wrote this article myself, and it expresses my own opinions. I am not receiving compensation for it (other than from Seeking Alpha). I have no business relationship with any company whose stock is mentioned in this article.