Headquartered in Radnor, PA, Penn Virginia Corporation (PVA) is focused on exploration and production of oil and natural gas in the U.S. It owns 109,900 gross acres of operation spread across the states of Texas, Mississippi and Appalachia. On August 7 the company released better than expected second quarter results and painted a positive outlook for rest of the year. This article examines the operations and the financials of PVA to determine if investors should go by the company recommendations.
Company share trends
PVA shares were trading at $4.95 on August 22 close of business. Penn Virginia has a market capitalization of $322 Million. In the past year, its shares prices have seen a drop of 39%. In 1H13, its EPS is -0.77. This is an improvement over FY11 and FY12, when its EPS was -2.22 and -2.9 respectively. Bank of Montreal and Soros Fund management are few of the top institutional investors who have increased their PVA holdings in the recent month.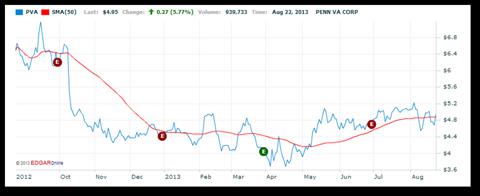 Click to enlarge
(Click to enlarge)
Over the past six months, PVA stocks performance has been in line with NASDAQ competitive Oil and Gas index as the chart below indicates. This could be analyzed as a building up of momentum in the stock, thanks to robust growth in production over the last two quarters with acquisition of Eagle Ford.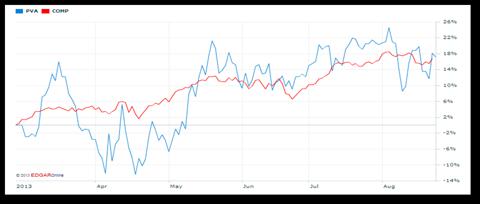 Click to enlarge
(Click to enlarge)
2Q13 numbers indicate a build up of momentum
PVA recorded a surge in revenue from oil and natural gas sales in 2Q13. Overall revenue has gone up by 34% to $109 million in 2Q in comparison to 1Q13. Crude oil and natural gas based revenue, which accounts for 93% of total revenue, went up 36% over the previous quarter. A 9% increase in product pricing during the second quarter helped in bumping up revenue numbers.
2Q13 Revenue Breakup by Product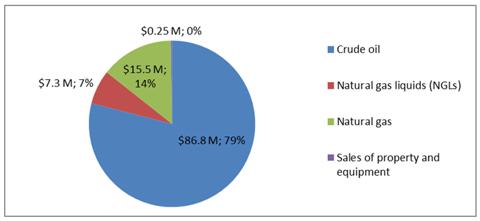 Click to enlarge
(Click to enlarge)
2Q Operating Expenses and Margins
Operating income was up by $3.2 million in 2Q13 from $0.28 million in 1Q13. PVA reduced its processing and transportation costs by 17% compared to 1Q13.
It's administrative and capital expenditure shot up by 53% to facilitate drilling and completion activities at the newly acquired Eagle Ford Shale. It spent $116 million towards depreciation, extraction, and amortization charges. These extraction costs were directly related to production increase in the Eagle Ford shale. It also spent $21.8 million towards interest payment.
Few of the 2Q13 expenditures, which are expected to have positive impact on company prospects, are as follows: It spent 25% more on exploration compared to 1Q13. These costs were primarily related to collecting seismic data on Eagle Ford acquisition.
The company also paid back $29.1 million towards extinguishing their debt. $21 Million of the cash used to repay the debt, was raised by exercise of preferential rights to the Eagle Ford Shale acquisition.
PVA also spent $1.6 Million towards dividends paid to its preferred depository share holders this quarter. Over all, its net loss has gone up by 55.8% compared to previous quarter. Its Operating Margin which takes in account total revenue less operating and acquisition expenses has gone up by 20% per BOE in 2Q13.
In 2Q13, PVA extracted 19209 BOEPD compared to 15857 BOEPD in 1Q13. With Eagle Ford's 139 producing wells accounting for 60% of PVA's 2Q production, the $400 Million investment made by Penn Virginia in acquiring Eagle Ford was strategic in hindsight.
Daily production figures broken up by region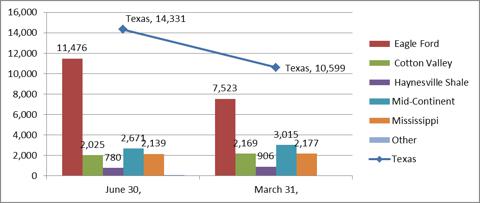 Click to enlarge
(Click to enlarge)
Numbers reported in Barrel of Oil equivalent per day
PVA total debt, sans cash and its equivalent, stands at $1,123 Million. A debt to equity ratio of 2.7 and an interest coverage ratio of 0.14 ($21.8 Million debt expense in 2Q) indicates PVA is heavily dependent on debt to sustain its operations.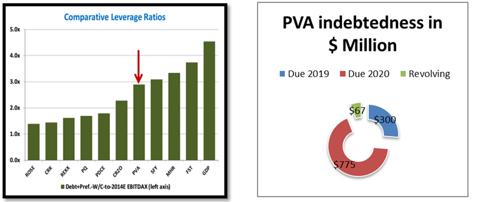 Click to enlarge
(Click to enlarge)
At end of June 30, PVA reported a financial liquidity of $300 Million ($280 Million of revolving credit and $20 Million of cash). The company expects its capital expenditure for 2013 to be in the range of $470 to $510 Million. It expects FY13 revenue to be between $416 Million to $470 Million. It seems like the company will have to dig into the revolving credit in the future to bridge the investment gap if it is to stay true to its expansion plans. In comparison to its peers, PVA debt leverage position seems to be on par for the course as the above chart indicates.
Forward Outlook
Net production from the Eagle Ford shale has spiked 53% from 7523 BOEPD to 11,476 BOBED in the last three months. Over the next six months, PVA envisions to sink in up to 90% of the proposed FY13 capital expenditure of $416 Million in developing Eagle Ford further. 69 new wells are expected to be drilled during FY13 in Eagle Ford, potentially adding inventory to its daily output.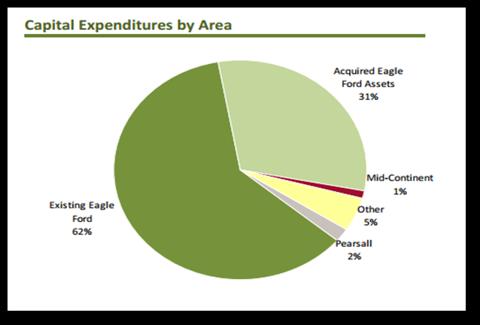 Click to enlarge
(Click to enlarge)
In addition, plans are afoot to spend $36 to $49 Million to lease potential areas in Gonzales and Lavaca Counties to initiate drilling in FY13. PVA summarizes that, at its current pace of drilling, they have approximately 10 year drilling land inventory and anticipates having over 750 well drillings in progress by end of FY13.
With above listed augmentation to its production resources, PVA management has raised its FY13 outlook. It expects FY13 production to range between 18500 to 20,600 BOEPD which would translate to a 67% increase of over FY12. PVA predicts a 25% growth in revenue in FY13 in the range of $416 to $471 million and expects similar growth in FY14 also.
Competitive Analysis
PVA is trading 33% lower than its 52 week high price of $7.42. This indicates lack of support from the company performance for the stock price to rise higher. Also of concern for the short term investor, is the relatively high 8.4 days to cover in comparison to its competition.
PVA estimated full year FY13 and FY14 levels of oil production is slated to be second highest among select group of small cap.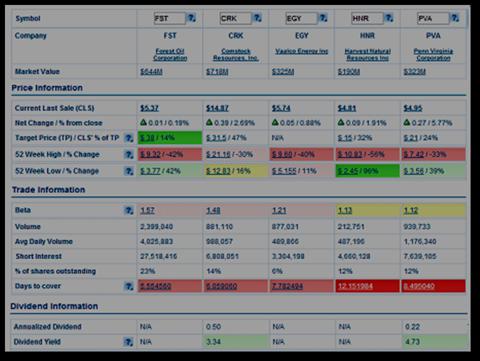 Click to enlarge
(Click to enlarge)
Year on year increase in global demand for oil over the past two years has rendered companies involved in oil and gas exploration and production activities, attractive to investors. This attractiveness is primary due to the rising gross margins of these oil companies. Investors believe in the maxim which implies that higher gross margins are indicative of greater profitability of the target company. U.S. government policy shift in encouraging companies to develop previously unexploited oil reserves like shale rock and improved technology like horizontal drilling has increased the profit potential of these companies. Individual investors have followed the private equity firms like Denham Capital and Riverstone holdings in funneling more funds into this industry.
Penn Virginia is well positioned to benefit from the increased investor interest in this category. Thanks to its recent acquisition of eagle ford, its core acreage in the oil rich shale rocks has gone up. As the global demand of oil continues to grow, PVA is expected to show strong growth in revenue. This in turn will help the company generate some much needed cash flow. With a sustained upward movement of its production, the company can stop relying on debt in the long run. PVA gross profit has increased from 67% in FY09 to 80% in FY12. In conclusion I recommend a "Buy" on PVA.
Disclosure: I have no positions in any stocks mentioned, and no plans to initiate any positions within the next 72 hours.
Business relationship disclosure: The article has been written by an Analyst at ResearchCows, ResearchCows is not receiving compensation for it (other than from Seeking Alpha). ResearchCows has no business relationship with any company whose stock is mentioned in this article. Any analysis presented herein is illustrative in nature, limited in scope, based on an incomplete set of information, and has limitations to its accuracy. The author recommends that potential and existing investors conduct thorough investment research of their own, including detailed review of the company's SEC filings, and consult a qualified investment advisor. The information upon which this material is based was obtained from sources believed to be reliable, but has not been independently verified. Therefore, the author cannot guarantee its accuracy. Any opinions or estimates constitute the author's best judgment as of the date of publication, and are subject to change without notice.