On my recent quest to find income opportunities in southern European countries I have recently reviewed some Italian utilities, namely Snam (OTCPK:SNMRY) and Enel (OTCPK:ENLAY). Yet, I've only considered Snam as an interesting opportunity for income investors. Another alternative is Terna (OTCPK:TEZNY), which offers a dividend yield of 5.85% and is trading at only 13.3x forward earnings. This compares well with fundamentals at U.S. utilities, such as Southern Company (NYSE:SO) or Exelon (NYSE:EXC). Terna has a market capitalization of about $8.6 billion, and is traded in the US in the OTC market.
Company Background
Terna is a leading electricity transmission grid operator based in Italy. Terna is the first independent operator in Europe and sixth in the world for kilometers of electricity lines managed. The company was founded in 1999 and has over 3,000 employees. Its main shareholder is Cassa Depositi e Prestiti with an equity stake of 29.85%.
Through its subsidiary, Terna Rete Italia, it manages the National Transmission Grid with over 63,500 km of HV electricity lines and has the responsibility of electricity transmission and dispatching, managing the balance between electricity demand and supply in Italy. Through its subsidiary, Terna Plus, it is also responsible for developing new business, both in Italy and abroad, aiming at grasping business opportunities deriving from technological discontinuities and from trends characterizing the energy sector such as: renewable growth, developing smart grids and energy efficiency.
Over the last few years, Terna has achieved very strong results. Following years of underinvestment, from 2005 to 2012 the company invested more than $8.6 billion in assets. This lead to strong revenue and EBITDA growth, achieving close to double-digit growth rates during these years. Moreover, Terna's profitability also increase considerably, with EBITDA margin up 10% during the past few years. This strong growth is also justified by its international interconnections to several countries, allowing for higher electricity volumes within the company's network.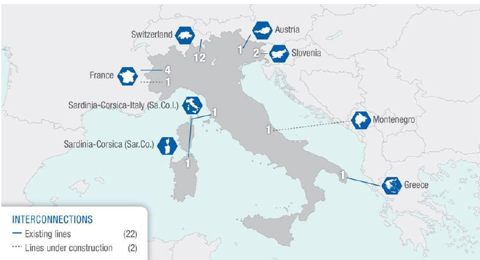 In 2012, the company was able to achieve double-digit growth in revenues and EBITDA, which is very good taking into account the challenging macroeconomic environment in Italy. Revenues amounted to about $2.4 billion, an increase of 10% from the previous year. Its EBITDA increased by 13% to more than $1.8 billion, achieving a record year for EBITDA margin at 76%. This is slightly higher than its Spanish peer Red Electrica de Espanha (OTCPK:RDEIY) achieves, showing Terna's higher operational efficiency. Terna's net income increased by 5.5% to more than $600 million, but without taking into account 2011 earnings from discontinued operations Terna's net income rose by 40% due to lower tax and interest expenses. During the first six months of 2013 Terna maintained its growth path, with revenues increasing 7.3% year-on-year (yoy), EBITDA up by 9.4% yoy, and its EBITDA margin close to 80%. Its net income increased by 18.8% yoy to more than $350 million.
Over the next four years, Terna expects to invest about $5.5 billion both on its regulated activities in Italy (what the company calls traditional activities) and its growth activities (non-traditional activities). This program should support its revenue growth, which the company expects to maintain at high-single digit for the next few years. Regarding its profitability, Terna aims to achieve an EBITDA margin above 80% supported by higher regulatory asset base rate of returns.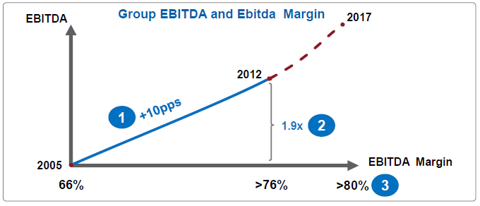 Dividends
Terna's dividend track record is quite good, given that since 2004 it has always distributed dividends to its shareholders. Contrary to most European companies that pay only one dividend per year, Terna pays two dividends during the year. An interim dividend is usually paid in November, and a final dividend in June. However, in 2012 the company cut its dividend for the first time ever. It paid $0.27 per share, a decrease of 4.8% from the previous year.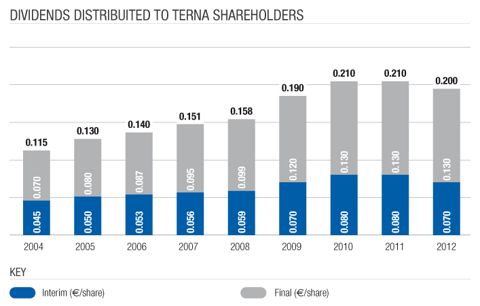 Nevertheless, Terna's 2013-2017 dividend policy aims to pay a base dividend from traditional activities equal to €0.19 ($0.25) per share, on top of which the contribution from non-traditional activities will be added (about 60% payout on results). In 2012, non traditional activities contribution to Terna's EBITDA was only $90 million, but it presents a lot of upside potential in the near future. Thus, Terna should be able to pay a growing dividend over the coming years, supported both by new activities and higher profitability.
On the negative side, like most of its European peers Terna's indebtedness is relatively high. At the end of 2012, the company's net debt was above $7.8 billion. Nevertheless, this is a net-debt-to-EBITDA ratio of 4.24x, which is still acceptable given the company's high profitability. For comparison, American Electric Power's EBITDA margin is only 32% but its leverage ratio is 3.9x EBITDA. Furthermore, over the period 2013-2017, Terna expects its operating cash flow to be about $6.8 billion, which is not enough to finance capex ($5.6 billion cash outflow) and dividend payments ($2.5 billion), implying higher net debt. However, given its enhanced profitability expected over the next few years, its leverage ratio should decline to about 3.8x in 2017.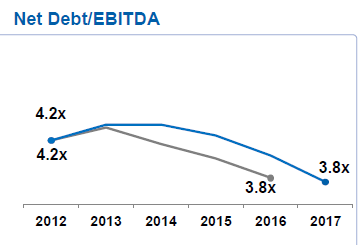 Conclusion
Terna presents a compelling investment for income investors due to its high-dividend yield and fair valuation. Moreover, it also offers an interesting alternative to US utilities which have lower yields and much higher valuations, being therefore much more vulnerable to rising interest rates. Its heavily regulated business and very high profitability make Terna's dividend safe and very predictable over the next few years. If the company is able to successfully develop new businesses there is also some upside potential to its already attractive dividend yield of 5.85%.
Disclosure: I am long OTCPK:RDEIY. I wrote this article myself, and it expresses my own opinions. I am not receiving compensation for it (other than from Seeking Alpha). I have no business relationship with any company whose stock is mentioned in this article.