After climbing 18% in the last 60 days cocoa prices have consolidated in recent weeks just under the $2,500 level in December futures. I'm operating under the influence that an interim top has been established on 8/20 at $2,547 or $100 above current trade. I'm expecting a challenge of the up sloping trend line (blue line) in the coming weeks if not days. The two MAs in the chart below are the 40 day MA (light blue line) and the 50 day MA (red line) and are seen $75 and $125 under current pricing. Use those pivot points and the Fibonacci levels on the chart below to help guide you on bearish trades.
Part of the reason for the decline is forecast for precipitation in some cocoa growing areas in West Africa, the #1 growing region for cocoa in the world. Futures have surged in recent weeks on lack of rain in these top-growing regions fueling concerns that quantity and quality of cocoa for the next harvest which begins in October. The rains if we do get them should allow some of this weather premium that has been built in to get stripped out.
In previous analysis I've also pointed out the strong correlation cocoa has to the British Pound which has started to retrace in recent sessions. As of this post futures are challenging their 20 day MA, on a breach of that level I would anticipate a trade down to the 50 day MA which stands at $1.5345 in September futures.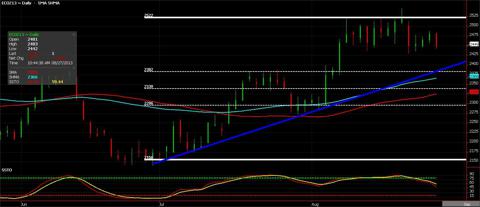 Trade idea:
My favored play is shorting December futures and selling out of the money puts as a hedge. As of this post December futures are trading at $2,450, down 1.25% on the day. One could sell a December $2,400 collecting $800 per. You have just over two months on the trade. The current delta for this option is 40%. The idea is you have a cushion on the trade in case the market moves higher and on a trade lower you should make more on the futures leg than you lose on the options legs. Look to unwind the entire trade on a move to $2300/2325 in the coming weeks.
Risk Disclaimer: This information is not to be construed as an offer to sell or a solicitation or an offer to buy the financial products herein named. Trading futures, options, and Forex involves substantial risk of loss and is not suitable for all investors. Past performance is not necessarily indicative of future results. This report contains research as defined in applicable CFTC regulations. Both RCM Asset Management and the research analyst may have positions in the financial products discussed.
Disclosure: I have no positions in any stocks mentioned, and no plans to initiate any positions within the next 72 hours. I wrote this article myself, and it expresses my own opinions. I am not receiving compensation for it. I have no business relationship with any company whose stock is mentioned in this article.