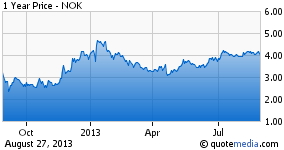 It seems I am not the only one concerned about Nokia's (NYSE:NOK) recent announced acquisition of NSN (Nokia Siemens Networks) from Siemens (SI) for 1.7 billion euros ($2.3 billion). As a result of this acquisition, Moody's Investors Service recently downgraded Nokia's debt rating to B1, four levels below investment grade.
On July 5 Standard and Poor's also lowered Nokia's debt rating to B+ from BB-, four levels below investment grade, with a stable outlook. Standard and Poor's said that Nokia's net cash "may tumble" after it agreed to buy NSN. Standard and Poor's also noted:
We now anticipate Nokia's net cash could be as low as €1.3 billion at the end of 2013.

We are lowering our long-term rating on Nokia to "B+" from "BB-" and affirming our "B" short-term rating.

The stable outlook assumes a significant reduction in cash losses and gradual market share improvement.
Please note the last paragraph: "The stable outlook assumes a significant reduction in cash losses and gradual market share improvement".
Just today Deutsche Bank (NYSE:DB) said that Nokia could be faced with another restructuring. Deutsche Bank believes revenue declines and peaking gross margins could result in another restructuring for Nokia. Deutsche Bank expects Nokia Solutions and Networks revenues to continue to decline given slowing high-margin Capex exposure in developed Asia and limited growth in the U.S. and Europe.
While the above issues are nothing new, Deutsche Bank also reiterated Standard and Poor's worry of cash depletion, noting that the "ongoing cash burn will deplete net cash by 2014 year-end and that a potentially value-unlocking break-up of the company is unlikely". Furthermore, Deutsche Bank rates Nokia shares a sell and views risk/reward as unfavorable.
In my article about Nokia on June 17 (when everyone was expecting Nokia to divest of NSN), I said that the money Nokia would receive in consideration for the 50% of NSN it owned would not amount to much, and as such, I still had doubts about the balance sheet.
So if Nokia sells (by some means) its ownership in NSN, it will have a balance sheet with about 11.5 billion euros in current assets and about 9 billion in current liabilities. While that does leave some room for working capital, I can't say it gives Nokia a lot of breathing space.
Well, not only did Nokia not divest of NSN as I thought it would, it went and bought the other 50%. Several days later I also said A Microsoft Buyout Is Nokia's Only Chance For Survival. No need to tell you I got a lot of heat from readers for both articles.
Well with the acquisition of NSN, Nokia's balance sheet is further levered, and since we don't have any intelligence if Microsoft (NASDAQ:MSFT) wants to buy Nokia or not, I would say that Nokia shareholders are in an even tighter spot than they were even before the NSN acquisition.
Also, I don't need to tell you what I think of Nokia's balance sheet today. And since you can't read my mind, the answer is that I think Nokia's balance sheet is skating on thin ice.
My beef is not with Nokia's handsets or its NSN division. My issues are with the balance sheet and the strategic mistake I think the company made in buying NSN. And unfortunately, it seems that more and more analysts are taking note of the very fragile situation the company is in, and questioning what the future holds, if the worst case scenario evolves in the future.
And let me enlighten you as to what the worst case scenario could be: A takeover of the company by bond holders, with almost zero value left for current shareholders.
And while this worst case scenario is a possibility in the very far future, nevertheless it is something that current shareholders should have in mind, if management does not manage to change the fortunes of the company around and produce enough cash to manage the company's highly leveraged balance sheet.
And do you know what the difference between BlackBerry (NASDAQ:BBRY) and Nokia is, beside the fact that Nokia does not have its own ecosystem? The difference is that Blackberry can continue to produce small losses for a very long period for time, giving the company ample time to fine-tune its strategy to make a comeback, whereas in the case of Nokia, it does not have the luxury of time.
Disclosure: I have no positions in any stocks mentioned, and no plans to initiate any positions within the next 72 hours. I wrote this article myself, and it expresses my own opinions. I am not receiving compensation for it (other than from Seeking Alpha). I have no business relationship with any company whose stock is mentioned in this article.