On May14th I wrote an article titled The Bottom Is Here With DryShips, when the price of DryShips (NASDAQ:DRYS) was sitting around $1.80. It's been almost four months since I made the call, and I believe it's time to revisit the call and provide some additional support to my thesis.
Increase in day rates When I first made the call, the day rates for Capesize sat at around $5000 and Panamax was around $8000. Since then, the Capesize rate has surged and on Aug 23rd it sat at $16,500. While this has been great for the Dry Bulk Shippers as a whole, DRYS has a smaller Capesize fleet, and they are all in charter at fixed rates for their Capesizes; higher than the current spot market. The day rate for Panamax's has not substantially increased since the call was made and currently sits at around $7200, however the 1Q14 rate is expected to be around $9500 according to Bloomberg. Although there will be surges and pull packs, the general trend is an increase in the overall rates. As these rates increase, DRYS will benefit from the Panamax fleet exposure to the spot rate.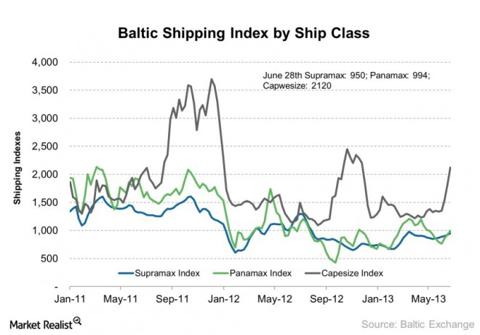 Click to enlarge
Technical analysis I put a lot of weight in technical analysis. Since I can't take in all the news, it generally helps me to see what the market feels. For those that follow some technical indicators, the 50 day moving average just crossed over the 200 day moving average, and the 100 day moving average is about to cross over the 200 day moving average. This is a bullish sign, and indicates a longer term improvement in the stock.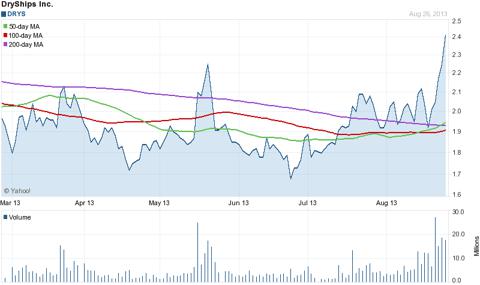 Click to enlarge
Volume increases: While there have been spikes in volume previously, normally tied around earnings, there has been a steady increase in the volume, with the nine previous days surpassing the 13 day volume moving average. Right now the percent of short interest is sitting around 5.7 million, equal to about the average daily volume. While this is a short term indicator, it is still a bullish sign.
China iron ore demand: Although the longevity of the demand for iron ore in China may be in question, it has none the less increased its imports. This may be a short lived surge, but it is having a healthy impact on the bottom line of the dry bulk shippers.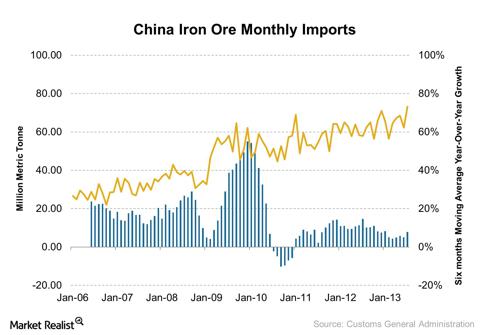 Click to enlarge
Things to be careful of:
I still expect a pull back to the $2.40 - 2.30 area before continuing up. There has been a big appetite for the dry bulk companies, and DRYS has benefited from that, but I expect some will take their profits shortly.
DRYS still has some issues with debt to deal with, nothing new, but in the long term it can weather the storm through the stake it owns in ORIG.
There is still an oversupply in the Dry Bulk Shipping industry. Companies have continued to place new orders due to cheap rates and scrapping rates have not increased. While there is a long lag time for the ships to be built, and some ships will be scrapped as their replacements come on line, it is still a concern for the industry.
Conclusion: Shipping rates appear to have turned a corner and are slowly beginning to rise. The shipping industry still has a ways to go to return to full profitability. However, those that got in at $1.80, could easily double their money in the next six to twelve months as the rates begin to increase and institutional investors begin to get back in. I remain bullish on DRYS and the shipping industry in general.
Disclosure: I am long DRYS. I wrote this article myself, and it expresses my own opinions. I am not receiving compensation for it (other than from Seeking Alpha). I have no business relationship with any company whose stock is mentioned in this article.