Last year, at a Fortune Magazine conference, Peter Thiel and Eric Schmidt debated the future of the technology industry. Peter Thiel railed against the lack of technological innovation, and stated that, (starting at 22:30) "Amazon is the only one ... that has enough of a vision of the future that they're actually able to reinvest all their profits." At first, this struck me as an interesting point, but when I looked into it further, I found this statement untrue. In this article, I will show why, and try to use that as a jumping off point to make some general points about Google (NASDAQ:GOOG), and its future prospects.
Why This Statement Is False
Mr. Thiel's statement that, "Amazon is the only one ... reinvesting all its money" is frankly false. In fact, Amazon (NASDAQ:AMZN), as a percentage of cash provided by operating activities, invests less than Google back into its business.
The following spreadsheets present first, the net cash from operating activities, second, the investments in fixed assets, and then the third column gives the percentage of net cash invested in fixed assets, for both Amazon and Google. First, Amazon.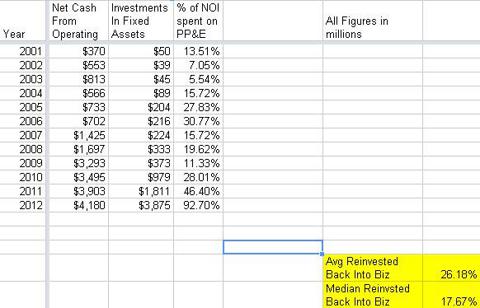 Now, Google.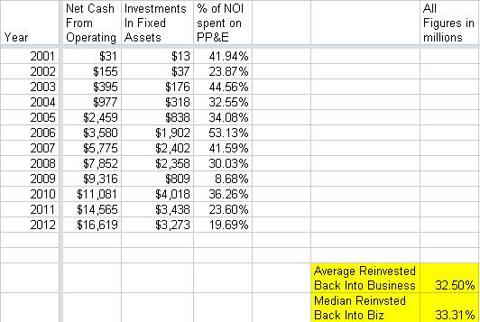 Now side-to-side
| | | |
| --- | --- | --- |
| Company | Avg Reinvested | Median Reinvested |
| Google | 32.50% | 33.31% |
| Amazon | 26.18% | 17.67% |
Without using mental acrobatics, this statement does not seem to hold up to the facts. Turning to the more pertinent point, where does Google invest this money internally. Considering Google reinvests such a high proportion of its net cash relative to Amazon, we need to know where this money goes, and how successful Google has been in those areas.
Google's Investment Areas
Besides for search which started the company off it has heavily invested in three other areas: Android, Chrome, and YouTube. Google does not break out the specific revenue or investment numbers for these divisions, so we will need to estimate Google's growth in these areas.
Android
Google gives away Android for free, so Google does not see any direct revenue from this source. However, Android as an OS effectively showcases Google's online products - Search, YouTube, maps, etc - thus driving users to those areas and generating revenue for Google. According to reports, last year Google made $4.4bn in mobile advertising, almost 10% of total revenue, and just about half of mobile advertising spend in general. While this metric has two problems - first, it lumps together mobile search revenue and mobile display revenue, and second, it does not distinguish between mobile revenue from Android and iOS, nonetheless, I think without Android, Google's revenue even on say, YouTube for iOS, would run markedly lower.
Youtube
Reports vary on YouTube's revenue, but consensus seems to imply that YouTube generated between $3.5-4bn in revenue for Google last year. Google has driven this growth by heavily investing in content - encouraging both amateur and professional production - and technology - building out server farms to store the content, enabling quicker delivery, etc. These investments have propelled YouTube into the number one online video platform, with no real competition (excluding Netflix (NASDAQ:NFLX)). Global TV revenue notched $350bn in revenue last year, and display advertising accounted for this largest year over year growth in the ad segment in general. Considering these two points, and Google's continued investment in these areas, we can expect Google to see continued revenue growth in this area.
Chrome
From a standing start in 2008 until today Chrome has grown from zero to 17% market share making it the most used browser in the world. Google had multiple reasons for creating Chrome -- they wanted to improve Javascript rendering in browsers, and it did not want to cede control to Microsoft (NASDAQ:MSFT). As a corollary to the latter, it has successfully turned Chrome into an operating system platform, allowing Google to build a suite of apps for the OS. Specifically, Google's Chromebooks and Apps for business have begun to pick up steam. Last year "other revenue" (meaning, non-search) reached 4% of total revenue, but through the first two quarters of this year, that has doubled to 8%, or $2bn. And although we cannot attribute all of this to Chrome apps, it surely plays a large role in this revenue jump. To conclude, Microsoft made $40bn in revenue, and $26bn in operating income last year from its Windows and Office divisions. By Google entering this market aggressively with its OS and line of apps it can begin to take market share in this large and important market.
Amazon, Microsoft and Netflix
Before I turn to my general conclusions I think we need to take a minute to analyze where Amazon invests.
In its most recent quarter, Amazon reported a net loss $7mm or 2 cents per share reflecting its continued investments. Amazon's investments center on two areas - distribution centers and digital rights. Since 2005 Amazon has steadily increased distribution center construction around the world. The following table presents the companies expansion over the past two years.
| | | |
| --- | --- | --- |
| Location | Fulfillment Centers | Square Feet (in millions) |
| USA | 19 | 17 |
| International | 22 | 15 (estimate) |
In 2013, Amazon has started construction of 10 new distribution centers totaling 8.4mm square feet. In total, analysts estimate Amazon to have a total of 89 distribution centers all over the world, totaling about 70mm square feet.
Amazon does not disclose the cost of distribution centers but a rough estimate seems to peg the number at around $100/sqft. Assuming this as correct, Amazon will have spent over $3.2bn on distribution centers of the past two years - or around 50% of its total investment program.
The company also has invested heavily in digital rights, most recently securing the rights to stream shows from Nickelodeon.
Netflix also invests heavily in streaming rights, and Microsoft invests in a broad category of areas reflecting the diversity of its business.
Conclusions
The above businesses generated around $10bn in total revenue (around 25% of total) last year for Google. Considering the long-term trajectories for these businesses, shareholders can rest soundly knowing Google has positioned itself in a solid place. All of this stands aside from Google's investments in search, which continue to improve through services like Google Now, Knowledge Graph and Google Instant. Taken together, Google's outsize reinvestments into its business will propel revenue and profits for years to come.
Disclosure: I have no positions in any stocks mentioned, and no plans to initiate any positions within the next 72 hours. I wrote this article myself, and it expresses my own opinions. I am not receiving compensation for it (other than from Seeking Alpha). I have no business relationship with any company whose stock is mentioned in this article.