[Editor's Note, August 28: This article has been revised since original publication, as the author has made changes to the content]
As a sky-high bull market begins to stomach the butterflies of a market correction, picking the right stock to go long can be a tricky trade. With a looming dial down in open market treasury purchases, those equities bloated with the Fed's liquidity are soon to be exposed and repriced at their intrinsic values. Despite the fact that tech and software tend to stand on the vanguard of market movements, I've found a company that has sustained impressive growth and positioned itself exceptionally well for the forward five-year horizon. In fact, its intrinsic valuation leads me to believe it is significantly undervalued.
The company that I am long is, quite quietly, the largest financial technology company: Fidelity National Information Services (NYSE:FIS). FIS provides financial institutions -- mostly regional and community banks -- with back-end solutions to facilitate account processing and payment clearance as well as front-end online and mobile banking platforms for end users. FIS topped the 2012 annual FinTech 100 list, and is a Fortune 500 member and component of the S&P Index. Today, FIS trades at $45.70 whereas my valuation prices the company at $56.92, implying the stock is 24.5% undervalued. Although we sit at the edge of broader correction, I estimate FIS's year-end price target to climb up to its fair value.
Business Overview -- The Facts
FIS services approximately 14,000 clients including banks, credit unions, thrifts, and leasing and finance companies. In 2012, FIS reported ~$1 billion of operating income on $5.8 billion in revenue. In addition, the company's top 50 clients contribute slightly less than 25% of total revenue. The company's revenue can be divided into three streams: 1) financial solutions group, 2) payment solution group, and 3) international solutions group services. The following qualitative breakdown of FIS's three segment offerings includes descriptions from FIS's website and 2012 10-K filing:
Financial Solutions Group: FIS's financial solutions group services the core and related ancillary processing needs of North American banks, credit unions, automotive financial companies, commercial lenders, and independent community and savings institutions. FIS offers a selection of in-house and outsourced solutions to banking customers that span the range of asset sizes. FSG customers are typically committed under multi-year contracts, providing a recurring revenue base and opportunities for cross selling. Specific offerings include:
1) Core Processing -- This consists of software applications that are designed to run banking processes for financial institution clients, including deposit and lending systems, customer management, and other central management systems. FIS also offers a number of ancillary applications in addition to the primary application listed above, including branch automation, back office support systems, and compliance support.
2) Electronic Banking -- This consists of a suite of retail delivery applications that enable financial institutions to integrate and streamline customer-facing operations and back-office processes. Consumer Electronic Banking and Business Internet Banking both provide an extensive set of cash management capabilities, enabling customers to manage banking and payments through the Internet, mobile devices, accounting software, and telephone.
Payment Solutions Group: PSG provides a set of software and services for the EFT, card processing, item processing, bill payment, and government payments processing needs of customers in North America. PSG is focused on servicing the payment and electronic funds transfer needs of North American headquartered banks and credit unions, commercial lenders, independent community and savings institutions and government institutions. PSG customers typically commit to multi-year contracts that provide recurring revenues based on underlying payment transaction volumes. Specific offerings include:
1) Item Processing and Output Services -- This segment provides financial institutions with the equipment needed to capture data from checks, transaction tickets and other items; image and sort items; process exceptions through keying; and perform balancing, archiving and the production of statements. These processing services are utilized by more than 1,500 financial institutions and are performed at one of eight item processing centers located throughout the U.S. or on-site at customer locations. Solutions also include data capture, check and remittance processing, fraud detection, and document and report management. Additional output services that are ancillary to the primary solutions it provides, including print and mail capabilities and card personalization fulfillment services.
2) Credit Card -- This solution segment allows customers to issue credit and debit cards and provides card production and activation.
3) Electronic Funds Transfer -- FIS's electronic funds transfer and debit card processing businesses offer settlement and card management solutions for financial institution card issuers. The company provides traditional ATM- and PIN-based debit network access and emerging real-time payment alternatives to customers.
International Solutions Group: ISG provides local services to customers in more than 100 countries around the world. The services delivered by FIS in these locations provide many of the same financial and payments solutions offered in North America. (i.e., core banking applications, channel solutions, card and merchant services, item processing and check risk management solutions to financial institutions, card issuers and retailers.
For a more detailed revenue breakdown, see below:
Click to enlarge images.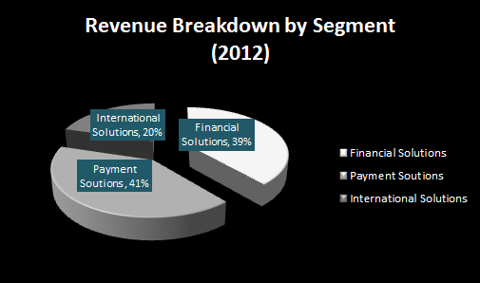 Investment Thesis 1: Significant Revenue Visibility
A majority of FIS's revenue -- in all three product segments -- stem from customer contracts that average four to six years in length. These contracts generate significant revenue visibility, as I estimate a strong majority of revenue is processing and maintenance based and therefore recurring in nature. In addition, these sticky customer contracts usually stipulate terms that are favorable for FIS, requiring customers to pay termination fees that make up close to the balance of the outstanding contract life if they choose to cancel. Once these contracts expire, customer renewal rates are high due to the mission-critical nature of the software. In other words, banks rely on FIS's core processing in order to operate and interact with customers.
Therefore, when the contract expires, banks usually lack the flexibility to price shop and the desire to enter into a new sales cycle. In addition, no bank wants the repeated headache of undergoing an entire new implementation phase, which often takes nine to 12 months and costs millions of dollars. Thus, banks are much more prone to renew their contracts and usually cultivate a close relationship with their vendor.
Investment Thesis 2: Healthy Customer Base and Low Customer Concentration
It might be a surprise to consider that FIS actually enjoys a healthy and stable customer base. Although the pace of industry consolidation that has taken place over the last 15 years can't be ignored (i.e., the number of federally insured banks decreased from 17,901 in 1984 to 7,357 in 2011 as the number of banks with assets with less than $25 million declined by 96%) FIS's target segment of banks with AUM of $1 billion< has actually grown in the past decade. According to the FDIC 2012 report, the number of financial institutions with more than $1 billion AUM has grown by 14% over the past decade, from 584 to 666 institutions worldwide.
In addition, despite there being less institutions, there is no doubt that underlying banking activity has not decreased over this time. The number of accounts, volume of deposits, and number of loans has increased significantly both in the long run and in the immediate aftermath of the crisis. Consolidation can actually work to the advantage of FIS in terms of gaining market share if an acquiring bank -- one which is a FIS customer -- requires that its target's systems align. And lastly, FIS's customer base is well diversified, as its top customer only accounts for 5% of total revenue.
Investment Thesis 3: Push to Mobile
In March 2013, FIS completed the acquisition of mFoundry, a leading provider of mobile banking and payment solutions. It is within mobile that I believe FIS will grow the most. While nearly 90% of financial institutions now offer a mobile banking platform, it is estimated that only 53 million people have adopted this channel as of 2013, which is expected to increase to 100 million adults by 2015. Accordingly, FIS generates a per transaction fee from banks that process transactions through FIS's mobile platform. Among regional and community banks especially, mobile adoption is poised for accelerated growth over the next two years as penetration rates increase. The chart below depicts the historical trajectory of U.S. active mobile banking users.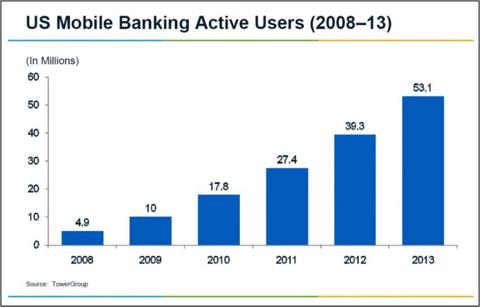 Investment Thesis 4: International Growth
FIS, relative to competitors, has succeeded enormously in its push to expand overseas. Currently, FIS's international solutions group accounts for 21% of revenue, demonstrating a higher degree of international penetration than any of its competitors. With the shake-up of the US banking industry, the fact that FIS is well positioned in global markets and has geographically diversified its customer base will keep the company ahead of its peers. More specifically, it will allow FIS to align with the global secular shift to electronic payment.
The company has provided bankcard issuing services to global markets for ~15 years and, accordingly, has developed the infrastructure and relationships to continue to penetrate critical international markets. In particular, FIS has garnered increasing interest for its outsourced solutions from European institutions seeking to achieve greater operational efficiencies. This, in turn, has strengthened FIS's pipeline. Moreover, in 2012 FIS became the largest third-party card processor in Brazil and Asia Pacific, and has steadily built up its ATM presence in India.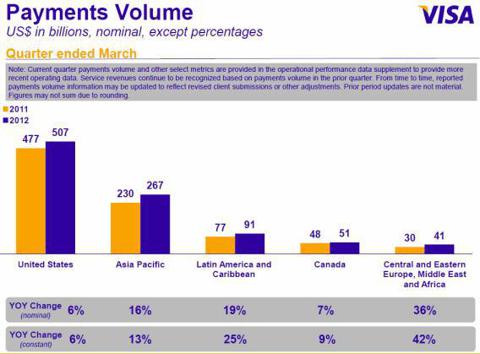 Investment Thesis 5: FIS Has Consistently Rewarded Shareholders
According to FIS's 2012 10-K, in February 2012, FIS's board increased the quarterly per share dividend by 300% to $0.20 per share and also increased the company's share repurchasing authority to $1B. In total, the company returned $686 million to shareholders in 2012 through share repurchases and dividends. Subsequently, in February 2013, FIS's board increased the quarterly dividend yet again by 10% to $.22 per share. This disciplined capital allocation has translated into a total return, including dividends, of 34% in 2012 compared to a total 16% return for the S&P 500, and paves the way for further capital appreciation in the near future.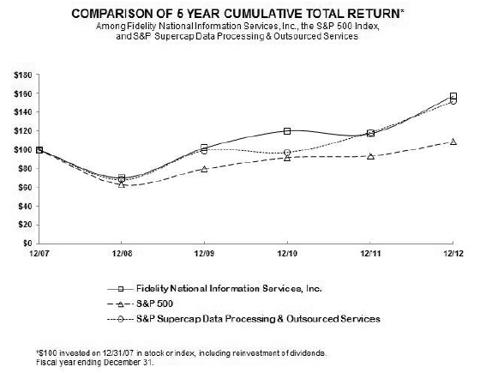 Model Walk-Through
Given this context, my DCF integrates this growth trajectory neither aggressively nor conservatively by applying the same five-year CAGR from 2008-12 to build out top line growth for the forward five-year horizon. Specifically, in this base case I input the 14.6% CAGR, 9.3% CAGR, and 9% CAGR of FIS's financial institution segment, payments segment, and international segment, respectively. (The weighted average CAGR across all segments is ~9%, which I again do not believe is aggressive given the fact that it's based on a CAGR pitted directly in the crisis when bank IT spend declined significantly.) I then apply the mean operating margin from 2008-12 for each segment to build out EBITDA. Based on historical provision for income taxes, I calculate FIS's effective tax rate at 19.2%. Moving downwards to free cash flow, I project D&A, capex, and working capital changes using a trailing five-year mean of their percentages of revenue, respectively.
Finally, after discounting these free cash flows by FIS's WACC of 6.7% and adding a sensitized EV/EBITDA multiple-based terminal value, FIS's implied share price trades at ~$56.92, roughly 24.5% higher than its current market price at $45.70.
One last note -- for informational purposes, I have also calculated the present value of FIS's dividends, which I did by taking the average quarterly historical declared dividend, annualizing it, and then discounting by cost of equity. This comes out to $4.15 a share, which represents 7.3% of the implied per share fair value. Especially in the context of the financial technology industry, I view this relatively higher ratio as an added bonus to shareholders in light of management's capital allocation strategy.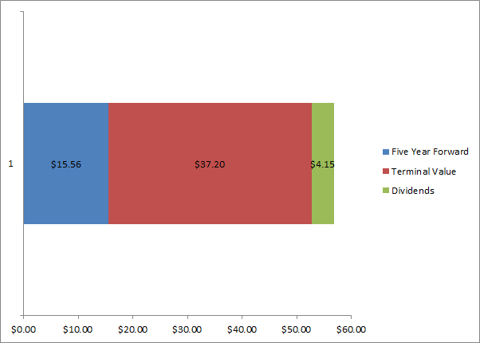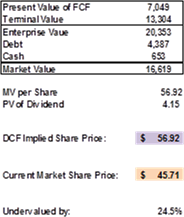 Competitive Landscape
FIS's top two competitors are Fiserv (NASDAQ:FISV) and Jack Henry (NASDAQ:JKHY), both publicly traded, which serve 16,000 and 11,000 banks, respectively. Industry consolidation, however, plays out most favorably for FIS since FIS has the highest penetration rate amongst large regional banks with more than $1 billion in AUM. As such, as larger banks continue to gobble up smaller community players and strive for integrated systems, naturally FIS will experience an uptake in market share. Accordingly, FIS generates nearly 45% more revenue for each customer.
As it stands, core systems' market share is broken down according to the graph below.
Comparable multiples and operating metrics, in addition, are highlighted below.
Market Cap

TTM Revenue

TTM EBITDA

Revenue/Customer (in 000's)

Five-Year -- PEG

P/E

FISV

$12.0B

$4.65B

$1.38B

$291

1.4

22.9

FIS

$13.5B

$5.93B

$1.69B

$424

1.3

28.6

JKHY

$4.35B

$1.13B

$.365B

$103

1.9

24.7
Source: Yahoo Finance.
Although FIS trades at a slightly higher P/E than its peers, I am confident it is still vastly underpriced. The difference in FIS's top-line growth over the last five years from JKHY and FISERV has positioned FIS on a trajectory that more than makes up the difference for the slight P/E premium. This is why I place more weight on PEG, for which FIS actually trades at a discount to its peers.
In fact, based on earnings growth projected in my model, FIS's forward P/E declines dramatically if shares continue to trade at today's $45.70 value. Eventually, the stock becomes too cheap even relative to peers and the market will need to reprice it accordingly. Below you can track the P/E curve over the next five years.
| | | | | | |
| --- | --- | --- | --- | --- | --- |
| Years: | 2008 | 2009 | 2010 | 2011 | 2012 |
| WA Shares OS | 192 | 239 | 352 | 307 | 298 |
| Price High | $43.50 | $25.70 | $29.90 | $33.54 | $36.97 |
| Price Low | $12.47 | $15.52 | $22.28 | $22.58 | $26.43 |
| Avg Market Cap | 5373.12 | 4925.79 | 9183.68 | 8614.42 | 9446.60 |
| Debt | 2,888 | 3,253 | 5,192 | 4,809 | 4,385 |
| Cash | 221 | 431 | 338 | 415 | 518 |
| EV | 8,040 | 7,748 | 14,038 | 13,008 | 13,314 |
| EBITDA | 789 | 955 | 1574 | 1685 | 1711 |
| EV/EBITDA | 10.2x | 8.1x | 8.9x | 7.7x | 7.8x |
| | | | | | |
| | 2013 | 2014 | 2015 | 2016 | 2017 |
| Forward P/E | 22.6x | 19.4x | 16.7x | 14.3x | 12.3x |
| Fwd EV/EBITDA | 9.8x | 8.8x | 7.9x | 7.1x | 6.3x |
Risks and Mitigants
For further deliberation, below I have included what I feel are the two primary risks regarding investing in FIS, along with their respective mitigants.
| | |
| --- | --- |
| Risks | Mitigants |
| 1. Industry headwinds, including consolidation of lesser performing and smaller banks, will curtail IT spend and detract from FIS's potential pipeline and customer base. The number of federally insured banks decreased from 17,901 in 1984 to 7,357 in 2011 as the number of banks with assets with less than $25 million declined by 96%. | 1. Consolidation can actually help FIS expand its offering and upsell its existing solutions. This is because, first and foremost, FIS targets larger banking institutions with more than $1 billion in assets. In this AUM range, the number of financial institutions has actually increased over the past decade. And because consolidation "cleans up" the industry by merging unprofitable entities into a more efficient entity, banks not only will demand greater integrative technology but will actually have the capital for implementation. |
| 2. The market for electronic banking has essentially matured. Nearly all financial institutions and regional banks employ an online platform, and only a fraction does not yet employ a mobile solution. This implies that, in order for FIS to increase market penetration, it will have to improve customer win-loss ratios, renewal rates, and potentially scale through bolt-on acquisitions. Because of this market maturation, perhaps the industry will experience rapid price commoditization as technology becomes more ubiquitous and pricing pressure increases. | 2. An antidote to competitive pricing pressure is sticky contracts, lengthy and costly implementation, and therefore revenue visibility. FIS contracts usually are multiyear (i.e. four to six years) in length, require customers to pay early termination fees, and give advanced notice if they will choose not to renew. As a result, these stipulations discourage customers from generally having the flexibility or even the desire to price shop. In addition, the mission-critical nature of FIS's software solutions again discourages customers from changing vendors at any given time. In fact, in the case that customer wants to employ a competitor to provide certain banking solutions, it will be discouraged by the hassle of not having one touch point when dealing with a vendor. |
| | |
Conclusion
Therefore, I issue a strong buy rating for FIS. Having calculated an implied fair value of $56.92, I reckon the market has underpriced this company by 24.5%. In spite of the fact that FIS trades at a slightly higher P/E than FISERV and Jack Henry, I still believe it is underpriced to this extent. If we were just to assume that growth continues, for the next five years, at the same CAGR as during the crisis and post-crisis recovery, then top-line growth will more than make up for this slight P/E premium. This is why I emphasize the importance of PEG, for which FIS is priced more cheaply.
Over the past five years, its financial services and payments solution growth rates have crushed those of Fiserv and Jack Henry, and the company commands a much larger global presence. This, along with the company's diverse customer base, significant revenue visibility as a result of sticky contracts, and a strong push in mobile software solutions only serve to boost the company's operating prospects. Lastly, FIS has continued to reward shareholders. It has increased its quarterly dividend several times over the past few years and has embarked on a hefty share repurchasing program. In conclusion, the rocky road on which Ben Bernanke has taken us only demonstrates that it is ever more important to look a bit closer to find value. FIS may just be the quietest Fortune 500 gem.
Disclosure: I am long FIS. I wrote this article myself, and it expresses my own opinions. I am not receiving compensation for it (other than from Seeking Alpha). I have no business relationship with any company whose stock is mentioned in this article.