Wells Fargo (NYSE:WFC) has been in the news recently following Warren Buffett's acquisition of more shares in the company; to the tune of 5 million shares (or 1.1% increase in his position). Known for his long-term buy and hold strategy, Buffett is aiming for bigger returns in the long run by investing in the strong fundamentals of the company. Wells Fargo has been delivering excellent results for the past few years and, with an solid management team in place, appears to have a bright future.
Industry Analysis
The chart below shows the ROE% Change among the 4 big banks in the U.S: Wells Fargo , Bank of America (NYSE:BAC), Citigroup (NYSE:C), and JP Morgan Chase (NYSE:JPM).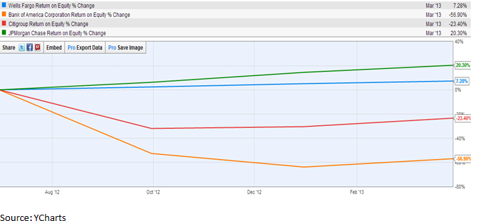 Wells Fargo stands in second place in terms of ROE percentage change, following JP Morgan. This clearly indicates that the bank has used its capital well to generate profits, while, on the other hand, two major banks failed to deliver a positive ROE. Citigroup and Bank of America both obtained negative ROE of -23.40% and -56.90% respectively. Why this level of disparity?
Wells Fargo pushed through an aggressive business strategy of diversification, thereby decreasing its risk. This initiative has been handsomely rewarded by investors as funds began to pour into the stock. This strategy, coupled with management's push for stricter internal standards to protect the welfare of consumers from old credit practices, has been seen as an indicator that Wells Fargo leads the other banks as the industry continues to change.
Wells Fargo's revenues are mainly derived from two portions: the first half is based on interest income, while the other half comes from fee generation. These two revenue sources are also well diversified and would stand up to another financial crisis well. For example, fee generation (mostly derived from investments and mortgage banking) sources have been increasingly structured to offset any losses from interest income.
Sustainable Projects and Growth Potential
Wells Fargo leads a $1 billion credit facility for Novelis Inc., a global producer of aluminum-rolled products and the world's largest aluminum recycler. The company also made headlines when it hired more bankers to serve small businesses. It is currently increasing its market share in the small business market as shown in its recent launch of two new secured credit products, which will meet the needs of new and established small businesses. These new projects reflect the steady commitment of the company to sustain its long-term growth which will, likely, result in an increase in earnings in the coming periods.
Valuation and Strong Financial Performance
Wells Fargo's P/E ratio is slightly lower than the industry average, which stands at 15.79, while price per book is currently at par with the industry average of 1.49 - indicating that the stock is equally valued.
A ROE of 13.06 is currently above the industry average of 8.36, indicating a well managed use of capital. Net income increased by 21.7% in the first quarter of the year in comparison to last year's figure in the same period. This, despite the fact that revenues fell by 2.5% for the same period, indicates the bank has a strong ability to manage its expenses.
Earnings growth potential is significantly higher at 21.71 in comparison to the industry average of '10.02' indicating the bank's ability to increase its capital value and justify the higher P/E ratio.
Dividend yield (as shown below) stands out as it has increased by 10.05%, relative to its peers, which have all seen declines over the period.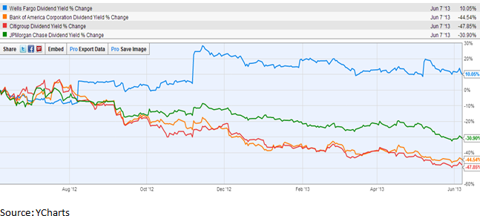 Recommendation
I would put a buy recommendation on Wells Fargo. Financial data indicates strong capacity for earnings and growth, which will likely push the share price even higher. ROE is currently at 13.06%, which is 44% higher than the industry average. The company also has a solid and stable dividend yield at nearly 3%, which, essentially, pays long-term, fundamental investors to buy and hold with the hopes of share price upside. The company has sound management, which has been active in ensuring the company delivers strong growth quarter after quarter, while keeping ahead of the curve in terms of preparing for changes in the commercial banking industry. The company is well diversified, reducing its risk relative to other players in the industry. The factors combined, make for a solid long-term investment.
Disclosure: I am long WFC. I wrote this article myself, and it expresses my own opinions. I am not receiving compensation for it (other than from Seeking Alpha). I have no business relationship with any company whose stock is mentioned in this article.