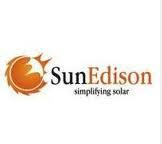 Executive Summary
SunEdison, Inc. (SUNE) is one of my best picks for 2013. I made my initial call to buy the stock in August at $2.59 for several reasons. The stock had just broken out of a long-term downtrend and $2.15 was actually the bottom. SunEdison was trading for approximately book value and only 23% of sales. EPS for the next year was expected to rise by 312%. Insider transactions were up 133% over the previous six months. Life was great until earnings were recently announced. SunEdison's stock was up over 180% year to date until the recent quarterly earnings were reported. The stock fell 40% from its 52-week high of $10.47 to the current share price of $7.43. I see this sell off as a buying opportunity.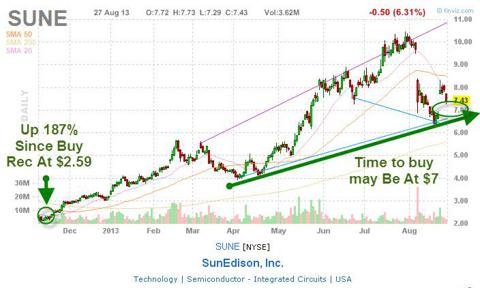 The big catalyst is SunEdison's IPO of the semiconductor business. The IPO is expected in early 2014. This move should unlock major shareholder value and improve the balance sheet. The move should unleash the semiconductor side of the business to focus solely on semiconductor revenue growth and margin expansion potential. Furthermore, SunEdison's operating revenue should be up 30% in 2014 with a 2.9 giggawatt us market pipeline in place. These are the highlights. In the following sections I will perform an analysis of the stock's fundamentals and lay out my bull case for the stock.
Recent Earnings Results Quick Recap
On 8/7/2013, SunEdison reported second quarter 2013 losses of $0.19 per share. This result missed the $0.14 loss expectation of the 15 analysts following the company and missed last year's second quarter results by $0.33. The next earnings announcement is expected on 11/04/2013.
Market Comparison

SunEdison looks weak in comparison to the industry, sector and the S&P 500. The major issue is the company is not profitable. This puts SunEdison in the speculative category for me. The one bright spot is the one-year EPS growth rate of 90.24%. This is much higher than SunEdison's peers and the S&P 500. The solar business is still in its infancy. SunEdison may be on the cusp of achieving profitability and growth.
Fundamental Peer Comparison
Please review the following analysis of key fundamentals regarding SunEdison vs. its peers and industry averages. The tables were provided by Scottrade.
Profitability

Across the board, SunEdison is underperforming the industry and its peers with regard to profitability. With gross margins slightly less than its peers and less than half the industry average, SunEdison needs to gain traction and improve profit margins across the board. The spinoff of the semiconductor business should help management to focus in on margin expansion.
Valuation

SunEdison looks good when it comes to valuation. The Price to tangible book comparisons have SunEdison trading substantially lower than its peers and the industry average. The company is trading for 1.4 times tangible book value while its peers and the industry are trading for over 3 times tangible book value. SunEdison is lagging the competition in regards to cash flow though. The company is currently trading at 20 times free cash flow while its peers and the S&P are trading for 3 and 9 times free cash flow respectively.
Growth

SunEdison's five-year sales growth still lags its peers and the industry. Nevertheless, EPS growth over the last two months has nearly doubled at 90%. This is what was driving the share price higher during the year and what will continue to drive it higher in the future. This is one of the company's strong points.
Financial Strength

The company's long-term debt to equity ratio is vastly higher than its peers or the industry average. This is an area of concern. Interest expense can eat into profits. Management is focused on reducing long-term debt costs. This is one of the catalysts for the spinoff. The IPO of the semiconductor business should improve the balance sheet.
Management Effectiveness

Management effectiveness is sorely lacking and the negative ROI, ROE and ROA results prove that out. Luckily, one of the big changes will be the addition of a new Board of Directors for the semiconductor IPO. This is an area where it needs to improve. The IPO of the semiconductor business is a smart move.
Insider Activity
I like to check the insider activity to see if there is any unusual activity going on with insiders - vast amounts of sells or buying. There are many reasons for insiders to sell and only one to buy - the stock is going up. SunEdison's insider report seems positive to me there have been several insider buys. Presumably, insiders expect the stock price increase to continue. Over the last 5 years insiders have on average purchased 783.3K shares each year.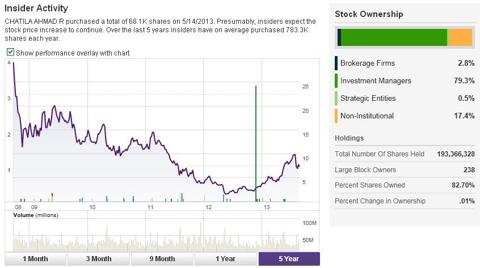 Positive Catalysts
IPO Spin Off
This spinoff of the semiconductor assets is the next logical step in a long drawn out evolution SunEdison embarked on years ago. The IPO will infuse the company with much needed funds for expansion and serve to focus management strictly on its areas of expertise. The addition of another Board of Directors should facilitate management effectiveness as well.
Growth Focus
The positive growth in certain areas fell victim to the headline of a revenue shortfall. The solar power industry is in its infancy. There are many players worldwide. The industry is fraught with all kinds of risks. Nevertheless, with great risk comes great reward. SunEdison is at an infection point. 2014 should be a break out year for the stock.
Downside Risks
Competitive Pressures
The industry is subject to abrupt fluctuations in pricing for products and services. The company has to do a better job of expanding margins and cutting costs.
Production Cost Risk
Companies are always looking for ways to cut costs. Sometimes hidden or unexpected costs occur during the process which results in less-than-expected unit cost reductions. This will also have a negative effect on profits.
Subsidy Cuts
Many of the solar initiatives around the world are subsidized by governments. If government subsidy levels materially change, this can have a dramatic effect on pricing and demand.
Macro Market Exposure
The month of August has been one of highs and lows. It seems the summer doldrums may finally be taking effect as the performance of the major averages have turned south. The market looks frothy to me. The latest Bull Run looks extremely long in the tooth at over four years. Stocks tend to take the stairs up and the elevator down. Watch over your profits.
Execution Risk
The fact that SunEdison is preparing for an IPO is both good and bad. The redeployment of personnel and assets can become a money drain if not managed closely. SunEdison will need to stay on track to be successful. Just because a company spins off a business does not mean it will automatically be a success.
Conclusion
I posit SunEdison may have some more downside near-term given the recent softness in global markets and news regarding Syria. Nevertheless, I posit this sell off is a huge buying opportunity for market participants. What I like most about SunEdison is its focus on EPS growth. While the stock sold off due to the current quarter's sales being light, significant growth in certain groups were noted and EPS growth was outstanding.
The bottom line is SunEdison has a lot of blue skies ahead and the IPO will be a huge positive for the stock. I have faith SunEdison will continue to improve EPS. I plan to layer into a position over time this year to reduce risk. I think the macro market selloff isn't over just yet and SunEdison's stock will not be immune to a selloff based on geopolitical risk. Finally, I have the stock in my speculative category until it starts turning a profit. You should always maintain a well balanced portfolio. I like the stock, but would not dedicate more than 5% of my portfolio to speculation.
Disclosure: I have no positions in any stocks mentioned, and no plans to initiate any positions within the next 72 hours. I wrote this article myself, and it expresses my own opinions. I am not receiving compensation for it (other than from Seeking Alpha). I have no business relationship with any company whose stock is mentioned in this article.
Additional disclosure: This is not an endorsement to buy or sell securities. Investing in securities carries with it very high risks. The information contained within this article is for informational purposes only and is subject to change at any time. Do your own due diligence and consult with a licensed professional before making any investment.