Oil ETFs may have surged on word of a potential U.S. strike on Syria. Those that have been paying attention, however, realize that West Texas Crude has been comfortably above $100 per barrel for quite some time. Moreover, commodity ETFs/ETNs that track oil and gasoline have performed remarkably well year to date.
The Re-Emergence of Oil ETFs/ETNs
Approx YTD %
Goldman Sachs Crude Oil Total Return (NYSEARCA:OIL)
18.4%
United States Oil Fund (NYSEARCA:USO)
16.7%
United States Gasoline Fund (NYSEARCA:UGA)
10.0%
PowerShares DB Oil Fund (NYSEARCA:DBO)
8.9%
United States Brent Oil Fund (NYSEARCA:BNO)
7.1%
Technical analysts see additional reason to be bullish on "black gold." At the tail end of June, the 50-day moving average of the Goldman Sachs Crude Oil Total Return ETN climbed above its 200-day moving average (aka, "a golden cross"). One can also see a bullish pattern of "higher lows" in every month since April.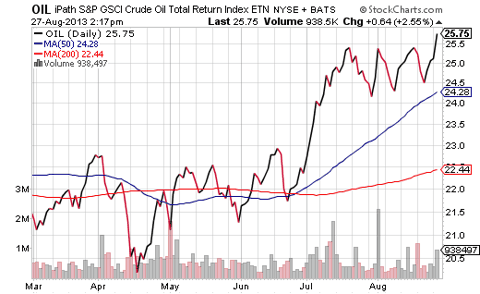 With stocks struggling to recapture momentum, should investors pursue oil as an alternative? Obviously, it is reasonable to consider supply disruptions in light of the potential for widening conflict in Syria and the Middle East at large. Yet Syria is a small net exporter of oil; similarly, Egypt imports as much as it exports. So the question on whether to get on the oil bus at this moment may depend on one's expectation of just how bad things could get in the entire region.
Who or what is the wild card in this equation? Iran. According to WSJ.com, if Iran responds to U.S. intervention in dramatic fashion, we might see one-fifth of the global supply affected via the Strait of Hormuz in the Persian Gulf. Absent a huge escalation, though, the trend in oil is not a reflection of strength in demand for the commodity itself. China's oil imports peaked early in 2013. Meanwhile, Morgan Stanley estimates that seasonal trends will contribute to a reduction in stateside demand in the months ahead.
If one's premise is that there will be a monstrous event in the Strait of Hormuz where one-fifth of the world's oil passes through, then one might consider an investment in an oil ETF/ETN. A case might also be made on an appreciation of technical strength alone. On the flip side, not only is demand likely to weaken, but supply disruptions outside of "war games" are beginning to dissipate. More oil is flowing out of Libya as labor disputes begin to settle; meanwhile, disturbances to Canadian production and distribution are nearly over as well.
While it is difficult to speculate on what may or may not occur in the Persian Gulf, I am more likely to favor "yellow gold" over "black gold." In my opinion, there are more reasons -- fundamental, technical, geopolitical, monetary policy -- to favor a physically backed gold ETF like ETFs Physical Swiss Gold (NYSEARCA:SGOL) than to join the bullish rush to oil.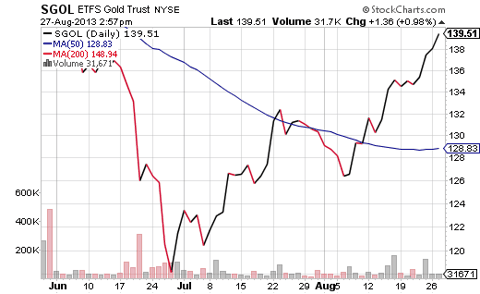 Disclosure: Gary Gordon, MS, CFP is the president of Pacific Park Financial, Inc., a Registered Investment Adviser with the SEC. Gary Gordon, Pacific Park Financial, Inc, and/or its clients may hold positions in the ETFs, mutual funds, and/or any investment asset mentioned above. The commentary does not constitute individualized investment advice. The opinions offered herein are not personalized recommendations to buy, sell or hold securities. At times, issuers of exchange-traded products compensate Pacific Park Financial, Inc. or its subsidiaries for advertising at the ETF Expert web site. ETF Expert content is created independently of any advertising relationships.