Tech is back, as people are reconsidering its robust growth, and relative immunity to geopolitical 'black swans'. This is seen in the NASDAQ (see below) that is not only outperforming other indices to the upside, but also showing greater resiliency on the downside. And within the tech sector, semiconductors and in particular PLD (Programmable Logic Device) companies such as Altera and Xilinx are seen favorably, leading to a recent upgrade of both. So, should you buy? The answer is, depends on your time horizon. I outline my thesis for Altera (NASDAQ:ALTR) - both for short-term caution and long-term bullishness.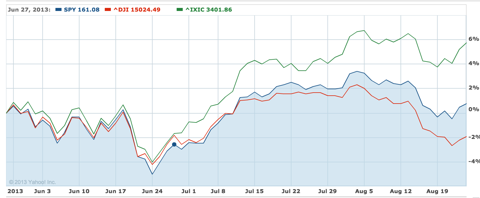 Pain for Mobile can be Gain for Altera. A number of companies that participated in the emergence of the smartphone are now seeing growth challenges with the smartphone plateau. However, what's bad for the handset is good for the network. Smartphone commoditization means increased reach, as cheaper smartphones are price accessible to more consumers. This in turn drives a need for network upgrades, such as this Chinese carrier upgrade to LTE.
Inventory Understock. Increased carrier spend (above) can have further upside if the carrier inventory is understocked in the first place, and has to build inventory along with a technology transition. This equipment upgrade along with an ASIC-to-FPGA transition provides multiple demand side catalysts.
Longer Term Process Tailwinds. The Intel Altera exclusive agreement on using Intel's advanced process capabilities was greeted with much enthusiasm. Some of that enthusiasm has waned with the Intel 14 nm Delay, but I expect this delay to be temporary and the competitive advantage for ALTR to be meaningful.
Favorable Technicals. In this time of uncertainty, 'well behaved' technicals in a stock are a useful insurance policy. In ALTR's case, you see a nice (and ascending) support in the $32-33 range (see below). There is a some resistance in the $36-37 range, but the healthy fundamentals suggest a possibility of breaching that resistance and heading into the low 40's.

Bullish Industry Dynamic. Despite the somewhat dour growth prospects of the economy, many tech stocks are more tied to carrier purchase cycles than the economy. Finisar (NASDAQ:FNSR) in the optical market reported robust earnings, suggesting a growth in telecom spend (Finisar). As seen below, ALTR has a substantial stake in the Telecom market and should see a related upside (both in the US and Internationally)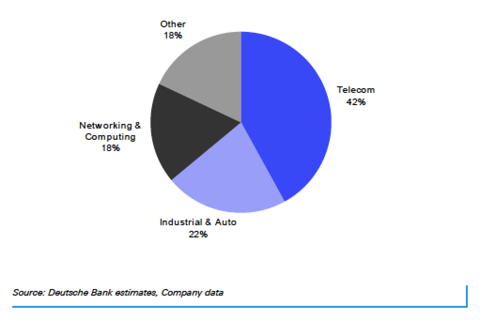 All in all, ALTR has tailwinds at a number of levels - sector, sub-sector, stock and customer. It is not flawless in the near-term, but its low downside and substantially higher upside make it a 'must watch' for growth investors. As always, consider this an informed data point and conduct your own due diligence.
Disclosure: I have no positions in any stocks mentioned, and no plans to initiate any positions within the next 72 hours. I wrote this article myself, and it expresses my own opinions. I am not receiving compensation for it (other than from Seeking Alpha). I have no business relationship with any company whose stock is mentioned in this article.