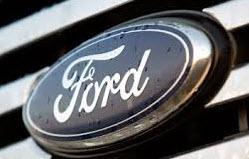 Executive Summary
As we approached Ford's (NYSE:F) earnings last quarter, I wrote an article stating I thought Ford's stock was overbought and looked tired. The news of fantastic truck sales had spurred the stock higher prior to earnings being announced. The stock reached a high of $17.58. Since, the stock has sold off to just under $16 on Tuesday. This is a 10% drop. I believe the stock has nearly bottomed and will soon reverse trend. In the following sections I will do an in-depth analysis of the stock and lay out my bullish case.
Recent Earnings Report Quick Recap
On 7/24/2013, Ford reported second quarter 2013 earnings of $0.45 per share. This result beat the $0.37 consensus of the 18 analysts covering the company and beat last year's second quarter results by 50.00%. The next earnings announcement is expected on 10/28/2013.
Market Comparison

Ford looks strong in comparison to the industry, sector and the S&P 500. The big stand out is the huge discount related to Ford's forward P/E vs. its peers and the S&P 500. Furthermore, Ford's stock is currently undervalued with a PEG ratio of 0.8. A PEG ratio of less than one is considered highly undervalued by financiers.
Fundamental Peer Comparison
Please review the following analysis of key fundamentals regarding Ford vs. its peers and industry averages. The tables were provided by Scottrade.
Profitability

Ford is behind the competition in regards to gross margins as compared to its peers and the industry. The bright spot is Ford makes up for it by being in line with the competition regarding net profit margin.
Valuation

Ford looks good when it comes to valuation. The P/E comparisons have Ford trading substantially lower than its peers and the industry average. Ford's P/E ratio being below the industry average signals that investors are not willing to pay a premium for this stock. If you're looking for value, Ford has it. Ford is trading for 7.4 times free cash flow, basically in line with peers. The price to tangible book value is notably higher than the competition.
Financial Strength

As you can see, Ford is highly leveraged. Nevertheless, Ford has plenty of liquidity and cash reserves as well. Ford is really two major businesses in one. You have the product side of the business and the financing side of the business, Ford Motor Credit. The fact that Ford has its own financing arm is a huge positive for the company. I remember financing my first Ford truck through Ford Motor Credit. The process was seamless with no bad surprises.
Management Effectiveness

Management's effective use of company profits and assets is probably the most important data to analyze when deciding to invest in a company. Ford CEO, Alan Mulally, runs a tight ship. Ford's management is doing a good job regarding ROA, ROE and ROI, but there is always room for improvement. I expect these numbers to continue to improve as Europe begins to climb out of recession.
Positive Catalysts
Financial Strength
Ford has an enormous amount of financing firepower. Ford's strong financial position allows the company to do a high level of R&D which leads to opportunity for profits. Ford's new technologically focused models are gaining favor with the "tech savvy" millennial generation.
Well Managed
No one questions the fact that Alan Mulally has done a bang up job of bringing Ford through one of the toughest times in its history. The only question is how much longer he will stay with the company. Any rumors of Mulally stepping away are a risk to the stock. Right now, there is no talk of Mulally going anywhere.
Truck Sales Growth
The positive growth in truck sales is huge for the company. Trucks are Ford's highest margin product. I posit the big push in truck sales was spurred by the uptick in housing. Everyone who works in the construction business just went out and bought a new truck I surmise. The good news is there are a lot more people being hired every day. This will keep truck sales brisk going forward.
Downside Risks
Competitive Pressures
The industry is subject to fluctuations in pricing for products. Fortunately, Ford is often the one applying the pressure. The company has done a great job of addressing the globe with specific models for each geographic territory and culture. In doing so, Ford is maximizing profits by delivering the right car for the right price.
Production Cost Risk
Companies are always looking for ways to cut costs. Sometimes hidden or unexpected costs occur during the process which results in less-than-expected unit cost reductions. This will also have a negative effect on profits.
Macro Market Exposure
The month of August has been one of highs and lows. It seems the summer doldrums may finally be taking effect as the performance of the major averages have turned south. The market looks frothy to me. The latest Bull Run looks extremely long in the tooth at over four years. A rising tide lifts all boats, but it can sink them just as easily. Stocks tend to take the stairs up and the elevator down. With the recent geopolitical tensions over Syria rising, it would be prudent to proceed with caution.
Conclusion
Ford may have some more downside near-term given the recent softness in global markets and news regarding Syria. Nevertheless, I posit this sell off is a buying opportunity for potential shareholders. What I like most about Ford is its focus on growth and improving margins. So much positive news came out recently, the stock got overheated and sold off even though the company beat estimates. Now, it is starting to look good again. I plan to layer into a position over time to reduce risk. I think the macro market selloff isn't over just yet and Ford's stock will not be immune to a selloff based on geopolitical risk. It may hit $15 before turning the corner.
Disclosure: I have no positions in any stocks mentioned, and no plans to initiate any positions within the next 72 hours. I wrote this article myself, and it expresses my own opinions. I am not receiving compensation for it (other than from Seeking Alpha). I have no business relationship with any company whose stock is mentioned in this article.
Additional disclosure: This is not an endorsement to buy or sell securities. Investing in securities carries with it very high risks. The information contained within this article is for informational purposes only and is subject to change at any time. Do your own due diligence and consult with a licensed professional before making any investment.