Real-time Monetary Inflation (last 12 months): 2.5%*

Too bad the stock market doesn't operate like a grocery store. Grocers regularly run ads touting lower prices to draw customers into their stores. Market makers advertise "specials" too, but unfortunately, a many investors pass up these stocks or funds when they go "on sale."
There's just such a bargain to be had with the Market Vectors Agribusiness Fund (NYSE Arca: MOO) now. Well, to be exact, the bargain's in the options market for the exchange-traded fund. Option premiums are priced now at some of their lowest levels over the past 500 days.
By "priced," I don't mean in terms of dollars but, rather, implied volatility. Implied volatility reflects the option seller's assumption of the underlying stock's price variance over the life of the option.
Right now, with MOO trading just south of the $40 level, market makers are setting call prices with very long odds on upside moves. Just how long are those odds? Look back at the steep plunge MOO shares took in the summer of 2008. After bottoming in fall, the ETFs retraced about a quarter of the decline before leveling out. Market makers figure there's only a 2.2% chance the fund shares can extend that retracement to the $48-$49 level by late November.
Market Vectors Agribusiness Fund (NYSEARCA:MOO)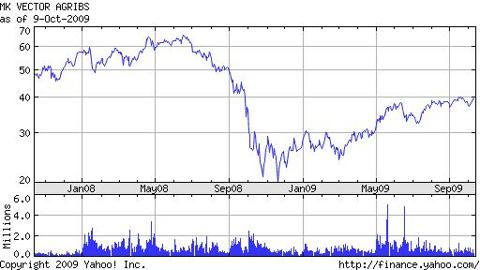 Click to enlarge
Largely, that's due to MOO's dawdling between $36 and $40 since August. Dawdling doesn't go on forever, though.
November $40 calls were offered for only $1.40 per share this morning. These calls break even at expiry on Nov. 20 at only $41.40. Paying 3 1/2 cents a day for a lease on MOO seems like one of the market's current best buys. You don't even need a coupon.
*Note: The monetary inflation rate is calculated daily and represents the change in our proprietary index from this date one year ago. We update long-term inflation in real time as well. Since 1999, the compound annual growth rate in our index is 5.2%.