On the 25th of August, Amgen (NASDAQ:AMGN) announced its plans to acquire Onyx Pharmaceuticals (NASDAQ:ONXX) for $10.4 billion. On Monday, Onyx shares rose 5.58% to $123.49, while Amgen shares gained 7.72% to $113.75 by the end of Monday's trading session. Amgen has since seen a slight correction, dropping around 4% on Tuesday.
Onyx Pharmaceuticals, Inc. is a global biopharmaceutical company engaged in the development and commercialization of innovative therapies for improving the lives of people with cancer. Robert A. Bradway, chairman and chief executive officer at Amgen said "We believe that Amgen is ideally suited to realize the full potential of Onyx's portfolio and pipeline for the benefit of physicians and patients". "Amgen has a unique opportunity to add value to Kyprolis, a product which is at an early and promising stage of its launch," Bradway continued. Onyx holds global rights to Kyprolis, excluding Japan. The acquisition of Onyx also adds to Amgen's robust late-stage pipeline. This pipeline includes nine innovative products for which registration-enabling data are anticipated by 2016. Four of these are innovative, first-in-class oncology products.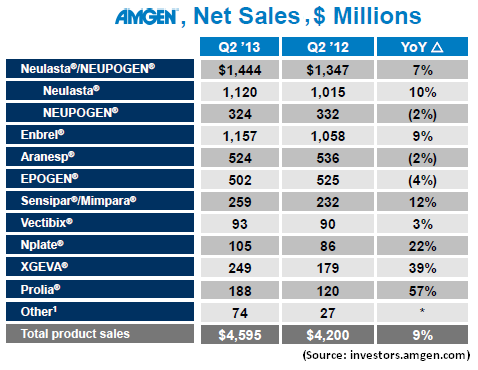 The above table shows the list of Amgen's current product portfolio, with revenue earnings for Q2, 2013 compared to the same period for 2012. As indicated, Amgen managed to grow at 9% in Q2, 2013, with only 3 product lines suffering declining growth. Prolia's revenue grew highest clip, by 57%, with Neulasta and Embrei comprising the bulk of the portfolio.
Benefits of the Transaction
Onyx's oncology pipeline adds to Amgen's existing pipeline that addresses areas of serious unmet medical need.
The acquisition of Onyx enables Amgen to continue building its position in international markets, capitalizing on its worldwide commercial, development and manufacturing capabilities.
The transaction is expected to deliver meaningful revenue growth and return on capital and to be accretive to adjusted net income in 2015.
Sources of Revenue Growth and Profitability from Onyx:
·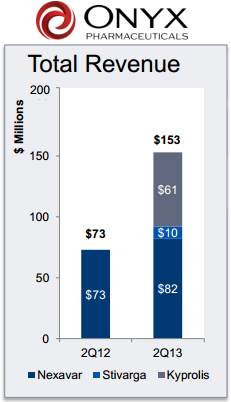 Kyprolis: is at an early stage of its launch, with global rights, excluding Japan. Amgen believes there is a significant opportunity to grow Kyprolis, including potential expansion into earlier lines of multiple myeloma treatment and into international markets.
Oprozomib: an investigational oral proteasome inhibitor, and has the potential to play an important future role in the management of multiple myeloma.
Nexavar® (sorafenib) tablets: is Onyx's and Bayer's oral kinase inhibitor. The companies co-promote Nexavar in the U.S.,outside of the U.S. to share profits globally, excluding Japan.
Stivarga® (regorafenib) tablets: is Bayer's oral multiple kinase inhibitor. In 2011, Bayer entered into an agreement with Onyx, under which Onyx receives a 20 percent royalty on all global net sales of Stivarga in oncology.
Palbociclib: is Pfizer's investigational oral inhibitor. Onyx will receive an 8 percent royalty on future worldwide sales of palbociclib.
The market for multiple myeloma is expected to grow from $6.1B in 2012 to $10.4B by 2017. We believe with a blend of Amgen's experience and Onyx innovations; Amgen Inc., a biotechnology pioneer since 1980, will grow to newer heights in world's biotechnology industry.
Analyst Recommendations:
21 analysts at Yahoo Finance evaluated a higher price target for Amgen of $140/share with a support at $120/share - of course, this was prior to the acquisition announcement.

Conclusion:
Amgen has been the world's largest independent biotechnology company. With this strategic takeover, Amgen now has a fresh influx of products in its pipeline. The returns from the Onyx takeover will not be reflected until 2015. However, it's not necessarily the added revenues of current products that will have the biggest lasting impact, it's the portfolio of products that are expected to make their way into market by 2016. The acquisition, coupled with a healthy growing dividend, makes Amgen a solid long-term investment.
Disclosure: I have no positions in any stocks mentioned, and no plans to initiate any positions within the next 72 hours. I wrote this article myself, and it expresses my own opinions. I am not receiving compensation for it (other than from Seeking Alpha). I have no business relationship with any company whose stock is mentioned in this article.