Another quarterly report and another major sell-off of Millennial Media (NYSE:MM). Investors not reading the report would probably suspect that the leading independent mobile advertising company released earnings that didn't meet estimates. The nearly 19% loss on top of an 8% loss on the day earnings were released undoubtedly must have been due to extremely negative numbers.
The sell-off was actually caused by a couple of factors, including the surprise merger of the second leading independent mobile ad network and revenue numbers that missed estimates. Considering the general weakness in the sector, it actually doesn't take much to send ad technology stocks down these days.
The deal compares favorably to recent purchase of Adap.tv by AOL (NYSE:AOL). AOL paid roughly $405 million for a revenue base of around $100 million, though actual figures are difficult to determine.
Good results disappoint the market
The market was clearly disappointed by the revenue miss, though it appears to have missed an otherwise brilliant quarter. Earnings easily surpassed estimates due to an increase in gross margins and the willingness of management to turn down unprofitable, performance-based business. Typically, a revenue miss leads to a hit on operating margins, that leads to a large earnings miss that is worthy of a huge sell-off.
The company saw revenue surge 45% to $57 million with earnings of $0.02 beating estimates by $0.03. The most impressive part was gross margins of 42.4% exceeding the company's own long-term guidance for a top end range of 42%.
In general, the results were somewhat mixed considering the importance of revenue growth and capturing market share. On a relative basis, the market appears to be ignoring the extreme value with stock down to an enterprise value of only $400 million.
Jumptap merger
The company announced the buyout of mobile advertising competitor Jumptap for around $230 million. The deal involves approximately 24.6 million shares and up to $12 million in cash. Millennial suggests the deal provides Jumptap shareholders a 22.5% ownership of the combined entity for a revenue base of $53 million in 2012. Note that other media outlets are using the $63 million figure that incorrectly includes a portal business that has been discontinued.
For the mobile ad display market, Jumptap is what Millennial Media wasn't in that sector. The company focuses on performance-based advertising, third-party data partnerships, and real-time bidding (RTB). All of these services will mesh perfectly with the offerings of Millennial to create the best suite of product for mobile advertisers.
Part of the reason for the massive drop in the stock was the inability of management to provide analysts with comfort on the revenue model going forward. The CFO guided to combined revenue of $80 million to $85 million for Q3 2013, a disappointing number considering analysts were originally expecting Millennial to hit $73 million on a stand-alone basis. He did provide full-year guidance of up to $350 million, that provides for solid revenue in Q4 suggesting ultra conservative numbers for Q3.
Making a run at Google
A major reason for the merger is to take on Google's (NASDAQ:GOOG) dominance in third-party mobile advertising. The company sees the ability to make huge gains by becoming the dominant independent provider of mobile advertising. According to the presentation on the merger, the combined Millennial and Jumptap will be slightly below the 29% market share of Google and make Apple (NASDAQ:AAPL) a distant third place.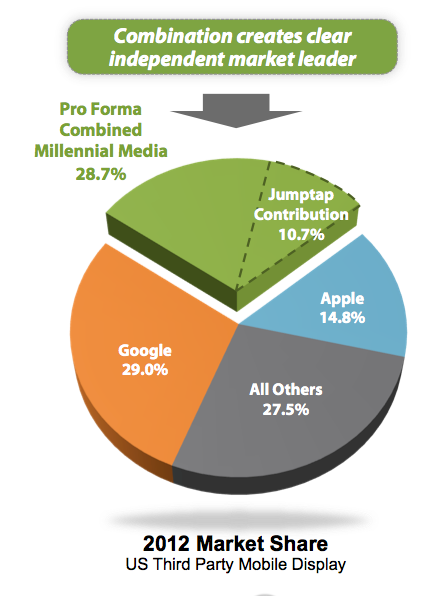 The common misconception continues to be that Google is the dominant player in advertising, but when striping out search and Google-owned properties such as YouTube, that dominance quickly fades in the hot new sectors of mobile and video ads.
An encouraging trend is the cost-per-click declines at Google are being met by increases at Millennial. Google saw a 6% decline over last year and a 2% sequential decline. Millennial generated a 15% gain over last year. Another sign that maybe Millennial could generate higher revenue if it allowed lower rates.
AOL focuses on video ads
Though mostly segregated at this point, video ads are now moving toward mobile, making the recent acquisition by AOL a threat for the new Millennial. Adap.tv is a leading video ad provider that runs a programmatic platform powering video ads for brand advertisers, agencies, publishers, and ad networks. AOL hopes to benefit from the shifts in the $420 billion global television advertising market toward the Internet. The online video ad market is expected to jump to $4.4 billion this year, so AOL is clearly preparing for the future, one that leads it squarely into the competitive eyes of Millennial as video continues moving to mobile.
Interestingly, comScore only lists the video ad exchange as the fourth largest, trailing Google, Liverail.com, and BrightRoll. Google is the de facto dominant leader primarily from the automatic access to advertising on YouTube videos, but the other three firms were virtually tied in second place in June at around 2.3 billion monthly video impressions. Adap.tv currently reaches nearly 40% of the domestic market and combined with AOL, it would become the second-largest network of video ad impressions.
AOL, though, has a bad history of making buyouts work. History suggests the $400 million deal could help the other independent video ad exchanges take market share, and possibly eliminating one competitive threat from Millennial Media's future list. AOL is worth $2.7 billion and continues to reduce assets from other investments such as Patch.
Bottom line
On a relative basis, Millennial Media continues to be one of the cheapest stocks in the market. It provides one of the lowest valuations of a stock growing revenue at 45%. AOL shows no signs of being a viable threat in this industry and will need to prove that it can actually integrate and grow the Adap.tv purchase. Google remains a solid investment, especially after the recent pullback, but it provides a different opportunity than Millennial. Millennial is the best play for the surge in mobile advertising while Google remains the general play for the shift to more and more digital advertising.
Disclosure: I am long MM. I wrote this article myself, and it expresses my own opinions. I am not receiving compensation for it (other than from Seeking Alpha). I have no business relationship with any company whose stock is mentioned in this article.
Additional disclosure: The information contained herein is for informational purposes only. Nothing in this article should be taken as a solicitation to purchase or sell securities. Before buying or selling any stock you should do your own research and reach your own conclusion or consult a financial advisor. Investing includes risks, including loss of principal.