An exchange traded fund that tracks the Irish equities market is outpacing both Eurozone and U.S. markets on improved exports, a rebounding housing sector and better consumer sentiment.
The iShares MSCI Ireland Capped Index ETF (NYSEARCA:EIRL) has gained 29.7% so far this year, compared to 11.0% rise in the Vanguard FTSE Europe ETF (NYSEARCA:VGK) and the 17.7% increase for the SPDR S&P 500 (NYSEARCA:SPY).
"Ireland has seen its competitive position improve with the country running both current account and trade surpluses while the surplus of Dublin homes for sale appears to have shrunk," Sean Darby, chief global equity strategist at Jefferies in Hong Kong, said in an Irish Times article.
Darby also points out that house prices have risen over the past year for the first time since early 2008, and the number of new homes in the second quarter also rose, the first positive annualized quarterly figure since late 2006.
Additionally, the KBC Ireland/ESRI consumer sentiment index increased in June to its highest level since 2007.
"In a sign that some of the worst of the lending problems are behind them, Bank of Ireland signaled it wanted to buy back €1.8 billion in preference shares in the bank," Darby added. "The news followed the announcement that pre-tax losses in the first half of 2013 have more than halved and net interest margins have also improved as Ireland's biggest lender nears profitability."
iShares MSCI Ireland Capped Index ETF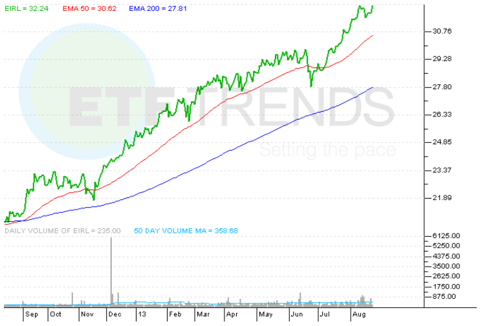 Max Chen contributed to this article.
Disclosure: I am long SPY. I wrote this article myself, and it expresses my own opinions. I am not receiving compensation for it. I have no business relationship with any company whose stock is mentioned in this article.