My recent stock screening in the micro-cap area turned up an interesting candidate for investment, QC Holdings (QCCO).
QC Holdings Inc. and its subsidiaries is engaged in providing various financial services (primarily payday loans) and sell used vehicles and earn finance charges from the related vehicle financing contracts. The Company operates in three segments: Financial Services, Automotive and E-Lending. (Yahoo finance.yahoo.com/q/pr)
Its 52 week chart shows a substantial loss of 28% in share value. A closer look reveals that QC Holdings has suffered significant quarterly earnings losses of 80% yoy and even a loss of 6.8% quarterly revenues yoy. It seems as though this one could be headed for the dust bin.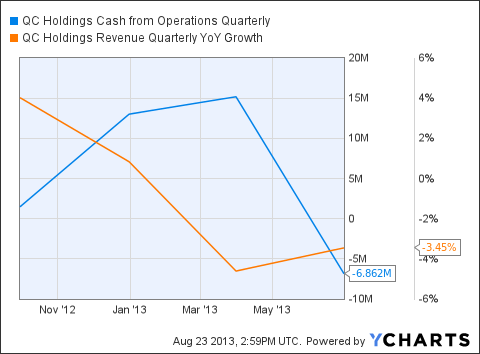 QCCO Cash from Operations Quarterly data by YCharts
However, on a positive note, the company has no debt, and still has a gross margin above 20% and profit/net margins of 3%-5%. Shareholders also enjoy a roughly 7% yield on the stock, and a payout ratio above 65%, which is high but appears to be sustainable at this time. The dividend has been intact at $.05 per share since May '10.
It could be debated if they should suspend the dividend until they can turn around their business. It is a high yield and such a small company could use the cash infusion to expand their business and address the systemic issues that seem to be plaguing them.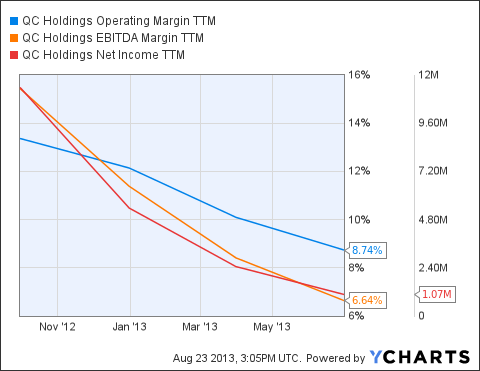 There could be further difficulty down the road as they stated the following in their recent quarterly report:
Revenues declined $1.5 million, or 3.6%, quarter-to-quarter, primarily due to lower sales in the automotive segment and reduced payday loan fees. These declines, resulting from reduced customer demand and increased competition, were partially offset by higher fees and interest from the company's longer-term, higher-dollar installment products, which were introduced in early 2012. (QC Holdings Second Quarter Results)
The company attempted to highlight its costs reducing efforts in the following paragraph:
The first half of 2013 includes approximately $517,000 in severance and related costs in connection with a restructuring necessitated by declining loan volumes over the past few years as a result of shifting customer demand, the sluggish economy, regulatory changes and increasing competition in the short-term credit industry. The six-month 2012 period includes a $739,000 gain resulting from the cash settlement of an expiring life insurance policy. Exclusive of the 2013 severance and related costs and the 2012 non-recurring gain, the decline in expenses period-to-period reflects reduced salaries and performance-based incentive compensation. (QC Holdings Second Quarter Results)
Wage reductions, staffing levels and bonuses are always costly to a business, however when the business is failing to execute on a proven business model (Payday loans and Car Lending), it seems more of a management issue than it is of its cost structure.
Automotive sales are having a banner year, and the inability to execute on one of the few bright spots in the economy is inexcusable. If they choose to blame the rollout of new products from last year as a cause so be it. It certainly makes me feel uneasy that nearly a year after the new products are released they are still incurring costs from it. This shows lack of public interest in what they are selling.
Relevant Key Statistics
QCCO has cratered through its 50 day moving average of $2.64 and 200 day moving average of $3.00, signaling a strong bearish trend in the stock. However its current trading ranges indicates it has reached a bottom, as it's been bouncing around the $2.60 range for quite sometime now.
The balance sheet looks healthy in the near term, and their tangible book value ($4.76) is well above its current trading price; shares appear to be severely oversold or simply a steal at these levels.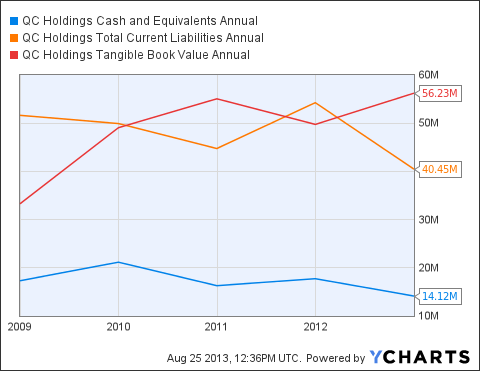 Conclusion
I don't recommend investing in QC Holdings at this time because the management team has not demonstrated a competent strategy going forward. They have not been successful in taking advantage of record auto sales and have shown poor execution from their payday lending business.
I would keep this stock on the watch list however to check for signs of improvement and an opportunity to buy it at very low levels as long as the dividend remains intact.
This is a very thinly traded stock, shares may be hard to come by and hard to sell.
Disclosure: I have no positions in any stocks mentioned, and no plans to initiate any positions within the next 72 hours. I wrote this article myself, and it expresses my own opinions. I am not receiving compensation for it. I have no business relationship with any company whose stock is mentioned in this article.