In this article, I will feature one industrial goods company that has seen intensive insider buying during the last 30 days. Intensive insider buying can be defined by the following three criteria:
The stock is purchased by three or more insiders within one month.

The stock is sold by no insiders in the month of intensive purchasing.

At least two purchasers increase their holdings by more than 10%.
New Flyer Industries (OTC:NFYEF) engages in the manufacture and sale of heavy-duty transit buses for public transportation in the United States and Canada. The company is the industry technology leader and offers the broadest product line including drive systems powered by: clean diesel, natural gas and electric trolley as well as energy-efficient diesel-electric hybrid vehicles.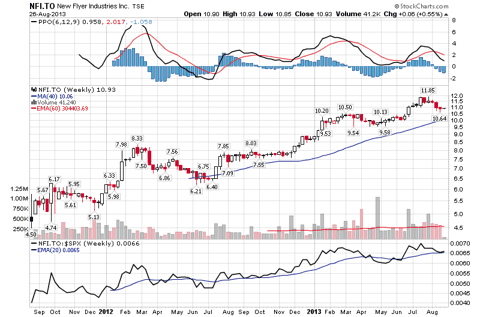 Insider buying during the last 30 days
Insider buying by calendar month
Here is a table of New Flyer's insider-trading activity by calendar month.
| | | |
| --- | --- | --- |
| Month | Insider buying / shares | Insider selling / shares |
| August 2013 | 50,688 | 0 |
| July 2013 | 0 | 0 |
| June 2013 | 6,435,604 | 35,000 |
| May 2013 | 0 | 0 |
| April 2013 | 0 | 0 |
There have been 6,486,292 shares purchased and there have been 35,000 shares sold by the insiders since April 2013.
Financials
New Flyer reported the second-quarter financial results on August 6 with the following highlights:
| | |
| --- | --- |
| Revenue | $268.7 million |
| Net income | $1.7 million |
| Cash | $16.5 million |
| Debt | $220.3 million |
| Backlog | $3.7 billion |
Competition
The competitive landscape of the industry in the United States and Canada is limited to four major competitors including New Flyer, Gillig Corporation, North American Bus Industries and Nova Bus.
Gillig Corporation is privately owned. North American Bus Industries was privately owned by Cerberus Capital Management. In June New Flyer Industries announced the acquisition of North American Bus Industries from an affiliate of Cerberus Capital Management for cash consideration of approximately $80 million.
Nova Bus has been owned by Volvo Bus Corporation (OTCPK:VOLVY) since 2004. Orion buses, owned by Daimler Buses North America, was a heavy-duty transit bus manufacturer in the industry until Daimler Buses North America announced in 2012 that it was exiting the market. It has since completed all of its obligations to finish production on contracts and is no longer building buses. Daimler Buses North America assigned two of its bus contracts with large US transit agencies to New Flyer. New Flyer purchased the Orion parts business from Daimler Buses North America in March 2013.
DesignLine, a recent entrant into the heavy-duty transit bus market, was awarded a contract by the province of Quebec to test their EcoSmart electric propulsion bus over a two-year period. The results of the test could position the company for additional bus purchases in the future. DesignLine also offers its buses with diesel, CNG and hybrid propulsion systems. The company also offers a 40' and 45' suburban coach model with diesel and CNG propulsion systems. DesignLine was awarded a contract by New Jersey Transit to provide 76 CNG 45' coaches, which are currently in production.
Another recent entrant to the United States heavy-duty transit bus industry is Proterra, formerly Mobile Energy Solutions. Proterra's new manufacturing facility is located in South Carolina. Proterra builds 35' zero-emission heavy-duty vehicle systems and transit buses (including hydrogen-electric buses), and has introduced an all-electric bus with a roof-top charging station. Proterra has sold buses to a few US transit agencies, including Foothill Transit in California.
Chinese bus manufacturers have also shown an interest in the industry. BYD Company Limited, a Chinese company in which MidAmerican Energy Holdings Company, a subsidiary of Berkshire Hathaway (NYSE:BRK.B), has invested, opened an office in Los Angeles and is participating in US industry trade shows and conducting demonstrations of its bus. BYD is also conducting a test at LAX for short range shuttle service.
New Flyer differs from its competitors by having the broadest and most diverse product offering in the industry, a strong reputation for quality and innovation and the largest production capacity and by being a leading provider of aftermarket parts and support. As a result, New Flyer's management believes that New Flyer is well positioned to continue to compete successfully and maintain its leading market share in the industry. However, the proliferation of models offered by competitors has increased over the past few years, and this combined with extremely aggressive pricing by manufacturers, has contributed to the more aggressively competitive environment in which New Flyer operates.
Conclusion
There have been four different insiders buying New Flyer and there have not been any insiders selling New Flyer during the last 30 days. Two out of these four insiders increased their holdings by more than 10%. New Flyer is trading at a P/E ratio of 43.09 and the stock has a dividend yield of 5.38%. New Flyer has a book value of $8.07 per share. I believe the stock could be a good pick closer to the book value of $8.07 per share based on the intensive insider buying.
Disclosure: I have no positions in any stocks mentioned, and no plans to initiate any positions within the next 72 hours. I wrote this article myself, and it expresses my own opinions. I am not receiving compensation for it (other than from Seeking Alpha). I have no business relationship with any company whose stock is mentioned in this article.