SodaStream International Ltd. (NASDAQ:SODA) is a manufacturer of home beverage carbonation systems. Through the company's systems, consumers are able to turn ordinary water into sparkling water and carbonated soft drinks. SodaStream's products are customizable, health and environmentally friendly, convenient and most of all, cost effective. With its systems, consumers now get to worry less about storing or disposing used bottles of sparkling water or carbonated soft drinks.
SodaStream has made a name for itself in the carbonated beverage industry and in line with one of its major business strategies, the company continues to enlighten consumers about the several benefits of opting for its home carbonation systems. This is a strategy that has proven very helpful as the company works towards positioning itself firmly in existing, new and emerging markets. The company has already established its presence in approximately 45 countries, where its products are sold directly and indirectly through over 60,000 retail stores.
Over time, through its multi-channel shipping strategy, SodaStream has been able to create more awareness about its product offerings and as such, it has become a popular name amongst specialty retailers, food and drug retailers, direct marketing channels as well as mass merchandise retailers. Little wonder that the company has been able to solidly position its products in these markets.
The company's collaboration with Whirlpool (NYSE:WHR) is a good example of the above mentioned strategy. It is a win-win situation for both companies because while SodaStream adds a major partner to its list, Whirlpool is expanding into a new product line. However, it is not everybody or every company that stands to benefit from SodaStream's home beverage carbonation systems offering.
Up against three giants of the beverage industry
On that note, I would say that with its carbonation systems, SodaStream is up against three giants of the beverage industry. The Coca-Cola Company (NYSE:KO), PepsiCo, Inc. (NYSE:PEP), and Dr Pepper Snapple Group, Inc. (NYSE:DPS) are recognized giants in the beverage industry and SodaStream's product offerings are not a welcome news to them. One good thing about Coca-Cola and PepsiCo is that they are diversifying into other segments that are sure to bring in revenues even when sales of carbonated drinks are declining.
With Coca-Cola's acquisition of Innocent, the European juice brand, it has been able to solidly stamp its feet in the juice market. As at end of fiscal 2012, the acquired business reported 36.6% rise in sales. PepsiCo on the other hand has its Tropicana and Gatorade non-carbonated drinks to make up for any loss in the carbonated drinks segment. Add these to its low-caffeine content energy breakfast drink, Kickstart, and the thriving snack foods business, you have a company that has continued and will continue to drive sales even with the pressures of soda ban and SodaStream's home carbonation systems.
It can be recalled that for quite some time now, there has been an uproar concerning soda consumption with moves being made to effect a large-sized soda ban in the U.S. Although an appellate judge in New York upheld a ruling striking down this move, the prevailing soft sales of soda drink bordering on health issues is sure to keep management of Coca-Cola, PepsiCo and Dr. Pepper Snapple on their toes.
With the sales of premium bottled water still in high demand, making up a significant percentage of Coca-Cola and PepsiCo's sales in the first half of the year, these two giants are sure to make up for the sluggish sales of soda drink. On this note, PepsiCo will be fighting for more market share as its new product, Om, competes against Coca-Cola's Evian, Smartwater and Fiji.
Statistics showing how SodaStream might impact the giants
With consumers now paying more attention to their health, environment and convenience, it has made them to gradually move to better options in terms of beverages. This has resulted in a change in their soda taste and, at the same time, projecting SodaStream to a position where it will grab a fair portion of the market share the above mentioned giants hold in the carbonated beverage industry.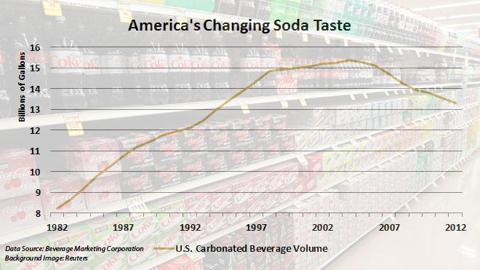 According to a report by MarketLine, 197 billion liters of carbonated soft drink is expected to be produced in 2014 with Cola leading the market at 42%. With Americas accounting for 54% of the global market for Cola and SodaStream having a healthier option for Cola, it will surely impact on Coca-Cola's 42% overall market share including that of PepsiCo and Dr. Pepper Snapple.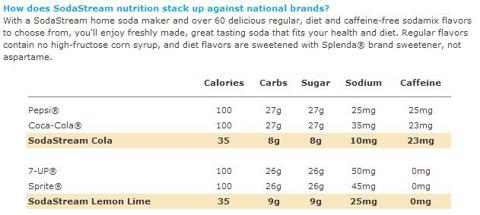 Source: Company presentation
Another report by IBISWorld shows that the soda industry brings in approximately $18 billion annually. With SodaStream's Dr. Pete and Fountain Mist, it is sure to also grab a fair market share of soda being enjoyed by Dr. Pepper Snapple's Dr. Pepper and Mountain Dew. Especially when looking from a health and environmental point of view, consumers will consume less calories while at the same time save the world billions of waste bottles as they continue to make their soda and sparkling water at home.
According to a report released by the US Recycling Institute, over 80% of used bottles in the United States usually end up in landfills. This is apart from the millions of tons of greenhouse emissions produced during the process of replacing these billions of cans and bottles that were not recycled. The more people become concerned about their health, their environment and convenience, the more market share SodaStream grabs from these giants as its systems equates to fewer health issues, less packaging waste and less pollution.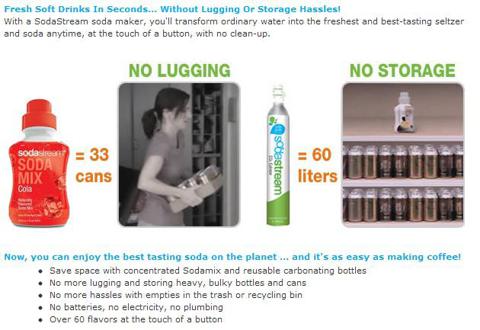 Source: Company presentation
SodaStream's Competitors
There is hardly any business without competitors. The same thing applies to SodaStream. As it is now, the company's home carbonation systems are facing close competition with a few other products from different manufacturers. One of these products is the Cuisinart Sparkling Beaverage Maker, from the stable of Conair Corporation. Coming from a respected brand name with wide retail distribution network, I would say SodaStream has to watch its back.
Another competing product is the SodaSparkle which is quite different from what SodaStream and Conair offer. It comes as a smaller contraption with a single-use CO2 cartridge which is screwed into the accompanying bottle to carbonate the content. One other area that the company is facing competition is its CO2 refill cylinders. Even with the company entering into agreement with its distributors on prohibition of third party cylinder refills, most consumers and retailers are allowed by law to get their cylinders refilled by third parties. With a good number of businesses also into production of flavors and syrups for soft drinks, SodaStream is also facing significant competition from that angle.
Barriers to entry in the home beverage carbonation system market are not that high. The growing competition points to that fact. The only reason why SodaStream is not flinching is mainly because providing complete product systems that would replicate what it currently offers will be difficult to be carried out by new entrants. This is especially true considering that it would require intensive capital funding for such procedure.
The company's strength
Over the years, SodaStream has proven to be an innovative company and this has, to a large extent, served as one of the company's core strengths as it keeps driving its sales upwards. A good example is the Source machine. It was revamped and now comes with a new snap-lock bottle mechanism, touch sensitive top surface, refillable CO2 and LED display that make it easier for users to check carbonation levels. All these combined to give the machine a sleek look that is not easily ignored and as such, has led to increased demand for the machine.
Another product that shows how innovative SodaStream can be is the yet-to-be-launched Sodacaps. These are disposable capsules which are designed to dispense single servings of carbonated drink in the consumer's choice of flavor. Earnings from this product is expected to make up what is coming from the company's major machines.
Variety is on the list of SodaStream's strength. Knowing how exciting it could be for consumers to try out varied flavors at different times, the company has taken advantage of this growth catalyst as it constantly adds new flavors. Apart from the V8 Fusion and V8 Splash, Cola with Lime, Diet Cherry Cola and Diet Grape are among the flavors that are currently making waves in the U.S. Diet Dr. Pete, Dr. Pete and six other flavors are currently trending in the U.K.
Conclusion
For a company whose stock has traded as low as $28.00 and as high as $78.00 per share in the last few years, SodaStream's stock can rightly be said to have been volatile. This volatility is mostly attributed to the rumors that were peddled in the month of June about PepsiCo taking over SodaStream. With the rumor refuted, the company's stock is now trading based on the core fundamentals of the business, which have been discussed above and are sure to drive future growth of the stock.
SodaStream is showing interest in expanding its footprint in new and emerging markets like China and India. With the company's strong financial position and zero debt, it has the much needed financial support to get more innovative in terms of new product development as it initiates its expansion moves.
Even with the growing health concerns among soda consumers in the U.S., the country still maintains the highest number of soda drink consumers. This makes United States a huge market that SodaStream is slowly but steadily penetrating with its various low calorie soda product offerings with varied flavors. Yes, SodaStream knows where the opportunities lie, in the U.S. and emerging markets, and it is playing its card right as far as maintaining significant market share and position are concerned. SodaStream makes a good investment choice as it has huge future growth potential.
Disclosure: I have no positions in any stocks mentioned, and no plans to initiate any positions within the next 72 hours. I wrote this article myself, and it expresses my own opinions. I am not receiving compensation for it (other than from Seeking Alpha). I have no business relationship with any company whose stock is mentioned in this article.