Halozyme Therapeutics (NASDAQ:HALO) (Q2 2013 conference call transcript, a source for many of the projected catalyst time frames outlined below) develops enzyme-based (hyaluronidase) products for a wide variety of conditions, which include diabetes, cancer, autoimmune disorders and cosmetic medicine (cellulite).
CLINICAL AND REGULATORY CATALYSTS:
Below is a summary of the Company's clinical development pipeline which includes collaborations with Roche (OTCQX:RHHBY), Pfizer (NYSE:PFE) and Baxter (NYSE:BAX) in addition to an FDA approved product, HYLENEX (human recombinant formulation of hyaluronidase), which improves the absorption and dispersion of drugs injected under the skin (subcutaneously) (e.g. insulin) on a temporary basis (approximately 24 hours) with plans to increase sales through a recently initiated post-marketing study in Type 1 diabetes using insulin pumps.
1.) Herceptin-SC (trastuzumab) and MabThera-SC (rituximab) (novel subcutenous injected rHuPH20 formulations) are currently pending European Medicines Agency (EMA) decisions in the form of line extension applications for new formulations of approved anti-cancer drugs. In late June, partner Roche received a positive CHMP opinion for EU approval of Herceptin-SC with final EU approval expected approximately two months later by late August-early September.
Partner Roche filed a MabThera-SC line extension application in December 2012 with the next CHMP meeting scheduled for September 16-19 and a meeting update to follow on Friday 9/20/13. The May Pharmacovigilance Risk Assessment Committee (OTCPK:PRAC) meeting minutes posted in June (page 40-41) indicated that both line extension applications are acceptable with Herceptin-SC subsequently receiving a positive CHMP opinion in late June.
In addition, Roche has two ongoing Phase III clinical trials to evaluate patient preference and support pending European marketing efforts upon final approval for both Herceptin-SC (ClinicalTrials.gov ID NCT01810393) and MabThera-SC (ClinicalTrials.gov ID NCT01724021) compared to the standard, longer IV infusion delivery route for these products.
2.) HyQvia (novel subcutaneous injection formulation of immune globulin) received a Complete Response Letter (CRL) in August 2012 for a Biologics License Application (BLA) seeking approval as a novel formulation of immune globulin for subcutaneous injection due to elevated anti-rHuPH20 antibody titers and partner Baxter expects to submit additional data to the FDA by year-end 2013 to support potential FDA approval by mid-2014 to H2 2014 (Baxter Q2 2013 conference call transcript). In May, HyQvia received EU approval with the initial product launch ongoing.
3.) HTI-501 (recombinant human cathepsin L) (lysosomal proteinase) is currently being evaluated in a Phase II clinical trial and in late June HALO presented interim Phase II results from 12 of planned 34 evaluable patients in a fully enrolled Phase I/II clinical trial for the treatment of cellulite with the last patients dosed in July and final follow-up results through six-months post-treatment expected in early 2014.
4.) ClinicalTrials.gov ID NCT01839487 is the identifier for a Phase II clinical trial with results expected during Q3 2015 in a study evaluating PEGPH20 (PEGylated form of rHuPH20) in combination with nab-paclitaxel and gemcitabine for the first-line treatment of metastatic pancreatic cancer.
HALO will present more complete Phase IB data at the EU Cancer Congress on 9/30/13 following initial results presented at ASCO 2013 (42% overall response rate) and the Company is also developing a companion diagnostic with a planned start of a Phase II pancreatic cancer trial by Southwest Oncology Group by the end of Q3 2013.
5.) ClinicalTrials.gov ID NCT01848990 is the identifier for a fully enrolled Phase IV post-marketing clinical trial evaluating HYLENEX (rHuPH20 hyaluronidase human injection) in combination with rapid-acting analog insulin in Type I diabetics using insulin pumps with results expected in early 2014. HYLENEX is FDA approved to facilitate subcutaneous fluid administration for a variety of indications (e.g. hydration and to increase dispersion of other drugs as illustrated in the pipeline above).
6.) In December 2012, HALO announced an agreement with Pfizer to develop and commercialize biologic agents using Halozyme's Enhanze (hyaluronidase-based) drug delivery technology in up to six targets. Pfizer paid HALO an initial cash payment of $8 million for the initial two targets along with the right to add four more targets (additional fees apply) and the deal also includes potential regulatory and sales-based milestone payments of up to $507 million plus royalties.
FINANCIAL STATS (Q2 2013 results press release):
- On August 12 & 14, director Kathryn Falberg purchased a total of 100,000 shares of HALO on the open market at an average price of $6.82 increasing her stake to 280,000 shares (SEC filing link) while CEO Gregory Frost exercised options into 20,000 shares of common stock which increased his large ownership stake to approximately 3.6 million shares (SEC filing link).
- On 8/14/13, Swiss BB Biotech reported a 5.1% ownership stake (5.75 million shares) in HALO (SEC filing link).
- HALO currently has a high percentage of insider and institutional investors which account for nearly 70% ownership of outstanding common stock and includes major holders such as Randal Kirk / Third Security (combined ownership stake of 23.3 million shares which equates to a 20.6% ownership stake) and Baker Brothers (6.5 million shares).
- Randal Kirk is a billionaire biotech entrepreneur who recently netted over $1 billion on the highly successful IPO for Intrexon (NYSE:XON) (Forbes overview article) and he also serves on the Board of Directors for HALO.
- As of 6/30/13, HALO reported $76 million (M) in cash and equivalents with $11.4M in cash used to fund operations during Q2 2013.
- During 2Q13, HALO reported revenue of $14.5M vs. $7.8M in the year-ago period.
- As of 8/5/13, HALO reported approximately 113M shares of common stock outstanding with $29.7M in total debt as of 6/30/13 ($26.1M classified as long-term debt which reflects a term loan from Oxford Finance and Silicon Valley Bank with a maturity date of 12/1/16).
- HALO has provided guidance for potential to be cash flow positive in 2014 (PR link) based upon key partner product launches that include HyQvia, Herceptin-SC and MabThera-SC in Europe with adequate cash to fund operations into late 2014 based upon the current cash and burn rate with an expected decrease over time as additional revenue offsets R&D expenses for the Company's three wholly owned programs (HTI-501 for cellulite, Hylenex for use w/ insulin pumps and PEGPH20 for pancreatic cancer).
TRADE SUMMARY & OUTLOOK:
With final European approval for Herceptin-SC due any day now and a very likely (90%) positive CHMP opinion for MabThera-SC in the near-term; I expect shares of HALO to fill the gap-down in the chart if positive news comes in as expected in the coming weeks with the potential to reach low double digits during H2 2013 ($10-12 target) as additional catalysts approach and the Company continues narrowing the cash burn with a goal of becoming cash flow positive by next year.
I believe the decision by ViroPharma (VPHM) to discontinue development of Cinryze-SC will have no impact on other programs as discussed by HALO on the most recent quarterly conference call and the enzyme-related antibodies have never been linked to any side effects with no clinical impact observed to date for an issue that was known in summer 2012 and being addressed by Baxter as part of plans to resubmit a BLA for HyQvia which is already being marketed in Europe following approval earlier this year.
In addition, HALO spiked by approximately $2 earlier this year on both Phase 1b pancreatic cancer data for PEGPH20 and again in late June on the positive CHMP opinion for Herceptin-SC so there is potential for another $1-2 upside each for upcoming Phase 1b data being presented on 9/30 and an expected positive CHMP opinion for MabThera-SC.
Other recent bullish developments include a recent open market insider/director buy for nearly $700,000 and bullish trading in the September $7.50 and October/December $10 call options so in the short-term, I expect the positive uptrend in the six-month chart below to continue with an upper $7-lower $8 short-term swing / run-up target with key risks being potential for an overall market correction and unexpected bad news on any of the upcoming regulatory or clinical trial catalysts which would have the potential for downside risk that is similar to the upside targets outlined earlier.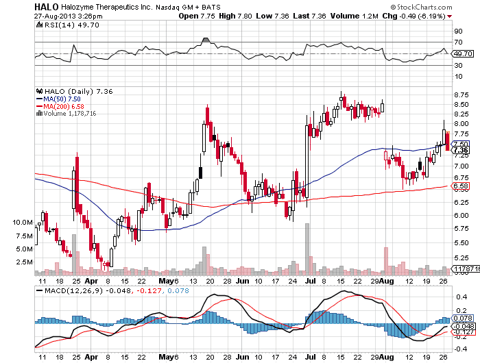 Disclosure: I am long HALO. I wrote this article myself, and it expresses my own opinions. I am not receiving compensation for it (other than from Seeking Alpha). I have no business relationship with any company whose stock is mentioned in this article.