It was about a year ago when Apple (NASDAQ:AAPL) was racing higher, eventually reaching a peak at $705. Analysts were all over the Apple train, with plenty of price targets calling for $800, $900, even $1,000 or more. How did that work out? So far, not well. Apple went from $705 to $385, and those sky high price targets turned out to be rather foolish in the end.
Well, the same thing has happened with Google (NASDAQ:GOOG) over the past couple of months. In fact, my last article on Google, which discussed the possibility of an Apple-like fall, was written the day that Google hit its 52-week high. I discussed the possibility of Google as a short candidate, and if you shorted Google then, you're quite happy today. Google shares have fallen from a high of $928 to $852 at Tuesday's close, a decline of 8.39%. Today, I'm going to discuss reasons for the fall, whether the short case still exists, and why Google may have blown its chance at $1,000 per share.
Poor quarterly results:
In the end, every company has to deliver. With Google, there has been a disconnect because the growth story is not what it seems. Google reports revenues and earnings on both a GAAP and non-GAAP basis, and that sometimes causes a lot of confusion. Yahoo! Finance changed their estimates page for Google from non-GAAP to GAAP revenue numbers, which overstated Google's growth numbers by a tremendous amount. So when Yahoo! showed Google growing revenues at 50%-70%, they were actually growing around 20%-30%. I tried multiple times to caution investors about the key differences in reporting, but I fear some may have bought Google when seeing such high growth numbers, and that was a mistake.
When Google reported second quarter results, the numbers were absolutely terrible. Revenues missed by $230 million, and earnings per share missed by $1.22, a difference of more than 11%. This isn't exactly the first miss lately, as Q3 last year was a tremendous miss as well. The surprising part is that Google was barely punished for its miss, declining just 1.5% on the news. Microsoft (NASDAQ:MSFT), which also had a large miss, dropped 11.4% on their bad report. Google somehow was immune to the bad news, although the stock has been hit since then. Had Apple missed like this, Apple would have been destroyed in the marketplace. Google seems to get a pass quite frequently, just like Amazon (NASDAQ:AMZN) for some reason.
Reduced estimates / huge premium:
Thanks to the revenue and earnings misses, analysts have taken down their estimates on Google since the Q2 report. The 2013 revenue average has been cut from $60.24 billion to $59.62 billion, and the 2014 revenue number has been trimmed from $69.85 billion to $69.75 billion. The revenue numbers are GAAP, but Yahoo's showing for the prior year period (2012) number is non-GAAP, so the 2013 growth figure is wrong, but the 17% growth number for 2014 is right.
In terms of earnings per share, the average 2013 estimate has been cut from $46.00 at the Q2 report to $43.54 now. That cut is double what the Q2 miss was. The average 2014 estimate has been reduced from $53.28 to $51.34. The Motorola business Google acquired is a low margin business compared to the rest of Google, so even though revenues are expanding quickly, profits are not rising as fast.
Even after all of the reduced expectations, Google still trades at a ridiculous premium. Google trades at 19.53 times this year's expected earnings, while Apple trades at 12.50 times its fiscal year's (ending September) expected earnings. That premium seems large, and it is, but it also is an apples to orange comparison. The Google number is based off its non-GAAP number, as Google analysts estimate non-GAAP earnings per share, which exclude certain expenses. So if you were to do a true apples to apples comparison, Google's GAAP earnings would be much lower, or Apple's non-GAAP earnings would be much higher. Either way, the premium would be even larger, and it is quite substantial to begin with. On a price to sales basis, Google trades at a large premium as well.
Money flowing into Apple:
The latest issue for Google has been the rebound in Apple. Apple shares have rebounded as the next iPhone launch approaches, along with an expectation for several other new product launches. Additionally, Apple has risen after Carl Icahn made an investment in the tech giant, arguing for a larger buyback. Apple shares have rebounded, breaking back above the $500 level before Tuesday's fall. But take a look at the following 3-month chart showing Google versus Apple.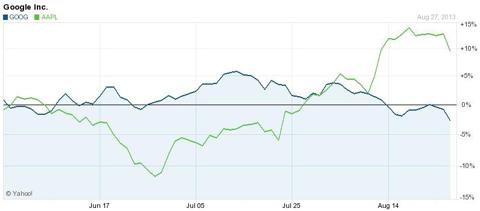 (Source: Yahoo! Finance)
About halfway through the chart, you notice that Apple really starts to pick up steam, and that's when Google started to trend lower. This should not be a surprise, and it is clear investors are moving some money out of Google and into Apple. Since Apple reported earnings in late July, Apple shares are up 17.38%, while Google shares are down 5.94%. That's a stark contrast from the past year, when Google did much better than Apple.
Reduced weights in ETFs:
It's not just stock for stock swings we are seeing. We also are seeing the shift in Exchange Traded Fund holdings. Two large technology ETFs that I follow are the PowerShares QQQ (NASDAQ:QQQ), which is based on the NASDAQ 100 Index, and the iShares Dow Jones US Technology ETF (NYSEARCA:IYW), which is based on the Dow Jones US Technology Index. Both ETFs have seen large swings in their top holdings among Google, Apple, and Microsoft. The following table shows each ETF's changes in its top holdings so far in Q3 this year.

You can see that Apple has become an even larger part of these two ETFs, and Google has lost a large share of its weight. Google has lost even more than Microsoft, although that probably was helped recently by the slight rebound in Microsoft shares after CEO Steve Ballmer announced his retirement. Between the two ETFs, Apple was a roughly 55-60% larger holding at the end of Q2 than Google. But with the latest numbers above, Apple has more than twice the weight of Google. That spread could widen if Apple continues to rally.
Final thoughts:
Google shares have dipped recently, thanks a poor Q2 report and the rebound in Apple. Google does remain a short candidate if you believe more money will flow into Apple when Apple launches new products, meaning investors will sell their Google shares. ETFs have also seen a transition, with Apple now a much larger holding than it was two months ago. Google's 200-day moving average sits near $810 currently, so that would be the next major level of downside support. Those that shorted Google above where we are now might want to consider covering if we go a bit lower. I wouldn't necessarily start a new short position here, but would instead wait for the next pop if I was going to short Google. Slowing growth, a stretched valuation, and money flowing into Apple are bad signs for Google. For now, Google has blown their shot at $1,000, and the analyst with the $1,175 price target might want to take a look at their numbers again.
Disclosure: I have no positions in any stocks mentioned, and no plans to initiate any positions within the next 72 hours. I wrote this article myself, and it expresses my own opinions. I am not receiving compensation for it (other than from Seeking Alpha). I have no business relationship with any company whose stock is mentioned in this article.
Additional disclosure: Investors are always reminded that before making any investment, you should do your own proper due diligence on any name directly or indirectly mentioned in this article. Investors should also consider seeking advice from a broker or financial adviser before making any investment decisions. Any material in this article should be considered general information, and not relied on as a formal investment recommendation.