Price is what you pay, value is what you get. McDonald's (NYSE:MCD) is often bought for its past record of paying dividends. While a decade-long track record of dividends is attractive, I prefer to look at free cash flow to equity to determine what price is a reasonable one to pay to access future compensation streams.
McDonald's current dividend yield is 3.17% and the payout ratio is just above 50%. McDonald's also is repurchasing shares as a means to send the stock price higher. Further accompanying data can be found in the table below (from Gurufocus):

Click to enlarge
While the dividend track record is certainly good, on first glance, a look at free cash flow allows investors to determine what funds are truly available for dividends and share repurchases. Free cash flow is the ultimate metric for owners of the business.
The company's per share free cash flow has gradually increased since 2004 when activists became more involved in the company and insisted on higher leverage ratios, higher dividends and more share buybacks.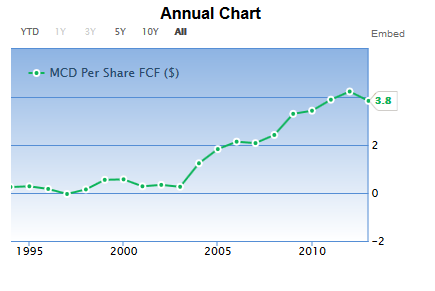 Given the size of the corporation, the already large revenue base and the saturation in many key fast food markets, I estimate that free cash flow can grow between 3-5% in the future. In the following valuation tables I assume that free cash flow continues to increase until 2016 according to growth rates shown in the tables and falls to 3%-4% for the calculation of terminal value in 2017. Cost of equity rates range from 9-10%. All four scenarios indicate that McDonald's is overvalued.
Scenario 1:
Capital cost 9%, TV growth rate 3%, Downside: 25%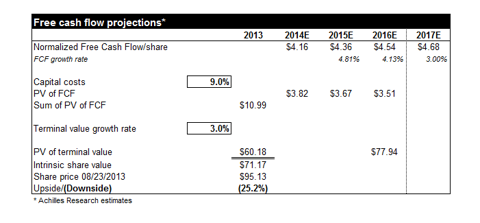 Click to enlarge
Scenario 2:
Capital cost 9%, TV growth rate 4%, Downside: 12%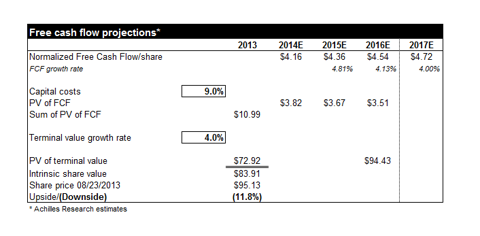 Click to enlarge
Scenario 3:
Capital cost 10%, TV growth rate 3%, Downside: 36%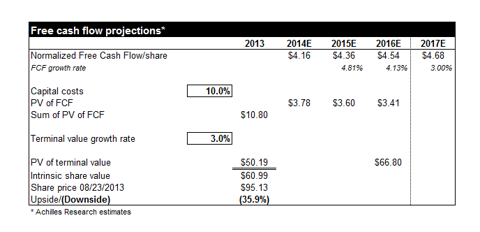 Click to enlarge
Scenario 4:
Capital cost 10%, TV growth rate 4%, Downside: 27%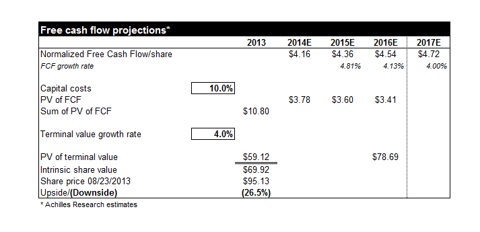 Challenges
In the past free cash flow to equity and share repurchases were driven by increases in debt. Since most fast food markets grow slowly, value had to be created by leverage rather than by increases in the underlying profitability of the company. From 2008-2012 debt on the balance sheet grew by a compound annual growth rate of nearly 8% while revenues grew by only 4%. Instead of leveraging up the business and repurchasing shares at high prices, I'd rather see McDonald's focus on the franchise business, enter new markets and diversify its product offering to include healthy food.
I expect that more people are going to demand healthy food choices in the future which will put further pressure on the fast food business. McDonald's has already acknowledged this by introducing wraps, salads and other complimentary food to diversify away from its core fast food menu which has a negative image. However, product acceptance is still limited and McDonald's predominantly rides on its fast food mix.
Saturated markets, slow revenue growth, more health-conscious customers and a reliance on debt increases to pay shareholders are prime risks for future value creation.
Conclusion
Based on a free cash flow to equity approach McDonald's is overvalued by up to 36%. All scenarios consider changes in net borrowing. Since 2007 total debt on its balance sheet has increased 47% and explains that shareholder returns are partly driven by putting the long-term viability of the company at risk. The dividend stream investors want to access trades at a rich premium to intrinsic share value.
Another way to put it: McDonald's can probably earn a 2013 free cash flow of $4 a share thereby generating a P/FCF multiple of 24. Way too expensive to justify a three percent dividend yield. Consequently, dividend-seeking investors should look for other, more attractively priced, dividend stocks.
Disclosure: I have no positions in any stocks mentioned, and no plans to initiate any positions within the next 72 hours. I wrote this article myself, and it expresses my own opinions. I am not receiving compensation for it (other than from Seeking Alpha). I have no business relationship with any company whose stock is mentioned in this article.