In The Great Rotation, we explained why investors are likely to shift capital from consumer staples and other defensive sectors to cyclical groups such as energy, financials, industrials and technology toward the back half of the year.
Slow economic growth and the threat of extreme "tail risks" such as a European financial crisis and the US fiscal cliff have prompted investors to pile into defensive stocks, pushing valuations to frothy levels.
But as we highlighted in Heightened Risk, Emerging Opportunities, US economic growth should recover in the back half of the year. The better-than-expected June employment figures released by the US Bureau of Labor Statistics are further evidence that the economy has proved remarkably resilient to tax hikes and spending cuts enacted in the first half of 2013. As these headwinds fade, look for the economy to re-accelerate into 2014.
Industrials stand to benefit from a strengthening economy; the sector has traditionally outperformed when US gross domestic product expands at an accelerated rate. For example, the S&P 500 Industrials Index generated a total return of 82.3 percent over the four years ended June 30, 2007, compared to the 66.4 percent gain posted by the S&P 500.
Even better, S&P 500 Industrials Index trades at a slight discount on a price-to-earnings basis. With the exception of a period of extreme economic weakness in 2008 and early 2009, the group's current valuation relative to the S&P 500 is near the low end of its historical range.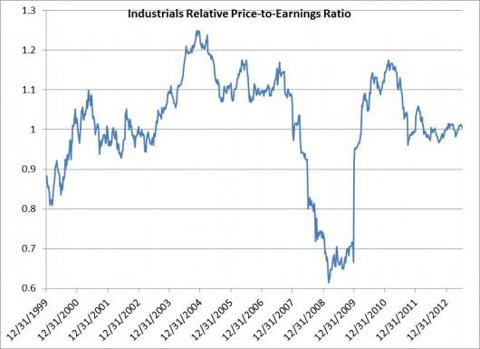 Click to enlarge
Source: Bloomberg
We expect the best performers in the industrial sector to benefit from two secular growth trends that are fueling the US economy: rising domestic energy production and a boom in automobile sales.
The Energy Advantage
Five years ago, crude-oil prices hit an all-time high before the financial crisis and Great Recession led to an across-the-board collapse in commodity prices. In subsequent years, subpar economic growth has cooled demand and helped to contain energy prices, though some regions are more advantaged than others.
Oil prices in the eurozone have declined by 10 percent since July 4, 2008, while the price of crude is about 30 percent lower in the US and Japan. Meanwhile, oil prices have actually increased in some emerging markets; for example, the price of crude oil in terms of the Indian rupee is 3 percent higher than five years ago.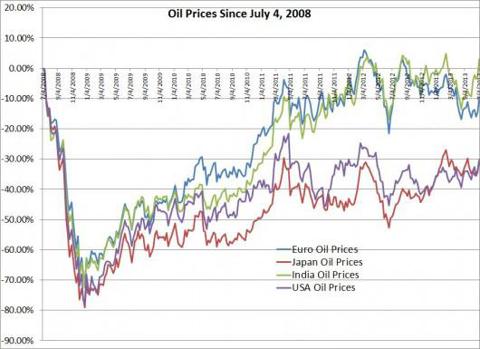 Click to enlarge
Source: Bloomberg
Incremental declines in US oil consumption, coupled with surging domestic production from the Bakken Shale and other unconventional fields, have helped to shrink America's trade deficit. Net trade with OPEC members, for instance, has contracted to a deficit of US$6.3 billion in May 2013 from an imbalance of more than US$18 billion five years earlier.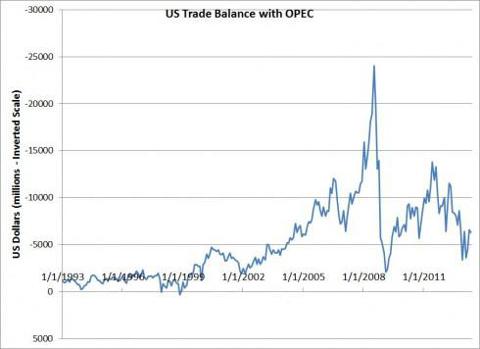 Click to enlarge
Source: Bloomberg
As rising domestic oil output displaces imports from OPEC, the US could kick its long-standing dependence on energy supplies from the Middle East by the decade's end.
And North America's energy advantages are even more profound when it comes to natural gas. The rapid development of the Marcellus Shale and other prolific reserves has enabled the US to overtake Russia as the world's leading producer of natural gas and pushed the domestic market into an oversupply, depressing prices significantly and bolstering margins in industries that are heavy consumers of this commodity. In fact, US natural-gas prices are about 80 percent lower than in parts of Asia and about 40 percent lower than in the UK spot market.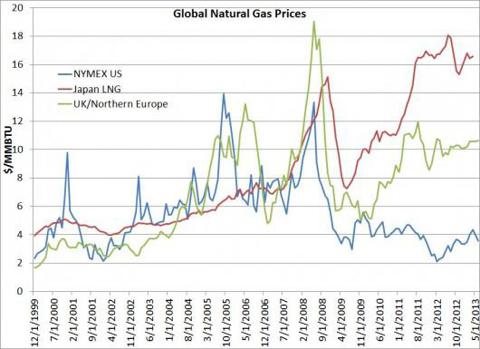 Click to enlarge
Source: Bloomberg
Many investors assume that names in the energy patch are the best way to play this theme, but the implications of this structural trend also extend to the demand side. With lower energy costs, the US manufacturing sector will become more competitive internationally.
According to consulting firm IHS (NYSE: IHS), chemical producers will invest more than $120 billion to add capacity in the US between 2013 and 2030, with about $48 billion worth of these capital expenditures expected to occur through 2017.
What's driving the revivification of an industry that was moribund only a half-decade ago? Production of natural gas liquids (NGL)-a heavier set of hydrocarbons that includes ethane, propane and butane-has surged to record levels, thanks to robust drilling activity in the Eagle Ford Shale and other onshore plays.
The US petrochemical complex uses low-cost ethane and propane to produce ethylene and propylene, commodity chemicals that are the building blocks of many plastics and synthetic materials. Chemical companies around the world are investing massive sums to expand their existing facilities and build new plants to take advantage of ultra-low NGL prices in the US. Even Saudi Basic Industries Corp-the world's largest petrochemical company and longtime beneficiary of industry-leading feedstock costs-plans to add capacity in the US.
At this stage, the stock market has discovered the growth story for Westlake Chemical Corp (NYSE: WLK) and LyondellBasell Industries (NYSE: LYB), both of which have enjoyed soaring margins as US ethane and propane prices have tumbled and international prices for ethylene and propylene have remained robust.
Engineering and construction outfit Jacobs Engineering Group (NYSE: JEC) stands to profit from the coming wave of capital investment in new petrochemical capacity. The company operates two divisions: technical/professional services (60 percent of 2012 revenue), which comprises engineering, design, scientific testing and architectural work; and field services (40 percent), which includes construction, facility management and ongoing maintenance and repair.
Jacobs Engineering generates almost one-fifth of its revenue from the chemical industry, putting the firm in pole position to reap the rewards of investment in the North American petrochemical complex.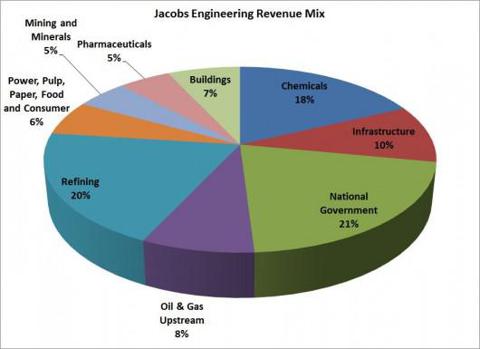 Click to enlarge
Source: Bloomberg
In a conference call to discuss Jacobs Engineering's results for its fiscal second quarter ended March 29, 2013, management characterized demand from the chemicals industry as "very strong" and highlighted the firm's historical strength in this end-market.
Although the company doesn't work inside the battery limits (i.e., on internal processes) for ethane crackers, the firm does handle the power and pipeline infrastructure for these facilities. Jacobs Engineering's traditional focus has been on polypropylene production facilities and other derivatives plants, a business that's expected to go through its own expansion phase as domestic ethylene and propylene output continues to rise.
The refining industry accounted for another one-fifth of Jacobs Engineering's 2012 revenue. Management in May upgraded its assessment of this end-market from "improving" to "strong" and noted that capacity constraints had enabled the company to push through price increases.
Refining is a manufacturing process whereby crude oil is converted into usable products such as gasoline, diesel and jet fuel. Accordingly, refiners are one of the few business lines in the energy patch that don't benefit from rising oil prices; higher feedstock prices can weigh on profit margins if the prices of refined products don't increase to a corresponding degree.
In certain regions of the US, the differential between the cost of crude oil and the market value of refined products-the crack spread, in industry parlance-has widened, thanks to regional oil gluts that stem from rising domestic production and insufficient takeaway capacity. Refiners that enjoy access to lower-cost feedstock have seen their profit margins soar by selling their output at high prices in the international market.
Capital spending in the refining industry usually lags operating margins by several quarters; operators tend to stagger capital expenditures in this notoriously volatile business. But with the spread between US and international oil benchmarks likely to remain elevated, capital expenditures in the refining space should remain robust.
Demand for Jacobs Engineering's services in the midstream segment of the oil and gas industry also remains robust, as pipeline companies rush to add capacity to handle the nation's growing hydrocarbon production. The company engineers, builds and maintains both the smaller-diameter lines that gather field production and the larger interstate and international pipelines.
One headwind for Jacobs Engineering and its peers: cuts to US government spending and fiscal austerity abroad, especially in Europe. Thus far, rising demand in the energy patch and other end-markets have helped to offset this challenge. In the company's fiscal second quarter, the order backlog grew to $16.8 billion from $15.1 billion a year ago, with field services' order book-a precursor to construction work-jumping to $5.9 billion from $5.2 billion.
Shares of Jacobs Engineering trade at 16.5 times the Bloomberg consensus estimate of the firm's 2013 earnings and 14.5 times projected 2014 earnings-a reasonable valuation for a name that's expected to grow its net income at an annual rate of 13 percent to 15 percent in coming years.
Revving the Engine
US automobile sales reached 15.89 million annualized units in June, up from 14.3 million a year ago and a remarkable recovery from the 30-year low of less than 10 million hit at the height of the credit crunch and Great Recession. Several upside catalysts should enable car sales to recover to their 2005 high of about 18 million units in coming years.
During economic downturns, consumers tend to reduce spending on big-ticket, discretionary items such as new cars. As consumers increasingly opted to keep their existing automobiles on the road, the average age of the almost 200 million registered light vehicles in the US climbed to a record high of 11 years in 2011 from 8.9 years in 2000. The rate of increase has accelerated from an annualized pace of 1.4 percent between 2000 and 2007 to about 2.5 percent after this period.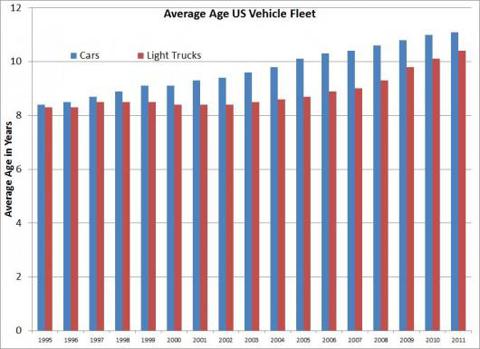 Click to enlarge
Source: US Dept of Transportation
Although the annual miles driven by US passenger vehicles had declined to about 2.8 trillion in 2010 from a peak of more than 3.3 trillion in 2007, the typical driver still puts 12,000 miles to 14,000 miles on his or her car each year. With most cars approaching the end of their useful lives at 200,000 miles, demand for replacement vehicles should accelerate in coming years.
And consumers who put off buying a car because of concerns about the weak economy and tight financing in 2007-09 are looking to upgrade their vehicles. This pent-up demand has helped to account for the surge in vehicle sales in the wake of the prolonged 2007-09 downturn.
Credit conditions are getting easier. The current default rate on automobile loans stands at 1.04 percent-far from the pre-crisis range of 1.5 percent to 2 percent-suggesting that banks and automakers can afford to loosen their standards without dramatically impairing credit quality. Although the recent uptick in yields on US Treasury notes will translate into higher interest rates on consumer loans, borrowing costs remain near all-time loans. Improvements in the job market should also help to boost demand.
BorgWarner (NYSE: BWA) manufactures engine and drive-train components and markets these products to automakers. The US and Europe account for about 75 percent of the firm's revenue.
We expect BorgWarner to grow its revenue at a faster pace than global car sales because the company specializes in parts and components that improve fuel efficiency and reduce emissions. Demand for fuel-efficient vehicles is on the rise, thanks to government mandates and consumers' preference for vehicles that can lower their prices at the pump.
BorgWarner is one of the world's leading manufacturers of turbochargers, a component that enables carmakers to squeeze more power out of smaller engines. And the company's dual-clutch transmission is expected to become the industry standard in the US and many other developed countries in coming years.
The company estimates that manufacturers can boost fuel efficiency by 15 percent with its advanced transmissions and 30 percent through the use of turbochargers.
With sales of high-margin products expected to drive about $2.3 billion worth of net sales between 2013 and 2015, BorgWarner is well-positioned to maintain its industry-leading profitability.
Disclosure: I am long JEC, LYB, BWA. I wrote this article myself, and it expresses my own opinions. I am not receiving compensation for it (other than from Seeking Alpha). I have no business relationship with any company whose stock is mentioned in this article.