Note: This article covers a micro-cap stock. Please be aware of the risks associated with these stocks.
Aceto Corp. (NASDAQ:ACET) is a small cap Healthcare company that has sold off in the past week and is an attractive company that could yield 36% upside. Earnings will be reported August 28th after the close. There has been insider buying on this stock and could be a great play. I will go into their core business and then provide my valuation and analysis.
Business Overview:
Human Health:
In December 2010, Aceto acquired Rising Pharmaceuticals, Inc., a finished dosage form marketing and distribution company with 40 years of experience in the U.S. generics business. Finished dosage form products can range from oral items such as pills or capsules to topical such as creams & drops. Rising provides its finished dosage form products to the big three wholesalers AmerisourceBergen, CardinalHealth, & McKesson. As well as CVS, Cosco & Walgreens.
In addition to Rising Pharmaceuticals providing finished dosage form, Aceto supplies the raw materials used in the production of nutritional and packaged dietary supplements, including vitamins, amino acids, iron compounds and biochemicals used in pharmaceutical nutraceutical preparations. Aceto provides raw materials to NBTY, Kroger, GSN, etc. Aceto is able to kill two birds with one stone by also providing Rising with raw materials to manufacture their products, establishing strong synergies and great execution.
Pharmaceutical Ingredients:
Pharmaceuticals intermediates: Chemicals used in making active portion of drugs
Active pharmaceutical ingredients: APIs are the actual product that are able to be sold. Aceto sells products to drug manufacturers who then turn APIs into their actual products. The growth strategy is focused on niche product for small to mid size pharma. Aceto often serves as a second source of supply to the generic pharma industry. As the generic pharma gets products approved. Aceto will come in as a second source of an API for product security reasons as well as supply chain cost management. Mylan, Actavis, Teva as well as Merck, Pfizer & P&G represent the customers.
Performance Chemicals:
Specialty chemicals- for coatings, inks, plastics, food, electronics, agricultural intermediates & other industrial applications. Agricultural Protection Products is similar to generic pharma business. These are finished agricultural products that Aceto sells to Agrichem, Agrium, United Suppliers, Inc, etc. Aceto often uses their agricultural intermediates to produce the final product for sale. Performance chemical is more of a GDP type business and is a slower growth part of Aceto. This business is primarily in the U.S. They are expanding this business in Europe.
Sourcing: Mostly in India & China
China, predominately is the source for specialty chemicals, agricultural protection products and intermediates. India predominately provides sourcing for active ingredients and nutritionals. In North America predominately source finished dosage form generics.
Great Balance Sheet:
Debt is now net 0. Cash on the balance sheet and outstanding debt cancels each other out.
Acquisition of Rising Pharmaceuticals & New Management:
Rising has 30 years of finished dosage form generic pharmaceuticals experience. Rising Pharmaceuticals capitalizes on a strong pipeline. FY13, Rising will have launched 9 products at which a third will consist of first to market. Projected revenue of 27.7 million will provide additional cash leverage to fund their pipeline in 2014 - 2017 of 37 new projects with estimated costs of 141.8 mm. Aceto hired Satish Srinivasan to run Rising Pharmaceuticals: Satish has nearly twenty years of experience in the generic pharmaceutical industry, all with Orchid Chemicals & Pharmaceuticals Ltd ("OCP"). Over the years, he has held various business development, operating and management roles, serving most recently as the President and CEO of Orchid Pharma, Inc. and Orgenus Pharma Inc, the U.S. operating subsidiaries of OCP, a vertically integrated company spanning the entire pharmaceutical value chain from discovery to marketing. He is an experienced leader who could increase the amount of products in the pipeline through existing relationships at Orchid and strong knowledge and expertise in the generic pharmaceuticals business.
(1)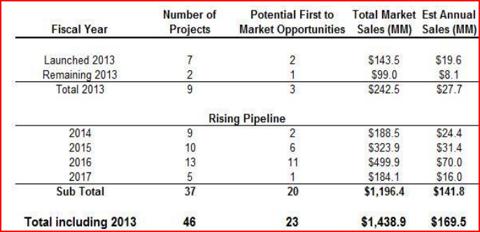 (2)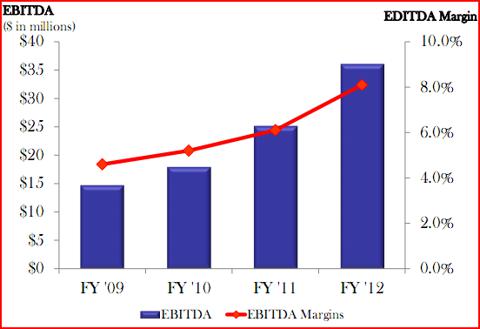 Valuation:
(3)

As you can see in chart 2, EBITDA margins have improved for the past five years. Management expects EBITDA margins should hit their peak around 8% and stabilize at those levels. As we look at chart 3 comparing Acetos' two main competitors, Aceto has both a lower trailing & forward P/E than MYE & KMG. Aceto looks relatively cheap considering that Aceto has the strongest earnings growth over the past two years. In addition, Aceto is projected to grow their earnings at a rate of 25% next year. This is greater than MYE at 20%. Aceto similarly has an attractive price to sales ratio compared to KMG and MYE considering Aceto should have double digit top line growth in the next couple years - Both MYE & KMG top line growth is less. Cash per share for Aceto is over double the amount of the other two competitors. Investors can view Aceto as more liquid and could invest more cash in their business for expansion.
(4)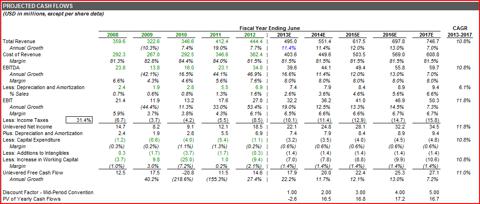 (5)

Based on forecasted projects and strong growth prospects, I believe the annual growth rate will be stable at a low double digit growth rate - with the exception of year 2017 due to less projects projected. Although Aceto is covered by few analysts, projections for 2014 are believed to be $545 mm. Based on my model I have Aceto beating this estimate at $551.4 mm(Chart 4). My estimates are based upon Aceto's goal of 8% EBITDA margins, and strong double digit unlevered FCF annual growth. Management laid out forecasted projects for Rising Pharmaceuticals (Chart 1), these forecast are tied into my projection of 12% growth in 2015 and 13% growth in 2015. Additionally, Aceto along with Rising have forecasted that in 2017 growth rates will have an overall slowdown in 2017 and growth rates will level to more normalized rates. Through careful consideration of growth rates with margin projections, I have estimated an EBITDA Exit Multiple between 11X-13X, which derives a price of between $18.65 -$21.65(Chart 5) from current calculated EV/EBITDA value of 11.25 (As seen in chart 3 of Valuations) - A 13X EBITDA is very feasible and provides a 36% upside. I did not want to "muddy" up the research by providing a detailed explanation or charting of my DCF assumptions that allowed me to arrive at this point. If you have a question in regards to WACC calculations or Beta calculations please contact me.
Catalyst:
Many big drugs have come off patent and continue to. Greater demand for generic drugs could boost sales.
Increased synergies with Rising Pharmaceuticals could increase revenue and improve margins.
Not as inflation risk sensitive. If inflation rates rise, the company will not be affected compared to other companies.
Aging population that will need more pills and other drugs.
Risk:
Much of Aceto's revenue is non-recurring from period to period, which contributes to the variability of results from period to period. I
Products in Aceto's Human Health segment carry a higher gross margin than other products, reduced sales of these higher margin products could affect earnings.
A substantial portion of Aceto's revenue is denominated in currencies other than the U.S. dollar. Approximately 69% and 13% of purchases came from Asia and Europe, respectively. Suppliers could reduce the amount of product given. Aceto could also lose a supplier.
Investment Thesis:
Aceto has been around since 1947, yet their growth and success has just arrived. Aceto continues to leverage their raw material sourcing strengths with their new acquisition of Rising Pharmaceuticals. Aceto will capitalize on many drugs coming off patent and will reap the reward of having strong relationships with vital suppliers and manufacturers. Aceto is a name that could reduce risk as interest rates begin to rise. I would be a buyer below $15.50 and look to sell above $21.65. In the past month there has been significant insider buying around $15.30. Q3 earnings are tomorrow after the close I would anticipate additional positive prospects for future projects. Aceto has sold off in the past week; this is the perfect time to get a cheap name that has over 30% upside.
Disclosure: I have no positions in any stocks mentioned, and no plans to initiate any positions within the next 72 hours. I wrote this article myself, and it expresses my own opinions. I am not receiving compensation for it (other than from Seeking Alpha). I have no business relationship with any company whose stock is mentioned in this article.