The common perception by investors is that Steve Ballmer was a complete failure while CEO of Microsoft (NASDAQ:MSFT). Sure he could've done better at developing a mobile software strategy. Sure he could've done better at developing products to compete with Apple's (NASDAQ:AAPL) slew of consumer gadgets that made billions over the last decade. Investors miss the point, though, that not only did Microsoft perform in line with the other technology powers from the 2000 technology bubble, but it wasn't a product design firm like Apple.
Most investors forget that Apple designed the most appealing computer at the time so it was only staying within its core competency by building a iPod, iPhone and iPad. Microsoft though got distracted attempting to make products instead of focusing on developing software to dominate the mobile world. Instead, Google (NASDAQ:GOOG) now dominates the mobile world with the Android even surpassing iOS from Apple.
When looking at the legacy of Ballmer at Microsoft, investors need to understand that he actually did a solid job of growing revenues and expanding the company. Unfortunately he was set up with an impossible task of growing a stock that started a decade ago with a Price to Sales multiple of around 10. A level impossible for Microsoft to maintain as it grew and one that Apple never even approached with all of its success in the last decade.
The following three charts will highlight why investors are misguided on the future of Microsoft being more bullish with Ballmer gone. In fact, a good argument can be made that Microsoft could plunge up to 50% as multiples collapse further. With the current values, Microsoft is more valuable than Dell (NASDAQ:DELL), Hewlett-Packard Company (NYSE:HPQ) and Intel (NASDAQ:INTC) combined though it has half the revenue base. As computer programs go more and more to the cloud, will Microsoft continue to generate high margins on programs no longer needed?
Still High Price to Sales Multiple
The stock still trades at an incredibly high 3.6 PS multiple that surpasses the 2.7 multiple for Apple. It also significantly exceeds those at Dell, HP and Intel. The multiple could quickly fall as the Windows franchise loses steam especially with its biggest sales rep gone.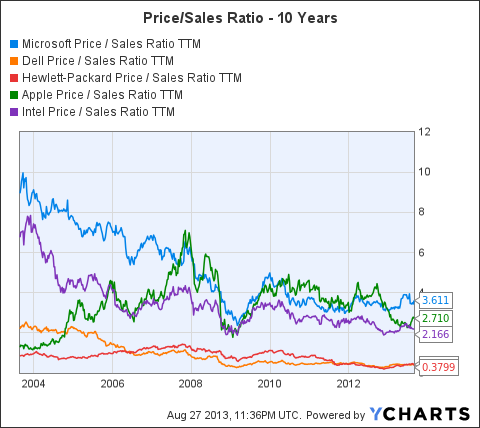 MSFT Price / Sales Ratio TTM data by YCharts
Revenue Growth Remained Solid
Ballmer was able to grow the company during his tenure yet the legacy will always be the impossible task of generating returns on an over priced stock. As compared to the other tech giants over the last decade, Microsoft has been extremely successful.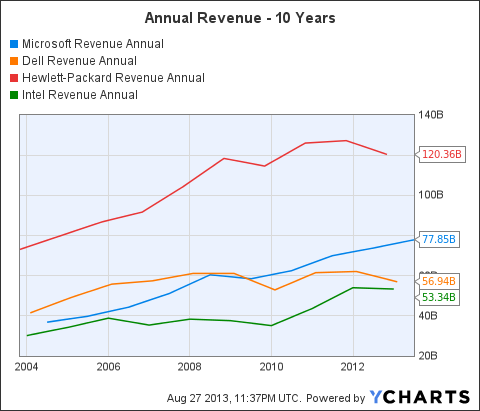 MSFT Revenue Annual data by YCharts
Incredibly High Market Cap
I think any investor following the mis-steps of Ballmer over the years might be surprised to see that the market cap of Microsoft is around $275 billion. Yes that is correct, the stock would have to be worth over $500 billion for Ballmer to have been considered a success. Most consider Michael Dell to have been a very successful CEO, but his company is only worth $24 billion now. At $110 billion, Intel is only worth a fraction of the level that Ballmer was able to keep Microsoft at over his supposed weak career.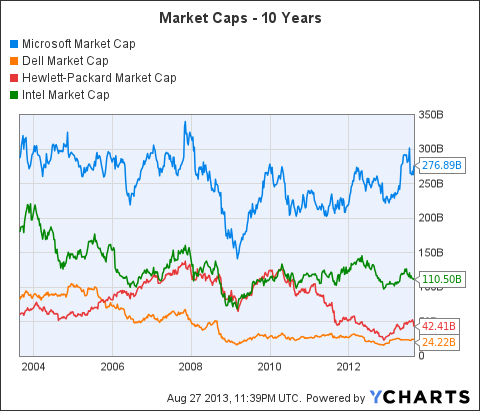 MSFT Market Cap data by YCharts
Conclusion
Investors need to be careful to think Microsoft will be better off in the next couple of years. If Ballmer's detractors are correct, the cupboard is pretty bare and the most talented employees have already left. If anything, the company and the stock has been propped up by the ability of the CEO to continue selling Windows based products to executives convinced life doesn't exist without them. Once that goes away, it is extremely possible that revenue, multiples and valuations of Microsoft stock will collapse. It faces years of declines in the primary PC market that will undoubtedly pressure margins leaving the company with declining profits. It is entirely possible based on PS multiples of the other companies in the industry that Microsoft could see a significant stock decline in the years ahead. It has already happened to the other stocks and Microsoft should be next.
Disclosure: I am long AAPL. I wrote this article myself, and it expresses my own opinions. I am not receiving compensation for it (other than from Seeking Alpha). I have no business relationship with any company whose stock is mentioned in this article.
Additional disclosure: The information contained herein is for informational purposes only. Nothing in this article should be taken as a solicitation to purchase or sell securities. Before buying or selling any stock you should do your own research and reach your own conclusion or consult a financial advisor. Investing includes risks, including loss of principal.