J.C. Penney (NYSE:JCP) is a highly overvalued retail company with deteriorating fundamentals on all levels in a highly competitive environment with no growth prospects. Below is an introduction into the business model, the weaknesses, and the selling opportunity that exists for J.C. Penney while the company is still in business. The company is now amidst a major struggle after the departure of Ron Johnson and his partially completed renovation of the company. The company is in no position to thrive going forward. J.C. Penney has a market cap of $3 Billion and reports their next quarter on November 19, 2013. With this in mind, we value JCP at $10.00 by year-end of 2013 and $4.00 by August 1, 2014, a decrease of 70% from current levels.
J.C. Penney in Layman's Terms
J.C. Penney Company operates department stores. The company sells family apparel and footwear, accessories, fine and fashion jewelry, beauty products, and home furnishings. It also provides various services, such as styling salon, optical, portrait photography, and custom decorating. As of February 2, 2013, it operated 1,104 department stores in 49 states and Puerto Rico. The company also sells its products through the Website, jcp.com.
Ron Johnson Tenure
Essentially Ron Johnson wanted to turn JCP in to a bunch of mini stores within the larger store. Beyond the merchandising, Johnson wanted to make J.C. Penney a cool place to hang out. He planned to put Wi-Fi and coffee shops in the stores. He promised hair salons for kids and courtyards and dining. J.C. Penney was going to be the new model of everything once thought to be merchandising. Unfortunately, Johnson overestimated consumer demand for this business model. J.C. Penney's dwindling, aging customer base left in droves. Sales were down 32% in the 4th quarter of 2012, an almost impossible feat for a company like J.C. Penney. The company is boring and struggling to appeal to younger demographics.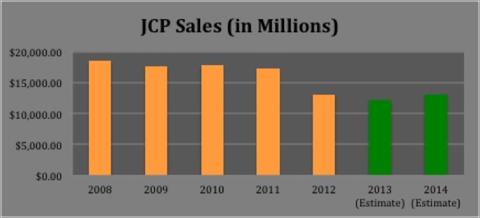 Click to enlarge
One of the main issues for J.C. Penney was that former CEO Ron Johnson managed to alienate the company's former main customer base before he was able to implement a plan to attract new shoppers. He was trying to create a new, hip, cool J.C. Penney that never took shape. A lot of analysts have given Johnson too much credit for what he did at Apple (NASDAQ:AAPL). Trying to compare these companies is apples and oranges, where the products that Apple sells really sell themselves. The recent results have been disastrous. During the critical fourth-quarter of 2012, same-store sales fell substantially. Roughly half of the 1,100 JCP store base has been updated to fit Johnson's turnaround vision while the others are going through costly remodels. Johnson fired or laid-off 19,000 employees during his short tenure with the company. The math works out to about 40 jobs lost for every day of Johnson's 15-month term. The clock is ticking on the 111-year old chain. If JCP runs through cash at the rate it has over the last 12 months the company will have no cash on the balance sheet by sometime next summer, exactly at the time retailers need to maximize their borrowing to be in stock for the holiday season. JCP burned through nearly a billion dollars of liquidity in 2012.
New Management in Place
The job of cleaning up the mess now falls to Myron Ullman, the very man JCP's board of directors got rid of to make room for Ron Johnson. Based on the company's history, this is a step back in trying to bring back old school retailing where you promote every weekend. Among the challenges with going back to the old strategy is that J.C. Penney's just spent 15 months telling its former customers they were no longer welcome at a hip new JCP. This really turned off the Baby Boom class that was spending the most money at JCP.
The customer base has no idea what the store stands for anymore, and there is a massive amount of incoming inventory specifically brought in to fit into the younger, hipper demographic Johnson was trying to woo. The biggest problem for JCP is that younger generations do not think that it is "cool" to shop at J.C. Penney.
Potential Options for the Future and Why They Will Fail
Option 1: Undo everything Johnson did and go back to the old JC Penney
Ullman could mark down all the merchandise via deep discounts and recreate the shopping experience customers had come to expect. This would not be a very good strategy for JCP if they want to survive. J.C. Penney took deep discounts to reduce inventory and generate cash flow at the end of 2012. The goods that would need to be marked down to go back to the old merchandising strategy haven't even arrived at stores. Retailers like JCP order goods months ahead of time, meaning most of what JCP had intended to sell as part of back to school has already been purchased. If the company starts marking down that merchandise now it's financing will dry up in the very near future.
Option 2: Stick with Ron Johnson's plan
The board of directors is unlikely to implement Johnson's vision considering the decisiveness with which they just fired him. This puts the company in an incredibly difficult position in their transition and swift action would need to take place. The company does not have the time and resources to continue this project.
Option 3: Split into two chains
Abandoning the need to dedicate resources to bringing the legacy stores up to speed could buy some time with the vendors and allow the company to operate both the new JCP locations and the tired J.C. Penney's as separate entities. Even with this strategy, the company has failed to attract new customers to the renovated stores, while losing their previous core customer base in this attempt to transition.
So Who is Shopping at J.C. Penney? - The Reason Why JCP Is Not Cool
Retailers love two things in a customer base: Youth and Money. Shoppers at J.C. Penney's are short on both. Nearly 52% the people shopping at Penney's 1,100 or so stores are older than 55. In comparison, only one-quarter of Target customers fall into that same demographic. At closer competitors, Kohl's (NYSE:KSS) and Macy's (NYSE:M), just 36% of customers are older than age 55. Only 20% of Penney's customers are under the age of 35, while 29% of the crowd at Macy's and 36% of Target's (NYSE:TGT) customers fall in that age demographic.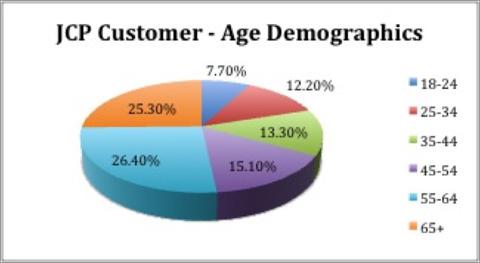 Click to enlarge
When looking at the spending habits and income levels of JCP customers, there are some interesting facts on this front as well. The consistent customer isn't exactly the country-club type. Only 13% of their shoppers have an annual household income of more than $100,000. At competitors Kohl's, Target, and Macy's, they beat that result easily and consistently. At the other end of the spectrum, 29% of J.C. Penney's customers make less than $35,000 a year, compared with 19% at Kohl's and 20% at Macy's.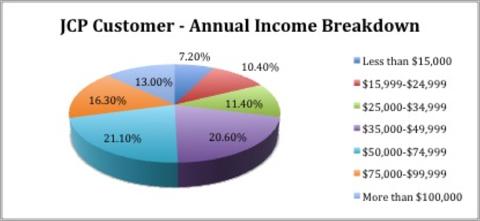 Click to enlarge
The Disappointing Year So Far and Continuing Struggles
In the first quarter of 2013, the JCP net loss was $348 million, or $1.58 per share, compared to a net loss of $163 million, or $0.75 per share, for the same quarter a year ago. Gross margin as a percentage of sales was 30.8% compared to 37.6% in the same period last year. This decrease in gross margins was due to a change in the merchandise sales mix that currently makes up the JCP product lines. Gross margin for the first quarter of 2013 was $812 million, a decrease of $374 million compared to $1,186 million in the first quarter of 2012. There were many concerning causes for these significant decreases for the first half of the year:
Change in merchandise sales mix
Re-ticketing costs as a result of moving back to a promotional strategy on selected merchandise
Higher levels of markdowns and inventory reserves
Reduced vendor cost concessions
Net decrease in other miscellaneous items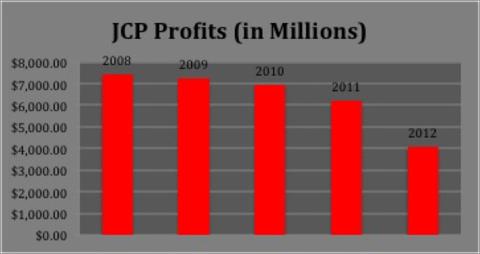 Click to enlarge
At of the end of the first quarter of 2013, JCP had $821 million of cash and cash equivalents. On February 8, 2013, they were granted a revolving credit facility in the amount of $1.85 Billion. The company has already tapped these funds, borrowing $850 million, leaving them an additional $525 million available for future borrowing. For three months of the year cash flow from operating activities was an outflow of $752 million, a decrease of $175 million compared to an outflow of $577 million during the same period last year.
The Second Quarter - Tough and Getting Tougher
J.C. Penney's total sales for the quarter decreased 11.9% to $2.663 billion compared to $3.022 billion in the same quarter last year. Comparable-store sales decreased 11.9% as well. Sales in the quarter continue to be negatively impacted by the failed merchandising and promotional strategies. The lengthy renovation, delayed opening, and disappointing re-merchandising of the home departments are negatively impacting sales. Traffic trends are deteriorating and were down 5.5% overall for the quarter when compared to the same quarter last year and store conversion for the quarter was down 4.9% to last year.
The gross margin for the quarter was 29.6% compared to 33.2% in the second quarter last year. This decrease was caused by huge markdowns and clearance merchandise sales, lower-than-expected sales in general, and a return to promotional activities. The company is in limbo between the new and old corporate strategies, neither of which were successful. Online sales through JCP.com were $215 million, down 2.2% from the same period last year. During the quarter, the Company enhanced its liquidity through the issuance of a $2.25 billion senior secured term loan facility increasing long-term debt to $1.98 billion. Over the longer-term, this is a debt strategy that will not help the company unless they see a significant increase in sales, and all other factors point to this not being the case.
Their reported earnings per share is a loss of $2.66 for the quarter. These are numbers that should be getting investors attention as they continue on the downhill slide and have failed to stop the bleeding. The company's merchandise inventory is $3.155 Billion. They invested another $357 million in inventory this quarter as they addressed the challenges in their private brands, a failing business segment. Accounts payable were up $127 million from the same quarter a year ago, reflecting an increase in unpaid capital expenditures of $156 million, after further investment in the struggling home segment. The companies operating cash flow was a use of $708 million in the quarter. This reflects the planned increase of $357 million in inventory, which based on recent history will probably end up being sold at a huge discount or on clearance.
Who is J.C. Penney Now? And the Negative Trends for the Future
It is clear that J.C. Penney lost its core customer during the transformation. The core customer has now found a new place to shop, and the reintroduction of comparison pricing is not convincing, and is not reaching the customers management has been seeking. The middle income shoppers who went to J.C. Penney no longer feel comfortable there.
JCP needs to attract new customers, while reclaiming the old. This task is not going to be easy for them. The customers who enjoyed the former discounted clothing did not approve of what Johnson did to the brand. After J.C. Penney killed sales, customers ran for mid-tier competitors like Macy's, Kohl's, and Nordstrom which have sales regularly. Customers who embraced the old J.C. Penney style thought they'd been forgotten. JCP will continue to struggle to find a core customer and without this, sales will deteriorate and the company will not have much time to survive. In the end, this was a retailer that was attempting to innovate and appeal to a new customer base, and they have failed miserably, putting the company's survival at risk.
A couple of the major trends and ideas that the company is struggling with is the failure and necessity to close down stores and the deteriorating sales per square foot. One of the major issues for JCP is how difficult it is for them to close storefronts that are located in malls. The extreme cost of shutting down a mall store and breaking the contract would be so expensive for them that it is cheaper for the company to keep the store open and operate at a huge loss. This situation is really a lose-lose for JCP. The inability to close stores and deceasing traffic both in stores and online has led to a significant deterioration of sales per square foot. J.C. Penney currently has 1102 stores operating in 2013, the same number that it did a year ago, and only down slightly from 1106 in 2011. Sales per square foot for 2012 were $116, down significantly from $154 in 2011, and this number is sure to decrease even further in 2013.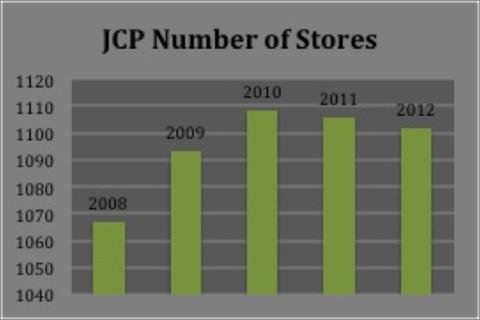 Click to enlarge
What Investors Need To Know
J.C. Penney reports their next quarter on November 19, 2013 and will give a clearer picture on the overall retail market and trends going forward. Investors need to consider the fact that all lingering effects from Ron Johnson's tenure have not passed and still pose a serious threat to future results. With this in mind, we value JCP at $10.00 by year-end of 2013 and $4.00 by August 1, 2014, a decrease of 70% from current levels.
Disclosure: I have no positions in any stocks mentioned, and no plans to initiate any positions within the next 72 hours. I wrote this article myself, and it expresses my own opinions. I am not receiving compensation for it (other than from Seeking Alpha). I have no business relationship with any company whose stock is mentioned in this article.
Additional disclosure: AlphaStreetResearch is a team of Investment Research Analysts. This article was written by Mr. Hunter Orr, Director of Research, with research assistance from Mr. Aaron Zander, Junior Research Analyst.