Former mobile device powerhouse Nokia Corporation (NYSE:NOK) is one of several once mighty Tech Titans in the midst of "turnaround" stories. A little more than a decade ago the stock traded at an all-time high of $60 per share and now it trades under $5 - penny stock territory. What happened?
Take a look at this stock price movement chart comparing the one time King of the Hill to the current champion - Apple (NASDAQ:AAPL)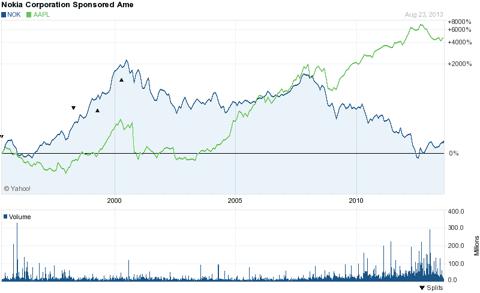 As everyone knows, Nokia failed to recognize the market disrupting power of the smartphone. Shares of Nokia began their non-stop downward slide around the time Apple introduced its first iPhone.
It seems a certainty every investor with any interest at all in the explosive growth in mobile computing is aware Nokia is trying to get back into the game, primarily with its Lumia line of Windows 8 based smartphones. While all the buzz on Nokia is about the phones, investors would be wise to do a little more due diligence on Nokia's other revenue generating business segments. The smartphones and feature phones are part of the Devices and Services segment. The two other segments are Nokia Siemens Networks --now Nokia Solutions and Networks --and HERE.
For a revenue breakdown by business segment, we found the following figure in the Financial Section of the Nokia website:
NOKIA NET SALES BY BUSINESS IN 2012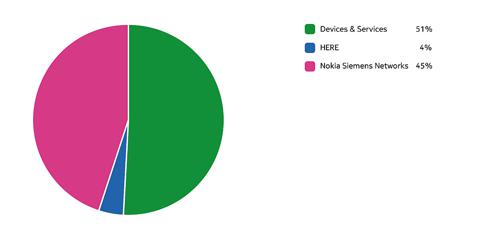 Despite the fact revenues from the non-device segments generate only 2% less revenue, analysts and experts don't seem to be paying much attention to HERE and NSN. They should, and so should you as an investor.
In November of 2012 Nokia announced a re-branding of its mapping and location business - Navteq-as a cloud based range of services called HERE. How seriously did the market take the news? The business description for Nokia found on Google finance, and the US edition of Reuters to this day still refers to the mapping business as Navteq. Investors blinded by numbers might yawn at this as HERE represents a tiny portion of Nokia's revenue.
While that is true, mapping and location are an integral part of Nokia's business strategy of building an ecosystem in partnership with Microsoft via the Windows 8 operating system. Nokia mapping technology will be integrated into Microsoft offerings like the Bing search engine. If you think mapping is not an important component of an ecosystem, you need to know on August 22nd 2013 Apple Corporation announced it had bought Embark, a navigation software company. The acquisition is seen as move to improve its own mapping capabilities.
The element of Nokia's stated business strategy that should be of most interest to long-term investors is the company's efforts to invest in next-generation disruptive technologies. The technology of interest is 5G Cellular Technology, or by another moniker -- 5th Generation Mobile Technology.
What's New for Nokia?
Right now 5G exists only on the drawing board. There is no standard for 5g but Nokia's NSN division is one company that is working hard on bringing it to reality. In June of 2013 the company laid out its plans in a presentation called Technology Vision 2020. Nokia's competitors at the moment include China's Huawei Electronics, Sweden's Ericcson (NASDAQ:ERIC), South Korea's Samsung Electronics, and France's Alcatel-Lucent (ALU). In May of 2013 Samsung was first to announce a breakthrough but also said the technology would not be commercially available until 2020.
On July 1 2013 Nokia announced it had bought out Siemens (SI) interest in the former Nokia Siemens Network. Going forward NSN will stand for Nokia Solutions and Network, a wholly owned subsidiary. Nokia paid US$2.2 billion and although cautioning the price tag would hurt the company's balance sheet, analysts saw the move as positive; giving the company a future, according to one. The share price went up in response.
In the July 18 Q2 2013 earnings release the devices & services division reported a loss but NSN posted its fifth consecutive quarter of underlying profitability.
Nokia's device strategy is similar to Samsung's in that they are flooding the market with handsets for different price ranges and preferences. The recently launched Lumia 1020 is almost universally acknowledged as the best camera in a smartphone on the market. Some analysts categorize the phone as serving a "niche" market. A reviewer at ZDNet called the 1020 the "best Windows smartphone ever." Nokia is rumored to be ready to release a Windows based tablet called Sirius, and a "phablet" (smartphone with a tablet sized screen) called the Bandit.
On August 22 Nokia announced a deal with Delta airlines to use the Lumia 820 for flight attendants. The deal was small so numbers obsessed analysts and media outlets didn't have much to say about it, but investors with an eye on the future should take note. It is no secret the company has been looking to expand its penetration in the enterprise market with windows-based Lumia handsets. This deal could open the door to others, especially as rival BlackBerry (NASDAQ:BBRY) is essentially in a holding pattern until the future of the company becomes clear.
Nokia vs. the Competition
We chose to look at the three players with competing ecosystems - Nokia and Windows 8; Apple Corporation with iOS, and Samsung Electronics (OTC:SSNLF) with Android. Samsung is not available to US investors under the American Depository Reserve (ADR) system. The danger with the pink sheets is liquidity. Volume is miniscule and US investors waking up to see Samsung shares in free fall for some reason would be hard pressed to unload their shares.
The following table compares some key performance metrics for the three companies:
Indicators

Trailing Twelve Month P/E

--

12.5

6.2

P/B Ratio

1.5

3.7

1.4

P/S Ratio

0.4

2.8

0.8

Forward P/E

31.2

11.2

--

Dividend Yield

4.39%

2.27%

0.69%

Net Income Growth (3 Year Avg)

--

71.8%

34.3%

Debt/Equity

0.4

0.1

--

Return on Equity

(NYSE:TTM)

-15.4%

32.1%

19.7%

Current Price

$3.99

$488.59

$1,115
Data from Morningstar, August 27, 2013
What Does the Future Hold?
The keys to Nokia's future success or failure are the Windows 8 ecosystem and the NSN. On August 27 Moody's Investors Service became the latest to further downgrade Nokia's credit rating due to the cost of the acquisition and questionable demand for the company's phones. However, others see a potential 60% upside to the acquisition, largely due to Nokia doubling its stake in that business.
Windows 8 smartphones recently edged out BlackBerry for the dubious honor of being a distant third behind sector leaders Samsung and Apple. However, the problem Nokia faces is less one of market share and more one of mindshare. Mindshare is a marketing term representing the consumer perception of brands or products. Apple's mindshare is one of high quality user friendly products that work. Android's mindshare is more difficult to characterize but one could call it a less expensive Apple alternative with an outstanding ecosystem. Microsoft has been through a series of missteps since the successful launch of Windows 7 and the Xbox Kinect that has done nothing to alter public perception of "buggy" products.
In essence, Nokia's success with building an ecosystem is in Microsoft's hands. Nokia needs to get developer support to grow the apps marketplace for Windows phones. From a recent article in Venture Beat here is a table comparing apps publishers for the three ecosystems:

Make or Break for Investors
One could make a strong case that Nokia's fate boils down to the success or failure of the soon to be released "fix" for Windows 8, called Windows Blue or Windows 8.1. Windows 8 generated too much bad publicity to help offset public mindshare. However, the wild card in the deck here is what will Microsoft's new CEO do. The move into hardware devices for the stagnant Microsoft made sense but a repeated series of missteps and mishaps made the company look yet again like "the gang that couldn't shoot straight." A new CEO could turn that around.
Final Verdict
There is more to Nokia than phones. At around $4 per share the company deserves at least a spot on most investors' watch lists. While their new products haven't set the world on fire, they have been well reviewed. If Microsoft gets its act together, Windows 8 phones could do better in the consumer sector. The Nokia/Microsoft alliance has major potential in the enterprise market. How many businesses use Microsoft Software? And then there is always the chance NSN will succeed in the race to deliver 5G mobile technology.
Disclosure: I have no positions in any stocks mentioned, and no plans to initiate any positions within the next 72 hours. I wrote this article myself, and it expresses my own opinions. I am not receiving compensation for it (other than from Seeking Alpha). I have no business relationship with any company whose stock is mentioned in this article.