I've been looking at Xerox (NYSE:XRX) for a while. With today's 3.33% drop, I'm thinking that the time has come. I'll be watching it hard for the rest of this week.
Why Xerox? It's one of the undervalued, steady performers of the IT sector. It's about as dull, even boring, as IT comes. The company develops, manufactures, markets, services, and finances the industry's portfolio of document equipment, software, solutions, and services. It's one of those companies whose name is a verb.
Click to enlarge image.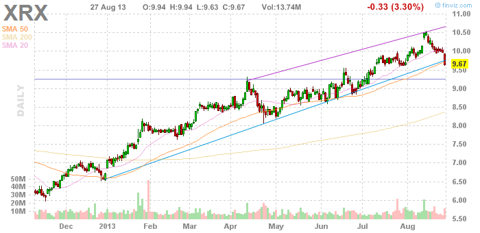 Click to enlarge
Dividends
Xerox had paid a steady dividend of $0.0425/share since the last quarter of 2007. For Q1 2013 it raised the dividend to $0.0575/share (2.3% at current stock price). Payout ratio is a sustainable 21.3%. It would be nice to see an increase in 2014, but I'm not counting on it. Management seems to be looking to buybacks as the most effective way to return value to shareholders.
| | |
| --- | --- |
| Dividend Yield | 2.3% |
| One-year DGR | 35.29% |
| Five-Year Dividend Growth Rate | 6.23% |
Buybacks
Cash flow for the current year is expected to be about $2.5B. The company began a share buyback initiative in 2011, and since that time has reduced the number of shares from 1.38B to 1.23B (-10.8%).
Earnings and Valuation
Earnings per share stands at $0.27. Earnings have beaten the consensus estimates for each of the past three quarters, most recently by 12.5%. The next quarterly earnings report will be released on Oct. 21, 2013.
Valuation multiples are low by industry standards.
Industry

Average

P/E
11.0
15.3
P/Sales
0.6
1,7
P/Book
1.1
5.4
P/Cash Flow
4.6
11.9
Forward P/E
7.9
PEG
1.3
EV:EBITA
7.36
XRX has an earnings yield of 9.2% (vs. 5.7% for the S&P 500). Morningstar rates it four stars (a value rating). Valueexplorer.com considers XRX's fair value to be $12.20 based on mean multiple value, indicating a potential upside of 31%.
What Do the Experts Say?
Analysts tend to like the stock. Morningstar's consensus reports an analysts' average of 4.0 on a 5-point scale for a solid buy. StarMine's Equity Summary rates it 8.5 on their 10-point scale, near the top of the bullish range (7.0-8.9).
It came to my attention as one of only eight stocks held by all three of my current favorites in the equity ETF arena. These three, which I discussed here, are PKW, SYLD, and TTFS. They each emphasize in their own way shareholder value and shareholder returns, mainly through buybacks that reduce float. SYLD adds dividends and debt pay down to their algorithm. All three funds have performed exceptionally well since their inception. Taken together, they hold some 322 stocks. Scores of these are held by two of the three ETFs, but only XRX and seven others are held by all three.
Summing Up
I think XRS is a sold buy for a total-return, dividend investor looking for opportunities as the market wavers. Higher yields can be had, obviously, but the total package here looks to be solidly sustainable with minimum downside risk and some substantial potential on the upside.
Disclosure: I am long PKW and SYLD. I may initiate a long position in XRX over the next 72 hours. I wrote this article myself, and it expresses my own opinions. I am not receiving compensation for it (other than from Seeking Alpha). I have no business relationship with any company whose stock is mentioned in this article.