I would expect that Syria, a major sell-off in Emerging Markets or debt ceiling talks in the US should support gold mining stocks. There are a couple of reasons why this is not the case:
Profit taking after the strong rebound in the last couple of weeks
Higher oil negatively affects profit margins
Indian Rupee depreciation will have a noticeable effect on physical gold demand
Emerging Market sell-off will have a negative internal effect on money flows and dampen physical demand
Particularly Indian gold consumers will have to dig deeper into their pockets because the Indian rupee has lost approximately 25% in value against the USD since early June.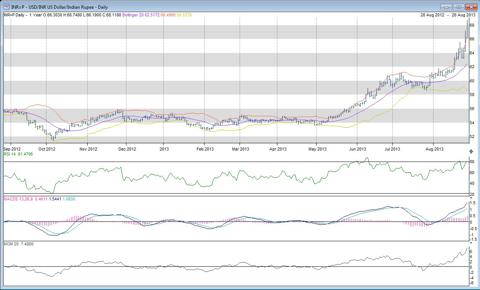 I'm sure less Indian gold demand will have an effect on the price of gold but very likely only marginal and temporarily. Maybe Indian's will even buy more gold as a wealth protection in the light of a potential rupee crash. There is a positive correlation between gold and the Indian rupee but not significantly.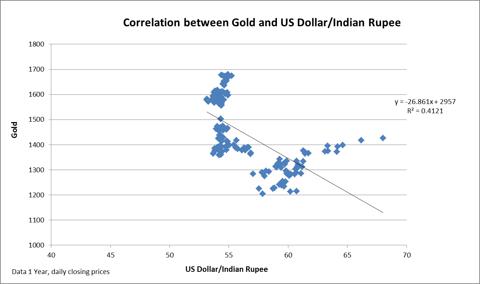 While gold mining stocks are correcting, I'm not surprised to see the price of physical gold increase since gold behaves similar as oil and is building up a risk-premium. Short-term, gold mining stocks will very likely consolidate for a brief period of time.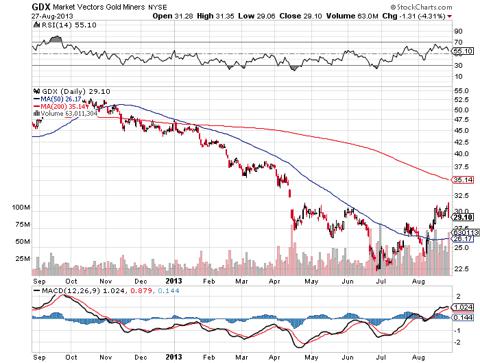 But afterwards, I remain confident that gold mining stocks (NYSEARCA:GDX) will at least retest their resistance level at approx. USD 36 (more than 20% higher than yesterday's closing price). I would recommend investors hold on to their gold mining shares.
Disclosure: I am long GDX. I wrote this article myself, and it expresses my own opinions. I am not receiving compensation for it. I have no business relationship with any company whose stock is mentioned in this article.