Introduction
I'm by no means tech expert Ashraf Eassa, but I've written my fair share of Apple (NASDAQ:AAPL) articles since I've started contributing on Seeking Alpha - and for those of you playing along at home, all of those articles have been bullish in nature. I've been bullish on the company since the tail end of its decline, calling Apple a buy from $530 down to $400, and now back up to $500.
Apple has been a roller coaster ride over the last year, and your satisfaction in your investment likely depends on when you bought in. While Apple has shed about 25% of its price over the last 12 months, it's only off about 8% for 2013 as a whole and has yielded about 10% (plus dividends) for those that have been holding for the past 90 days.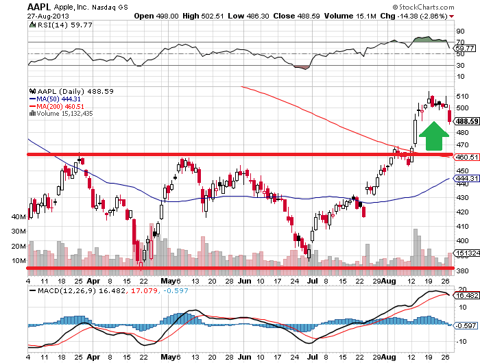 I made the argument in my last Apple article about how the technicals were starting to look really encouraging, citing an Icahn fueled jump in share price as causing a major technical breakout from the $460 ceiling that you can see in the chart above.
The technical picture above is extremely important to potential investors. Although I'm not a big "chart guy," there's some significant action here that's worth noting. The stock has, in the last month or so, eclipsed both its 50-day and 200-day moving averages - this is a tremendous bullish signal both to chartists and to algorithm based trading systems that can execute 50,000 trades in the time it takes you to realize that you have, and then eventually pick, your wedgie.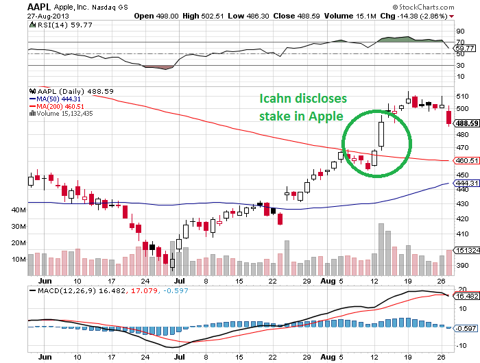 The next major technical indicator, aside from the general breakout shown below, is going to come when the 50-day moving average moves up and crosses the 200-day average, again registering a technical bullish signal on radars across trading desks worldwide. We're getting damn close, as you can see the 50-DMA starting a wicked curve upwards - it's likely that tons of technical traders and chart-based traders are looking at this and seeing the bullish potential. That's right folks, people at home are speculating millions of dollars on a little blue line on a chart starting to move upwards - by god, you've got to love the stock market.
Since then, Motorola released the Moto X smartphone, and there was plenty of buzz and headlines about potential threats to the iPhone. Since the beginning of the month, when the phone was announced, I haven't seen or read anything in regards to the Moto X. From the get-go, I wasn't worried about it infringing on Apple's market share, as the phone didn't really seem to have anything that special about it - aside from the colors.
Furthermore, again it's worth noting that Apple just came off a great quarter with regards to its smartphone sales. As I stated in my Apple Q3 earnings roundup:
So much for the worries about the smartphone category. I'd guess that this is the news that is fueling a lot of the after-hours rally that we're witnessing, as well. It was a record June quarter for iPhone sales. Not only did iPhone numbers impress, but the call reaffirmed that customer satisfaction with the phone and customer loyalty were top notch in the industry. Apple tooted their own horn for a good couple of minutes on the conference call, and after analysts painting a dreary smartphone picture, I don't blame them.
With this news behind it, Apple was poised for a jump up over its resistance. Once Carl Icahn disclosed his position, the stock took off. But, I'll argue that the fun is just getting started, and there are five more catalysts that are coming down the road for Apple that would make me favorable towards buying Apple (especially after it shed 12 points Tuesday).
1. Back to School
We are in the back-to-school quarter as we speak, and Apple is notorious for getting the most out of the back-to-school season. As a company that continues to grow in popularity with younger generations, Apple has a real "pre-holiday" niche in back to school - generally offering pretty good deals, like offering free iPods to those who purchase Macs. This year, Apple is offering a $100 gift card to anyone who buys a Mac - good enough to get you started with a fiendish addiction buying apps, music and iBooks that will eventually bring you coming back and throwing your money back at Apple in the future. Time offered up the details in a recent write-up:
This year Apple's touting a deal where, if you buy a qualifying Mac for college, either from Apple or a participating Apple Authorized Campus Store between July 2, 2013 and September 6, 2013, the company will give you a $100 App Store gift card. Apple's writes "To qualify for the App Store Gift Card and get education pricing on a Mac, you must be a college student, a student accepted to a college, a parent buying for a college student, or a faculty or staff member from any grade level." Speaking as a non-student, I put together a hypothetical purchase, right up to the finish line (where you enter your credit card info) and at no point did Apple ask me to qualify that I was in fact a student, much less produce proof of matriculation. (In other words, you're apparently on the honor system.)

Apple adds the $100 App Store gift card to your order automatically (it shows up in your cart) but doesn't charge you for it. Next stop: your mailbox, after which it's expendable on anything in the Mac App Store, iOS App Store, iBookstore or iTunes Store. After dropping several products in my cart, I received a warning from Apple noting the company allows a maximum of two gift cards per customer, one per product, thus while purchasing more than two qualifying products won't nab you any additional cards, you can actually get up to $200 in gift card credit if you're buying more than one qualifying Mac product (and if for some reason you really do want to buy more than two, Apple lets you adjust the gift card total downward so you can check out).
2. Icahn Unlocking More Shareholder Value
As soon as Icahn disclosed his stake, it became clear that he was interested in the company continuing to unlock some its cash to add to shareholder value. As I argued in my last article, asking for a bigger buyback immediately after Apple announced the biggest stock buyback in market history isn't really a great move right off the bat.
I thought that it was "a nice (selfish) gesture" that Carl wants more shareholder value from the company, but with Apple recently taking on its debt position and offering a buyback with increased dividend, the company shouldn't feel pressured to tend to Icahn's requests immediately and shareholders might be disappointed when Apple chooses not to honor Icahn's somewhat greedy request immediately.
Unfortunately, what I feel Apple should do versus what I feel is likely to happen are two entirely different things. Reuters Canada reported, in the time between my last article and this one, that Icahn seems to think that Cook has already gone for his idea:
Carl Icahn has spoken again with Apple Inc's Tim Cook and plans a longer discussion with the chief executive over dinner next month about the size of the iPhone maker's buyback program, the activist investor tweeted on Thursday.

The hedge fund billionaire, known for launching aggressive assaults on American boardrooms, caused a sensation last week when he revealed on Twitter he had taken a large position in Apple and was pushing for the company to expand its program of share buybacks -- already one of the market's largest.

That revelation, including comments about how he thought the stock was undervalued, pushed shares of the $400 billion corporation up 5 percent on Aug 13.

But on Thursday, Apple's stock held steady at about $501.11 in late trade on the Nasdaq, resuming trade after a glitch halted trading in Nasdaq-listed securities for more than two hours.

Icahn's tweet on Thursday, which came during the trading suspension, did not reveal much else apart from the fact that he and Cook had made plans for an in-person meeting next month.

"Spoke to Tim. Planning dinner in September. Tim believes in buyback and is doing one. What will be discussed is magnitude," the billionaire said on Twitter on Thursday, without elaborating.
So, just like there was a nod towards Einhorn's requests being taken into account and then acted upon, it's looking like we have a nod towards more buybacks. I'd feel a bit more comfortable if these were coming from statements that Cook himself made (like it did during the Einhorn era), but it's likely that Apple will eventually act here, and that shareholders will reap the eventual rewards.
3. iOS 7's Coming Success & Integration
iOS 7 was announced at Apple's WWDC on June 10th of this year. It comes with a sexy new user interface and tons of general upgrades. It's looking like iOS 7 is going to be released officially on September 10th. The Verge reported:
After news leaked of Apple's upcoming iPhone event on September 10th, it was assumedthe new iOS 7 would be announced at the same time - but now there's proof. Today, a developer named Owen Williams received an email indicating that iOS 7 would be released to the general public on the 10th, giving non-developers their first peek at the controversial operating system. The email comes from Nuance, which works closely enough with Apple to know the date in advance.

The news could also indicate that the release date of the new iPhones will come much closer to the September 10th event itself. Apple could even opt for a day-of release, a move the company has executed successfully with other products, but never attempted with the iPhone.
It was already alluded to at the Worldwide Developers Conference that iOS 7 was going to be integrated not only with phones, but in your cars. This is foreshadowing to the iOS eventually making its way everywhere in your home ecosystem. As reported by The Verge:
Apple added turn-by-turn directions to its last version of iOS, and it's expanded vehicular options with iOS 7. A new "iOS in the Car" system will mirror your iPhone on the infotainment displays found in many cars: it's supported on everything from Kias and Hondas to Jaguars and Ferraris. That means Maps, Siri, Messages, and more will be available directly on the dashboard. You'll have to wait a while to use it, though; car manufacturers will begin adding the feature in 2014.
This is a big one for a couple of reasons - getting iOS into vehicles is going to be another place where you're interacting with the Apple ecosystem. You're going to have Apple available everywhere you have media available - and it starts with a brand new, gorgeous looking operating system in iOS 7. The OS will likely garner positive reviews, but will also generate a fair amount of free press and media attention for Apple, which could act as catalysts for retail investors to buy.
4. New Products Starting This Fall
Aside from iOS 7, Apple is also expected to announce new products this fall. This is coming from Q2 earnings of this year, where Tim Cook alluded to new products.
Tim Cook said it himself on the Q2 earnings call. The company has products in the pipeline (hardware and software) that it is extremely excited about and plans on releasing this fall and "into 2014." Whether it's the iWatch, the iTV, or something we haven't even thought about yet, we are going to be guaranteed to have something to get excited about after the summer - in addition to iOS 7. New products mean new revenue streams, ideas for the holidays, and again, plenty of free press from major media outlets.
The iWatch we're all expecting. iOS 7 we're all expecting. Cheaper iPhones are here. Could Apple still be toying with the idea of reinventing the TV, though?
The NY Times thinks that it just might be:
Since at least late 2011, Apple has been trying to figure out how to reinvent the television. At that time, Apple employees and people close to the company, all speaking on condition of anonymity, said that a television "was not actively being built, but Apple would eventually make a television." But they did say it wasn't a question of whether Apple would expand into the television market, but a question of when.

Since then, many reports have indicated that the company continues to explore television-related products. In March, speaking at the D: All Things Digital technology conference, Mr. Cook said Apple had "a very grand vision" for the television.

Just making a fancy television set with an Apple logo on it would be underwhelming, because there are plenty of nice TVs already. But the way people find things to watch with a clunky remote control or a cumbersome channel interface is ripe for disruption. Apple is collaborating with distributors like Time Warner Cable and some content providers on fixing these problems on set-top boxes before moving further into TV land.
If Cook wants to channel his inner Jobs and do something above and beyond, the TV concept could be the right idea. We'll have to wait here, but Apple is no stranger to surprising the public and a buy here ahead of a potential stunning release could prove to be extremely lucrative - should Apple go down this road.
5. Earnings
Is it time for earnings, again? Well, no, not really. It's not exactly earnings time yet for Apple, but as an investor it's important to remember that Apple earnings announcements aren't simply a one-day event. They're an event that lasts weeks before earnings are announced, fueled by speculation and analysis. And, they're also an event that lasts weeks after they're over, generally still effecting the trading price many sessions after the news has come out.
As I stated previously, a lot of Apple's earnings success is due to CFO Peter Oppenheimer's forward thinking in controlling guidance:
So, it appears Oppenheimer's strategy of wanting to control the guidance for the company is starting to pay dividends, as Apple posted its second quarterly beat in a row. It's not the blowout that everyone is used to, but a massive sea change has taken place in terms of expectations and what constitutes a good vs. a bad Apple earnings call.

Oppenheimer's forward thinking from two quarters ago is the reason that Apple beat this quarter. It's also one of many giant macro-level moves; including taking on debt, a massive cash position, shareholder give backs and continued monstrous profits, that should continue to make Apple the most appealing investment on the planet.
On the heels of its last earnings beat (and downright impressive iPhone numbers), Apple is poised to do something it hasn't done in years - come in with several earnings beats, in a row. These types of exceeding expectations could act as a semi-macro catalyst to keep the stock moving in the right direction for Apple longs. While we're still months away, it's really kind of "always" Apple earnings season.
Conclusion
As a tried and true Apple bull, it's nice for shareholders to have Icahn on board. With back-to-school sales in full swing right about now, and iOS 7 slated to be out in just weeks - it's a good time to be an Apple long. Down the road further, potential future buybacks combined with a couple more positive earnings reports in a row could be the prescription Apple needs to get back over $600 and on its way to all-time highs again. The company continues to add cash in the bank, and continues to still sell at impressive rates.
Apple is clearly at the beginning of a technical-based breakout to the upside, so I'm still very bullish on the company. With the safety of the company's fundamentals and dividends, I'm still bullish on Apple here and wish all investors the best of luck.
Disclosure: I have no positions in any stocks mentioned, and no plans to initiate any positions within the next 72 hours. I wrote this article myself, and it expresses my own opinions. I am not receiving compensation for it (other than from Seeking Alpha). I have no business relationship with any company whose stock is mentioned in this article.