Investors are always looking for opportunities. Fortunately for equity investors, such opportunities arise due to the erratic actions of the market. On August 14th, Cisco (NASDAQ:CSCO) Chief Executive Officer John Chambers announced 4,000 job eliminations. Subsequently, the stock price tumbled by as much as 11% and has hovered near the $24 range to date. Although future growth prospects may not be as rosy as originally projected, the recent drop presents buying opportunities. Here's why: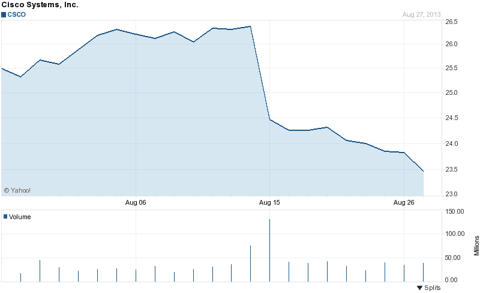 Click to enlarge
(Click to enlarge)
Background behind the Layoffs
Clearly, the layoff announcement triggered the price drop due to the sequence of events. To put the numbers into perspective, the announced layoffs accounts for approximately 6% of the total workforce. Mr. Chambers indicated that the workforce reduction was a strategic decision to reallocate resources for more lucrative endeavors including cloud computing, mobility and internet products. It can be inferred that this resource allocation would result in job creation so the layoffs may not be as severe as indicated on a superficial level.
Cisco's Strength Indicates The Layoffs Aren't Essential
Typically, companies announce layoffs due to poor financial performance. However, Cisco does not fit the bill. This provides credibility towards Mr. Chambers resource allocation comments. The following technicals support strong financial performance:
Please note that the provided technical indicators were calculated on August 27, 2013.
Strong Earnings
Cisco announced favorable earnings for the 2012 fiscal fourth quarter. Key announcements included:
Non-GAAP earnings rose 10.6%, year over year, beating market expectations by approximately 2%
Revenue increased 6.2% to $12.4 billion, in line with market expectations
Such earnings indicate a financially viable company, yet the stock price tumbled on the same day that these figures were released.
Substantial Profitability
Profitable companies do not need to engage in layoffs unless management desires to trim the fat. Key indicators of profitability are:
20.54% Profit Margin, 23.69% Operating Margin
18.08% Return on Equity
$34.4 billion in cash after accounting for debt
$12.89 billion Operating Cash Flow
Cisco Is Cheap
The P/E Ratio is the closing price of the stock divided by the earnings per share, in one year. It is a basis used to gauge the relative valuation of a company. A P/E Ratio of 20 or less is considered favorable. Cisco has a P/E ratio of 10.26. Typically, the market views companies with low P/E ratios as low-growth entities. However, Cisco earnings have experienced strong growth as indicated. Also, the stock price has increased by 22.29% over the prior 12 months. Fundamentally, the growth prospects are favorable. Earnings are expected to grow by 7-9% in the long term. Mr. Chambers comments indicate opportunities for growth in the mobility and internet industry that have been enabled due to the layoffs.
Cisco Is Cheaper Than Its Competitors
The Price-to-Book Ratio (P/B Ratio)
The P/B Ratio is the market value of the stock divided by the book value. Intangible assets are excluded so the metric may not be skewed by an overstated goodwill or other components. The P/B of Cisco is a favorable 2.16. Essentially, the book value of Cisco is half the market price which is fairly competitive for a financially-sound company. However, it is important to note that the P/B ratio must be interpreted in conjunction with other metrics since a low P/B may indicate low return on equity or overstated total assets. The Return on Equity (ROE) for Cisco is an impressive 18.08% so CISCO's favorable P/B ratio and high ROE indicate value at the current price.
The Company Provides A Steady Income Supply For Merely Owning The Stock!
The 2.8% dividend yield is very competitive for a growing company
The Fundamentals
Fundamental trading involves qualitatively assessing the value of a company by tracking company actions, strategies etc.
Cisco enjoys significant market dominance which provides a degree of insulation against risk. Cisco accounts for 59% and 53% of the Ethernet switching and routing markets, respectively
Cisco has $51 billion in cash that also provides a buffer against uncertainty
The rise of the middle class in developing nations and the concurrent demand for bandwidth increases demand for products
The announced layoffs should ultimately provide resources to allow for expansion into more lucrative areas
The Risks
The troublesome economic climates in Asia and Europe threatens short-term growth opportunities. However, growth is still expected to be at least 7%
Gross Margins have been trending downwards although they are approximately 60%
Cisco operates in a highly competitive market
Conditions in Syria are currently placing downwards pressure on all equities. This effect is amplified for Cisco due to its international exposure. However, such pressure should alleviate as international tensions abate
The Bottom Line
The 11% drop in stock price is unwarranted. The strong financial nature of the company indicates that the layoffs are a strategic move to trim the fat and to reposition the company for stronger earnings. Furthermore, the stock price is currently trading at a great price considering relative valuation and other metrics. An 11% opportunity is realistic and should be realized within one year after sufficient time has passed to allow for the layoffs and resource allocation processes to be realized via earnings. Lower than forecasted growth in Europe and the emerging markets is the biggest threat to the 11% realization.
Disclosure: I am long CSCO. I wrote this article myself, and it expresses my own opinions. I am not receiving compensation for it. I have no business relationship with any company whose stock is mentioned in this article.