The Midwest Drought Returns, but Volatile, Changeable Weather, Ahead
The explosion in the grain market that we discussed with clients might happen 2 weeks ago, was due to an incredible switch from perfect late July and early August weather, to the return of drought the last few weeks in parts of the central and western corn belt. Combine that with near record breaking 95-100 degree heat in the western Midwest, and the move in soybeans witnessed last Friday and Monday, was one of the most precipitous, in recent memory. Those there were trading futures would have hit a home run, while the ETF (NYSEARCA:SOYB) rallied about 10% of the last 2 weeks, much of that in just 2 days. From here on out, expect lots of volatility with the easy money being made long the grain market, the last week. Some changes towards cooler weather is coming and as a result, the grain market will be trying to assess future USDA crop reports, versus some rain, cooler weather, mixed in with lower crop ratings.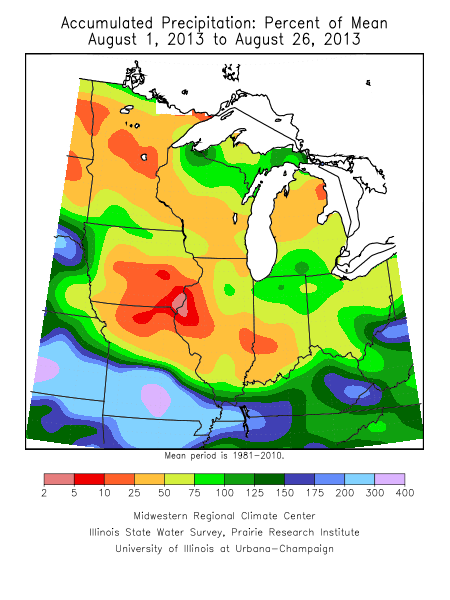 The soybean market will remain volatile as areas of drought (darkest red could see soybean yields fall 7-10% from recent estimates), lower soybean crop ratings, versus some rain in the forecast and cooler weather next week.
Hurricane Season May Remain Much more Inactive Than Others Feel
With respect to natural gas, while hot weather this week and recently EIA's have been friendly, I do not see much input from the hurricane season. African dust, that is presently hurting the west African cocoa crop, combined with Atlantic dry air, is limiting these season's hurricane season. I discussed in Bloomberg this week, why this hurricane season has been so inactive. Listen here.
When trying to forecast longer range for this season's hurricane season, it is important to look, not just at computer models, but what I believe are important climatological criteria. For example, we looked at the wettest summer's ever in North Carolina to Florida (this summer has been the wettest in Florida since 1968, causing some environmental concerns for Lake Okeechobee); the west African cocoa drought; how far north the ITCZ is (Intertropical Convergence Zone); and made some indispensable observations that this year has been the weakest, hurricane-wise since 2002. There have only been 8 cases since 1940 with no August hurricanes (1957, 1959, 1961, 1962, 1982, 1984, 1988, 1997, 2001, 2002) in the Atlantic or Gulf. Some of these years were incredibly active in the fall, with 1984 holding the accolade for 11 Fall storms, after an inactive August. That year also had some corn belt drought conditions, as we have this season. However, other features with regards to ocean temperatures, etc. are quite different than 1984. Incredibly, during several inactive fall hurricane seasons, a couple years had a storm as late as early December! Most recently, hurricane Olga was the latest December hurricane in recent history in the Atlantic.
See the hole in the central Atlantic on the Satellite picture? The big black circle? This area of dryness, combined with waves coming off of Africa, a bit further north than they usually are, suggest more of an inactive hurricane season, at least through early September.
Source of Map -- NOAA
Based on what I compared (above) and strictly on historical analogs and climatology, the odds of a major Gulf coast strike this fall is less than 20% and for the Northeast to see a major hurricane like last year's Sandy, less than 10%. There have only been 3 times in 100 years, with back to back Northeastern hurricanes or strong tropical storms. That was after hurricane Donna in 1960 & 1961, the 1954-55 season and of course 2011-2012 (hurricane Irene and Sandy). There has never been 3 consecutive years that the Northeast was hit. So if this is the first time ever this Fall, blame in global warming (Sorry for all of you non believers out there, but that is the truth--take it, or leave it. Listen to how many, former, right-wing scientists, have now switched their position about global warming. Look at the facts regarding ice core data, etc.).
As far as natural gas goes and (NYSEARCA:UNG). We had an incredible late cold winter and 30% rally in prices during March and April, which we caught as well as a 20-25% break in summer prices. At times, the summer has been hot. For now, we may be range bound the next few months, due to more bearish weather coming up, with cooler weather again at times and no hurricanes. On the other hand, lower rig counts and natural gas being the more favored fuel versus coal, when prices fall below $3.30, are the only friendly arguments I see. Longer term, the development of further infrastructure to export LNG could be a bullish development for natural gas, but is still a long ways off. For now, I expect modest rallies in natural gas, if we have them, to be met with selling heading into September.
This will likely be my last report till later in September or perhaps not until just before the winter. Sorry folks, while there are plenty of opportunities for trades in cocoa, grains, natural gas, etc. on the weather. I have been sending out more reports than I am permitted too by hedge fund clients and need to scale it down a bit. Sorry for the inconvenience and to keep many of you hanging with regards to markets such as cotton, grains, natural gas, cocoa, etc.
Disclosure: I have no positions in any stocks mentioned, and no plans to initiate any positions within the next 72 hours. I wrote this article myself, and it expresses my own opinions. I am not receiving compensation for it (other than from Seeking Alpha). I have no business relationship with any company whose stock is mentioned in this article.