Back in June, I wrote an article on Frontline (NYSE:FRO) entitled The Market Will Drag Frontline Ltd. To The Bottom, laying out the reasons why I believe it is headed for bankruptcy, and based on the recent earnings, I think it's time to reiterate my sentiments and lay it out again. I hate to do a copy and pasting in my writings, but I believe the company feels the same way I do, and it might be best to hear it in their words.
Let me start off and say that I used to be a fan of FRO. There is something about the shipping industry and watching those massive ships move across the waters that has fascinated me. FRO first drew my attention back in 2006, when it was paying a healthy dividend, before the crash of shipping rates. So it pains me to see where they are now and where I believe they are heading. I think the market feels the same as me because with every small ray of sunshine, the price has surged for FRO.
Debt Hanging Over Its Head I believe even more strongly that FRO has less than 21 months left. This was echoed in the earnings release:
If the tanker market does not recover in the short term and no additional equity can be raised or assets sold there is a risk that Frontline will have insufficient cash to satisfy liquidity requirements and to repay the existing $225 million convertible bond loan at maturity in April 2015. Such a situation might force a restructuring of the Company, including modifications of charter lease obligations and debt agreements.

The Board expects that the operating result excluding gains and losses in the third quarter will be in line with the operating result in the second quarter and that the free cash position of the Company will continue to decrease.
I looked over the past quarter's reports to pull out the cash on hand to see where it was currently and where it was headed: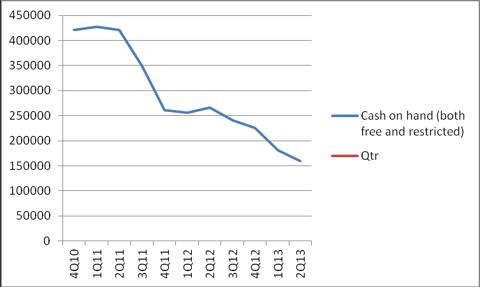 Even with the existing $225 million due in April 2015, they are headed in the opposite direction to be able to repay it.
Regrets on New Buildings? To add insult to injury, in addition to the debt due in April 2015, the company also made significant commitments to new buildings that they now regret. The company still has two new buildings, but I would expect those to be canceled soon in order to avoid installments that are coming due:
As of June 30, 2013 the Company was committed to make new building installments of $87.9 million with expected payment of $6.2 million in 2013 and $81.7 million in 2014.
And the Rest of the Fleet? Over the past year, they have slimmed the fleet down by 15 ships by either terminating the charter or selling them, leaving them with 50 in the fleet distributed between Suezmax and VLCCs. The company is now looking at the rest of the fleet, and will probably announce an additional sell off, charter termination, or scrapping of an additional 12 vessels that are over 15 years old:
Facing a market where tanker vessels are operated below cash cost break even rates, the Board is of the opinion that we as owners should seriously consider the investment we have to make in vessels which are more than 15 years old in order to take the vessels through special survey. Based on market rates it is likely that these investments will be unprofitable and we will be better off scrapping these vessels.

Frontline has two vessels coming up for special survey in the second part of this year. Based on no material improvement in the tanker market it is unlikely that Frontline will invest in these vessels to continue trading. If similar decisions are taken by other owners, it is likely to reduce the oversupply in the tanker market.
I like that they are looking to sell off inefficient assets, but I believe this is too little, too late. Reducing the fleet by another 12 vessels may generate some income for the company to help chip away at the debt coming due, but it will also reduce the capabilities to generate revenue in the future. The debt and obligations the company has are pretty staggering for a company with a market cap of $230 million:
As of June 30, 2013 Frontline had total debt and lease obligations excluding debt linked to ITCL of 1,135 million. This is composed of approximately $851 million in lease obligations to Ship Finance, approximately $69 million in lease obligations to German KGs and $215 million in convertible bond loan. A full repayment of this debt is to a large extent dependent on a significant improvement in tanker rates in the years to come. The Company has as of June 30, 2013 no bank debt.
Strategy and Outlook
Even with all the doom and gloom, there are still a few wild cards that could come into play here. The Middle East is currently facing an impending war with Syria. There has been some belief that should a war with Syria kick off, this will drive up oil prices. Even though Syria's contribution to global oil exports is negligible, it would raise the threat level for the region. John Fredriksen made his money by shipping oil for Iran during the 1980s during the Iran-Iraq war. While war may scare off some companies, I think he views it as an opportunity.
Disclosure: I have no positions in any stocks mentioned, and no plans to initiate any positions within the next 72 hours. I wrote this article myself, and it expresses my own opinions. I am not receiving compensation for it (other than from Seeking Alpha). I have no business relationship with any company whose stock is mentioned in this article.