This is a misunderstood company. Often thought of as a dinosaur, IBM's (NYSE:IBM) main focus and strategy is widely overlooked. Let's first try to understand the company, then we will look at the stock.
The Focus
IBM's current focus is software and services. They deal only with business and governments (mostly cities) around the world. Part of this focus, and the area I am counting on for future growth, is "big data" - using big data to solve big problems, or to find trends and correlations that lead to improvements and solutions to difficult problems. Using analytics to improve outcomes is another way to say it. They are trying to make businesses and governments smarter. And they are doing it in a computing environment defined by software, not hardware. Not artificial intelligence (they are working on that too) but just big analytical computing using inputs that never existed before, or at least were not so readily available. Far more than having a computer garner trends from social media, this involves inputs never used before and data previously not even considered. IBM is proving there are results never before considered in this new field and I think they are at the very beginning of monetizing this new technology. This is a new product with a huge potential market.
CEO Ginny Rometty gives some great examples showing the potential of big data here. Start at 5:30.
Successes Have Begun
Successes are beginning to stream in. Check out the variety in this list. The potential markets seem unlimited and currently include areas such as improving medical diagnoses, reducing crime, improving graduation rates and speeding research.
As successes continue in different industries and governments, this should snowball.
Recent Quarters - New Trends or Short Term Headwinds?
The double-digit growth from 2010 through 2012 was part organic, part from acquisitions, and part from remixing to faster growth segments. Total company revenue growth has been non-existent this year. The big question is whether the headwinds will continue, or if long term trends will overrule.
Second quarter revenue was down 3% (1% adjusting for currency). Services and software are the biggest parts of IBM. Software revenue was up 4% (5% adjusted for currency). Services revenue was down 4% (1% adjusting for currency) but services backlog increased 3% (7% adjusted for revenue). Looks like a timing issue to me.
From Mark Loughridge, Senior VP and CFO, Finance and Enterprise Transformation, on the second quarter earnings call: "We are entering the second half with the highest backlog in this area, adjusted for constant currency, in years".
Other second quarter results look good too, except for the $1 billion workforce rebalancing charge. Without this charge, net income increased 3%, EPS increased 8% and margins improved 1.4%. Benefits of workforce rebalancing will kick in the second half.
Declining Hardware is Part of the Plan
So much media attention has focused on declining hardware revenue and the competitive cloud computing environment; IBM has indeed suffered here. But that is the plan - this is an agile company run by proactive and aggressive management. They are always remixing with changes in product mix, markets and acquisitions/divestitures in the constant pursuit of higher margins. As a result, in 2012 45% of pretax income came from software, 41% from services and a mere 14% from hardware. They expect the declining hardware trend to continue and net income attributable to software to increase to 50% in 2015.
IBM has a clearly defined plan to continue the long term upward earnings trajectory. Once again, the biggest point here is that this is a proactive organization - management is looking ahead and adjusting to the future. Imagine if HP and Dell did this in the past.
While we wait for sales of the new cutting edge products to ramp up, IBM is intent on keeping share value up, expenses under control and generally minding the store. It's called strong management.
IBM - The Stock
IBM has performed poorly recently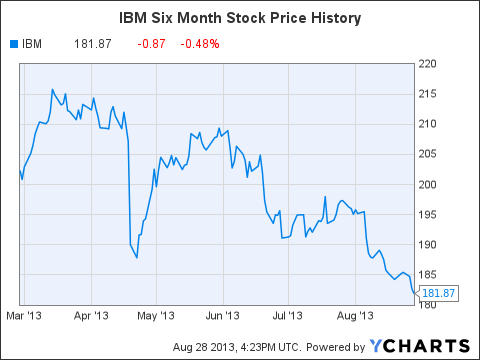 Or has it?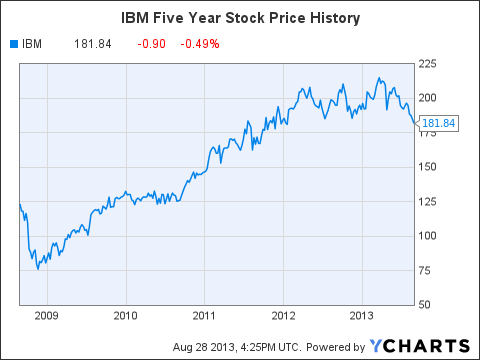 The Bulls and the Bears are sure divided on this one. Bears tell tales of declining revenue and cash flow, poor hardware sales and a challenging cloud environment, along with layoffs. They make a case for IBM to follow HP into the abyss.
The Bulls counter with arguments of large share buybacks and efforts to increase shareholder value, supported by strong management. With a price target of $300, I would certainly fall in this camp. Here's why:
The company is holding to guidance for 2013 (actually increased recently) and is still guiding for operating non-GAAP EPS of $20 in 2015. Simple math: $20 x 15 PE = $300. That's 58% upside within a few years. Can you say asymmetrical potential? Even if they miss projections, this stock is worth so much more than the current price. So forget recent analysts' targets of $175 and even $220, $300 is reasonable and even conservative.
IBM is more like a startup as it finds the markets for its new technology. Just imagine a startup with the resources and international footprint that it has.
Remember, this may be a smaller but more profitable company. Revenue growth may be delayed for a few years. Like a startup, it is hard to predict the exact timing of new sales. Growth in one area may be offset by declines or divestitures in others, resulting in flat or declining revenue.
People generally don't like what they don't understand. This, along with short-term thinking, has resulted in the recent stock price drop. I urge you to spend time to understand this company and look beyond a few sluggish quarters. As the world, spearheaded by IBM, figures out the incredible uses of big data…look out. And as investors and analysts start to understand what this company does, watch for $300.
Disclosure: I am long IBM. I wrote this article myself, and it expresses my own opinions. I am not receiving compensation for it (other than from Seeking Alpha). I have no business relationship with any company whose stock is mentioned in this article.