It isn't often that a conservative, dividend growth oriented investor gets a chance to acquire shares of a premier company at a discount. The current market turmoil has afforded exactly this opportunity today. The article below will discuss Colgate-Palmolive (NYSE:CL), in my view the one of the premier companies in the world.
| | | | | | | | | | |
| --- | --- | --- | --- | --- | --- | --- | --- | --- | --- |
| Year | 2004 | 2005 | 2006 | 2007 | 2008 | 2009 | 2010 | 2011 | 2012 |
| Revenue in millions | 10584 | 11397 | 12238 | 13792 | 15330 | 15327 | 15564 | 16734 | 17085 |
| Earnings per share | 1.21 | 1.32 | 1.46 | 1.69 | 1.83 | 2.19 | 2.16 | 2.47 | 2.58 |
| Dividends per share | .48 | .56 | .63 | .70 | .78 | .86 | 1.02 | 1.14 | 1.22 |
| Shares outstanding | 1053.3 | 1032.3 | 1025.3 | 1018.1 | 1002.8 | 988.33 | 989.7 | 960.04 | 935.73 |
| Return on Equity | 110.4% | 108.6% | 113.5% | 80.3% | 101.8% | 73.5% | 82.4% | 102.4% | 112.9% |
CL is the second-largest producer of personal care and household products behind Procter & Gamble (NYSE:PG). Some of CL's well known brands include Irish Spring, Softsoap, Ajax, Fab and Hill's Science Diet pet foods. The power of CL's collection of brands can be seen in its revenue, with revenue growth averaging a compounded annual growth rate of 5.46% since 2004. What I find attractive here is the consistency of the company's revenue growth. Even with the worldwide recession experienced in the 2008-2009 time frame revenue barely budged.
With revenue growing on a consistent basis, earnings should follow suit as long as expenses are under control. Earnings have grown at a CAGR of 8.78% over the corresponding time frame. Management has kept expenses under control and has actually expanded profit margins over the corresponding time frame. I would like to point out that the business is highly profitable and isn't capital intensive. This fact is evident by the stellar return on equity numbers that CL is able to produce.
The beauty of highly profitable businesses that aren't capital intensive is they generate a ton of free cash flow. That free cash flow can be used to amply reward a shareholder, which is exactly what CL has done in the past. As we can see from the chart above the dividend rate has been raised every year like clockwork. Dividend growth has clocked in at a CAGR of 10.92% over the past 9 years. Don't we all wish our salaries could consistently jump at that rate!
As if double-digit dividend growth wasn't enough, CL further rewarded shareholders with consistent share repurchases. As we can see from the table above, share count has shrunk by roughly 11% over the 9-year time frame. I am a big fan of consistent buybacks as it helps put a floor under the price of a stock and increases my portion of the company's future revenue stream.
The consistent earnings growth combined with dividend growth and share repurchases has allowed CL to outperform the SP&500 over the last 3-, 5- and 9-year time frame. Now that is what I would call performance. At first glance you would dismiss CL as a boring low-growth company. Yet, its performance is anything but boring or ordinary.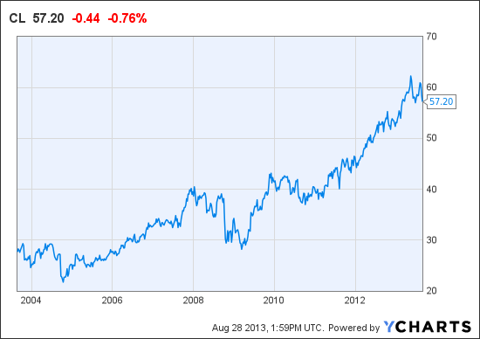 CL data by YCharts
Worries about overseas markets combined with devaluation of foreign currencies have led to in my opinion the underperformance of the consumer goods companies. CL along with other consumer stalwarts such as Coca-Cola (NYSE:KO) and Philip Morris (NYSE:PM) have sold off quite sharply since June, when the U.S. Federal Reserve hinted that it may taper its purchase of government bonds. As we can see from the charts below all three have sold off rather briskly. It is at moments like this where the long-term patient investor has a tremendous advantage over the hyper traders that rule Wall Street. By simply ignoring the news emanating from the media and all the talking heads and examining the long-term picture the answer becomes quite clear.
CL data by YCharts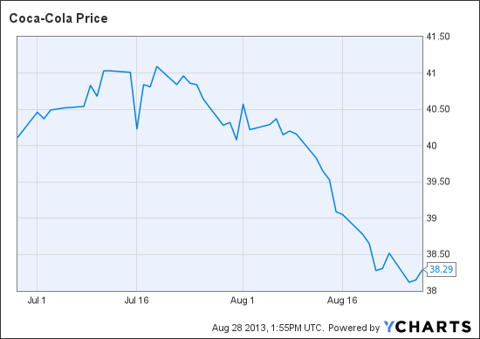 KO data by YCharts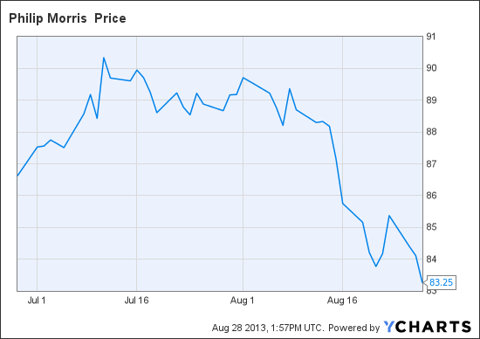 PM data by YCharts
In CL's case, the world isn't ending tomorrow. The world will continue to consume its products at a similar pace as it has in the past. As CL rolls out brand extensions such as Colgate Total mouthwash it will further goose revenues. As long as management is successful in controlling costs dividend and share repurchases should continue rewarding shareholders over the long term. Thank you for reading and I look forward to your comments.
Disclosure: I have no positions in any stocks mentioned, but may initiate a long position in CL, KO, PM over the next 72 hours. I wrote this article myself, and it expresses my own opinions. I am not receiving compensation for it (other than from Seeking Alpha). I have no business relationship with any company whose stock is mentioned in this article.
Additional disclosure: Investors are always reminded that before making any investment, you should do your own proper due diligence on any name directly or indirectly mentioned in this article. Investors should also consider seeking advice from a broker or financial adviser before making any investment decisions. Any material in this article should be considered general information, and not relied on as a formal investment recommendation.