Five Below (NASDAQ: FIVE) is a specialty retail company that offers a large variety of accessories at the cost of five dollars or less. The company was founded in 2002, went public last year in August 2012, and rocketed 53% from $17 to $26 on its IPO, and continued to surge into the $30's soon after. The stock was already recognized as a great growth story and instantly became a Wall Street darling. Looking across the industry, Five Below trades at a high multiple, but this valuation is justifiable and is actually due for additional appreciation.
Competition
Companies like Family Dollar (NYSE: FDO), Dollar General (NYSE: DG), and Dollar Tree (NASDAQ: DLTR) are the closest competitors for Five Below. The primary issue is that these three companies have already met relative market saturation, and all are selling similar products at a similar price. As SSS becomes harder to grow, revenue does as well. Not to down play these well established firms, because they are great companies, but the "attractive" 19/20 price to earnings ratios are irrelevant to Five. Why? Because Five is a considered growth, not value. So what makes Five Below different from the rest?
First off, Five Below targets a market group of younger people, known as teens and tweens, in order to avoid direct competition with other cheap retail. Many investors have assumed that since Five Below focuses on a specific niche, market share is not threatened as much. The store has a great young kid atmosphere that appeals to both the child's eye and the parent's wallet/purse.
The second factor is the massive growth rate on a small base of 200 stores; last year operations expanded by 50 stores and this year are expected to grow by 60 (they are currently at an estimated 275+ stores). Seeing a company grow this fast is exactly what a low end retail company needs. Five Below is also well recognized for their extremely proficient and professional management. Seasoned management should be highly valued since they essentially control the entire business; allowing operations to run smoothly, smartly investing capital, expanding and so on.
Another interesting fact that investors should consider is that Five Below sells products between one to five dollars. This not only fattens profit margins but also lets the company slightly improve quality of products for customers through the manufacturer. Besides who wants to buy poor quality items that break within a few weeks after buying them? At the same time, customers are always looking for a bargain on items, especially when they know they can get them cheaper (i.e. headphones, sports balls, blowup rafts, etc.) Moreover, what can one dollar really buy a consumer now-a-days? The answer is practically nothing, or nothing worth buying. All in all, in the long term, time is against traditional dollar stores, while Five Below has plenty of room for markup and shifting of prices that will serve to their benefit.
Fundamentals
Obviously high debt and low profit margins were assumed for an aggressively expanding growth company. Revenue has been growing each quarter year over year, as expected, with conservative same stores sales. SSS is a statistic used in retail industry analysis that compares the sales of stores that have been open for at least one year. This number is a great indicator of growth for companies in the retail industry. Margins have stayed relatively close to the comparable industry, specifically operational margins at an approximate 10%. The company has consistently shown hastened structural expansion which is exactly what Five Below needs. Management has disclosed that the long term growth horizon is focused on an estimated 2,000 stores running nationally.
The 4th quarter earnings report in March showed a clear cut kink in the supply chain, which made shareholders very uneasy, causing a massive sell off of 14+%. People should take note of this particular event since shares traded from $42 to about $36-37, where it is currently trading at. Interestingly enough, free cash flow took a massive hit from 30 to -3 million but experienced a massive rebound to 18 million from November until now. The last quarterly report showed a surprise beating analyst EPS estimates by $0.01 and revenue by 3 million, about 3.6% above expectations.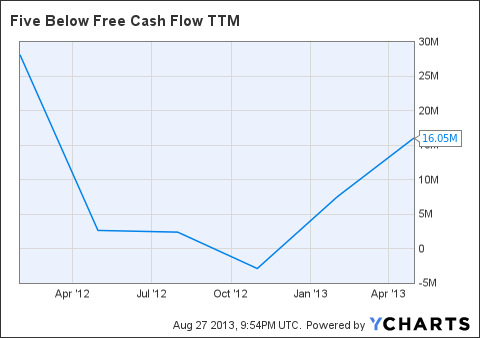 FIVE Free Cash Flow TTM data by YCharts
Bearish Argument
People have a negative viewpoint on Five Below based on its lofty valuation. As we saw back in March, when things turned a little sour, prices dropped from $42 to $36 very quickly. If this becomes a recurring theme, their growth will obviously be heavily impacted. Their current 60 store expansion for this year is also being called into question - since about half of the estimated stores have been established while there are only 4 months remaining in the calendar year.
Five Below also announced that their COO, David Johnston, will be leaving the management team effect August 31st, and that there is still no known replacement for his position. The short float interest is currently around 14%, which is considerably high.
Technicals
There seems to be a heavy support line around the $35.50 to 36.00 range; while a resistance sits around the $41 to 42 mark. Over the last month the 50 day SMA has been a visible short term technical resistance, with the 200 SMA acting as support over the intermediate term. Currently the 14 day RSI indicates extremely oversold at 0.00, along with the MFI at 36.13 being moderately oversold. The purple line displays a critical rolling price level, which should be a mild consideration. Overall if people were to have entered in any of these "cup" formations over the past 5 months at these levels, you would have made a substantial gain. Price levels do seem to be consolidating, although shares are currently experiencing definitive negative momentum.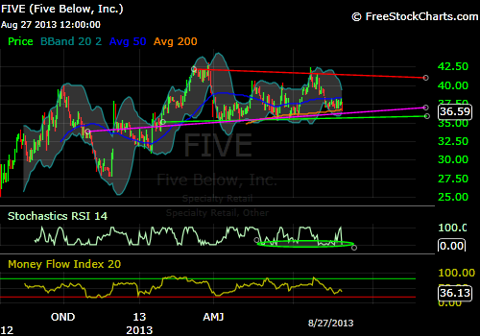 Bottom line
Despite that Five Below has already been found by analysts and is seemingly overvalued, it remains a continued success story. The company not only offers exceptional growth and other intangibles such as goodwill, but also a decent MOAT against other comparable well-established corporations. The company offered good guidance for the next earnings report, stating that this coming quarter is the strongest out of the entire year. Remember, this is a small cap growth proposition, so there is foreseeable risk. Therefore investors can wait until the next earnings report to be announced on September 9th to make their final decision. But seeing that it has trader well under its $43.04 high to the $36-38 range, I find this to be a decent and realistic buying opportunity.
Disclosure: I am long FIVE. I wrote this article myself, and it expresses my own opinions. I am not receiving compensation for it (other than from Seeking Alpha). I have no business relationship with any company whose stock is mentioned in this article.
Additional disclosure: I may increase my position in Five Below within the next 72 hours.