GameStop Corporation (NYSE:GME) shares soared following reported sales and earnings for the second quarter ended August 3, 2013. The market responded positively, despite nine straight quarters of declining same-store sales; reporting a decrease of 10.7% in revenue earnings in Q2 compared to last year. The decline in new hardware sales (19.4%) and software sales (9.3%) dragged quarterly earnings into the red. However, relief came with the positive figures seen in mobile sales, which expanded 121.4% and digit receipts, which grew by 17.9%. Those negative sales figure mentioned above were expected as the video game industry has shrunk for some time as gamers have shifted to free-to-play software on tablets and smartphones.
However, GameStop expects comparable-store sales to range from +11 to +15% for the third quarter of fiscal 2013, as reported in its earning guidance for Q3. One primary reason for the strong outlook can be attributed to the current buzz in the retail industry. Both Sony and Microsoft are expected to deliver their much anticipated new consoles. In addition, there are also some eagerly awaited games as well, most notably "Grand Theft Auto 5" and "Battlefield 4." GameStop is uniquely positioned to capitalize on the new, innovative products expect to come to market this fall.
GameStop, with its 6,544 company-operated stores in 15 countries worldwide, is expecting a massive boon from these fall releases. The company is projected to grow from $11 billion to $14 billion for 2014, increasing to $15 billion by 2015 (as shown in the below graph).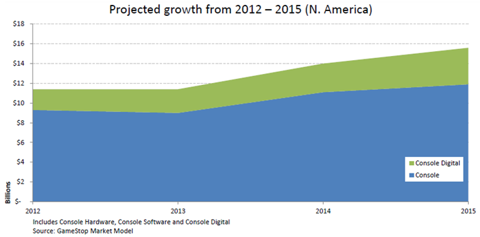 Click to enlarge
GameStop President Tony Bartel said in an interview on Thursday that sales from the recent launch of Disney's "Infinity," a children's video game, have exceeded expectations. On top of this recent bit of good news, forecast research from Power Up clearly indicates that the expected hottest-selling electronics for the next 12 months are all offered by GameStop stores.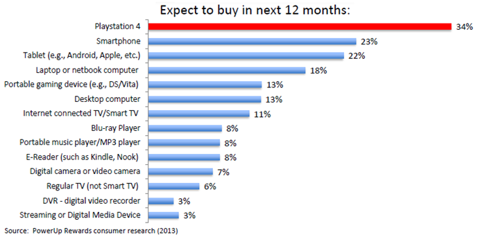 Click to enlarge
Earnings Forecasts
With fresh products expected on the shelves for the holiday season, 19 analysts (as polled by Yahoo Finance) have estimated positive earnings for the current quarter (to be announced Oct. 13), and into next quarter on (announced January 14).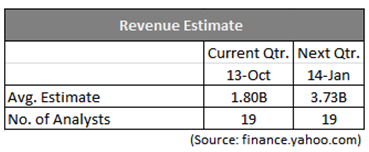 To this end, six analysts urge a 'Strong Buy,' while the majority recommend a buy or hold position
Conclusion
GameStop has a lot in its stable right now; earnings were solid and the company has performed well through a tough economic recovery.

Click to enlarge
Further, GameStop is gaining market share, a trend which is expected to continue through the third and fourth quarters. All of these factors have resulted in a solid positive return for shareholders. Institutional investors continue to add to their positions, even as many individual investors have begun to take their profits. I intend to follow the trend of institutional investors and will add to my position on any short-term dips.
Disclosure: I am long GME. I wrote this article myself, and it expresses my own opinions. I am not receiving compensation for it (other than from Seeking Alpha). I have no business relationship with any company whose stock is mentioned in this article.