Earlier in the day, I noted that I was adding high-yielding energy plays to my income portfolio during August's decline in the market. Reasonable valuations and rising oil prices, not to mention the standoff in Syria, make the sector attractive. In that vein, here are two more high-yielding energy plays that look like good values at these price levels.
Statoil ASA (NYSE:STO) is a Norway-based integrated energy company, engaged in the exploration, production, transportation, refining, and marketing of petroleum and petroleum-derived products in Norway and internationally. The stock is not expensive at around 9x this year's expected earnings and just 21% above stated book value. The shares also yield ~5%.
The company is picking up some positive catalysts recently. Statoil reported it struck oil offshore of NewFoundland the other day in a field that is believed to contain 100mm to 200mm barrels of recoverable oil. In addition, BofA/Merrill Lynch upgraded the shares to "Buy" from "Neutral" today and raised its price target to $25 a share from $23. The upgrade noted the shares carried "relatively low execution and political risk."
The company has raised earnings at just over an 8% CAGR over the past five years. In addition, the shares sell near the bottom of its five-year valuation range based on P/E, P/S, P/CF and P/B.
Transocean Ltd. (NYSE:RIG) is one of largest providers of offshore contract drilling services for oil and gas wells worldwide. The stock yields almost 5 percent (4.8%) and has drawn the interest of noted activist and value investor, Carl Icahn; who recently upped his stake in the driller to some 21.5mm shares. Given their yield, the shares are cheap at just over 8x next year's expected earnings. The stock is also selling near the bottom of the five-year valuation range based on P/B and P/S.
Revenues are tracking to just over 4% growth this fiscal year but consensus revenue growth is expected to accelerate to over 10% in FY2014 and the company has a ~$28B order backlog currently. The median price target by the 31 analysts that cover the stock is $57 a share, ~25% above its current stock price. The proposed energy reforms in Mexico could add some $2.5B annually to oil services firms according to BofA/Merrill Lynch. Most of this spending will accrue to majors like Transocean. Finally, the stock is just above technical support levels (See Chart).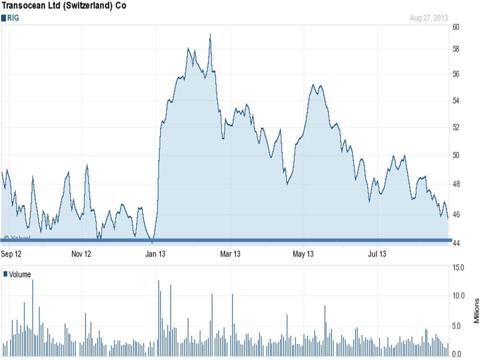 Disclosure: I am long RIG. I wrote this article myself, and it expresses my own opinions. I am not receiving compensation for it (other than from Seeking Alpha). I have no business relationship with any company whose stock is mentioned in this article.