The Company
Automatic Data Processing, Inc. (NASDAQ:ADP) is a $34.9 billion (Large Cap) global company and one of the largest providers of business outsourcing and human resource management solutions. A summary of its services are listed on its web site as a "wide range of human resource, payroll, talent management, tax and benefits administration solutions from a single source, and helps clients comply with regulatory and legislative changes, such as the Affordable Care Act." ADP also provides integrated computing solutions to vehicle dealers of all types and sizes. It is one of four U.S. companies that has a AAA credit rating from S&P--better than the U.S. government--, and it consistently out performs the S&P 500 index as well as increases its dividends regularly.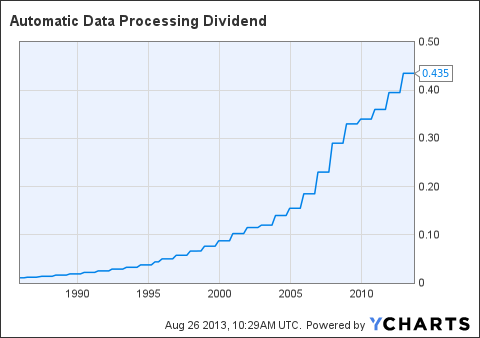 ADP Dividend data by YCharts
Recent Activity of Company
According to Yahoo Finance, ADP's share price increased 23.53% in the previous 52 weeks with a price range between $52.04 and an all-time high of $73.83 that was reached on July 22, 2013. It is currently selling at $72.03 (August 26, 2013). ADP has recently released its 2013 full year financial statements, and in my opinion its fundamentals do not support the spectacular rise in the price of its shares. The following is a list of red flags that lead me to believe that ADP's share price is selling at a substantial premium and that a correction is likely.
(1) Although ADP's revenue increased by 6.5%, its net profit after taxes actually decreased from $1.380 billion to $1.364 billion (-1%), and its total operating income and cash flow from operations also decreased. ADP's management blamed the low interest rate environment for the decrease in earnings. ADP is a payroll company, and it therefore requires its clients to deposit money with them to make the payroll payments. ADP invests the deposits until they are used and that is a high profit margin item. According to ADP the low interest rates caused a decrease in this revenue stream in the amount of $72.4 million. Management also forecasted that they expect this revenue decline to continue in the first quarter of fiscal year 2014. The chart below shows ADP's erratic and declining cash flow from operations as compared to its much smaller competitor's (Paychex, Inc. (NASDAQ:PAYX) flat trend.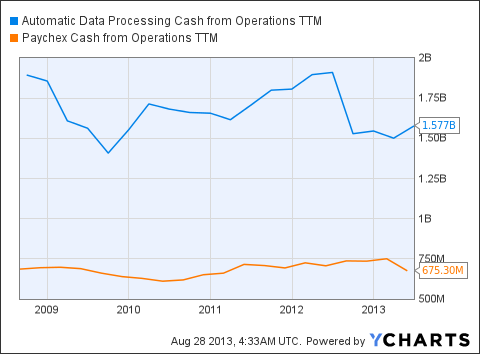 ADP Cash from Operations TTM data by YCharts
According to my calculations, ADP's average four year earnings growth is 2.5%, which included the 2013 decrease. ADP forecasted 7% revenue growth for 2014. Revenue growth in 2013 was 6.5%.
(2) According to my calculations, ADP's return on its share price based on its 2013 earning was 3.91%. Its five year average rate of return is 8%. I make this calculation by simply dividing the earnings per share by the current price of the security. I also do a similar calculation using the cash flow from operations after deducting capital expenses. The return using cash flow was 3.71%. Return on the current value of the security is important because from it you can determine whether the company is beating the rate of inflation, and by how much, as well as its relation to yields on U.S. Treasuries. The current inflation rate is 2% and the yield on a 10-year US Treasury is 2.73%. This means that ADP's real rate of return is only 1.91% after adjusting for inflation, and its return is only 1.18% higher than a risk free 10-year US Treasury.
(3) According to my calculations, ADP's four year average earnings growth is only .7%.
(4) ADP's current PE of 25 is at the high end of its historical range. According to my calculations its average PE over the last five years is 18.5. Below is a graph showing the PEs of ADP's and PAYX's over the last five years.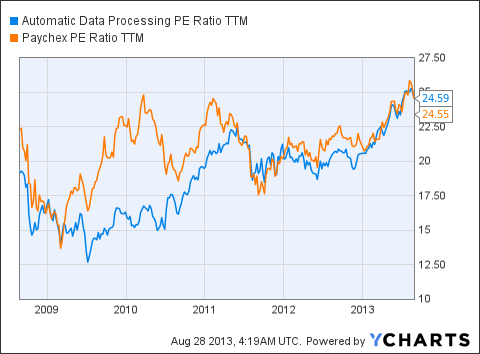 ADP PE Ratio TTM data by YCharts
(5) According to my calculations, at a 5% earnings growth rate it will take more than ten years before ADP's projected future earning are equal to its present market capitalization of $39.9 Billion.
All of the above factors are indicators that tell me the share price of ADP is selling at a premium.
Valuation
In analyzing a stock price I also like to use a present value of future earnings model to corroborate my other findings. For ADP I projected ten years of future earnings using a 6% growth rate. ADP's four year average growth rate is only .7%, but I nevertheless used the higher rate for the reason that I believe the last four years may have been somewhat skewed by the slow recovery from the recession, and also I took into consideration ADP's forecasts for revenue growth, as well as its AAA credit rating and strong balance sheet. The total projected earnings came to $42.39. I then calculated the present value of that figure using a 5% discount rate which I felt was reasonable in today's low interest environment. The result was a present value of $26.02. In order to get a range I then did a present value calculation using a 10% discount rate. That calculation showed a present value of $16.34. I then repeated the calculation using cash flow from operations after deducting capital expenses and came up with a range from $15.15 to $24.12. I used numerous variations because I realize that present value results can change substantially by simply applying small manipulations in a somewhat arbitrary discount rate. The ADP present value computations verify quite clearly that its shares are selling at a premium.
Summary
As a human resource and payroll company, ADP does well when the economy does well. Its performance is particularly sensitive to the overall employment environment. The recovery of the economy from the recession (especially unemployment) has been slow but steady, and we see this in ADP's revenue growth that has been steady but not spectacular. ADP's recent increase in stock price however, has been spectacular, and in my opinion it has simply outpaced the fundamentals of the company, thus making its share price due for a substantial correction. There are a number of economic and political catalysts coming up in the near future that could trigger such a correction to ADP as well as the entire market. To name a few; the turmoil in Syria and Egypt, the sequester, the future of quantitative easing by the Federal Reserve, the implementation of the Affordable Care Act, and the debt ceiling crisis. Any one of these events could be the catalyst, as well as a black swan event. I therefore am of the opinion that this is a good time for holders of the stock to take some profits.
Disclosure: I am long ADP. I wrote this article myself, and it expresses my own opinions. I am not receiving compensation for it (other than from Seeking Alpha). I have no business relationship with any company whose stock is mentioned in this article.
Additional disclosure: I am long on ADP but plan on selling a portion of my holding in the near future.