General Mills Inc. (NYSE:GIS), at its current price, is a must-have for any portfolio. I can confidently make that statement for a number of reasons:
General Mills has strong fundamentals due to its diverse, profitable, and growing portfolio of brands.
General Mills has consistently increased dividends while buying back shares in the process.
PE ratio compared to its competitor suggests the stock is undervalued.
General Mills' past performance has shown minimal volatility and above average returns.
General Mills is a member of the Free Cash Flow Frenzy stock screener, which has been a very good predictor of future outperformance.
Fundamentals
General Mills currently holds a Piotroski f-score of 6. The f-score is a score given to each security based on its financial health. The score is between 0 and 9; 9 indicating the company is very financially healthy and 0 indicating the company is in financial distress and the possibility of default could be right around the corner. Since the beginning of 2004, stocks with an f-score of 6 have outperformed the market on average. If you would have bought stocks when they had an f-score of 6 then sold them when they no longer had an f-score of 6 you would have produced an 8.91% annual return on average while the S & P 500 only produced a 4.13% annual return.
GIS has also shown strong sales growth over multiple years. According to our data, from 2011 to 2012 sales grew 7% and from 2010 to 2011 sales grew 12%. Sales growth from 5 quarters ago to last quarter was 8.5% and 7.5% from 6 quarters ago to 2 quarters ago. Sales will continue to grow as General Mills expands their portfolio of brands through acquisitions as well as enter into new markets internationally. General Mills currently generates over 33% of its revenue in international markets and that number is consistently growing. Their future global expansion plans are outlined very well by CEO Ken Powell in this video.
Another impressive find in General Mills' fundamentals is its amount of debt relative to its competitors. When comparing General Mills, ConAgra Foods(NYSE:CAG), Hillshire brands(NYSE:HSH), Campbell Soup Company (NYSE:CPB), Kraft Foods Group(KRFT), and Kellogg Company(NYSE:K), General Mills ranks best in many debt ratios outlined in the chart below:
| | | | | | | |
| --- | --- | --- | --- | --- | --- | --- |
|   | GIS | K | KRFT | CAG | CPB | HSH |
| Lt Debt/Equity % | 88 | 247.7 | 231.8 | 168.8 | 223.5 | 192.6 |
| Debt to Asset % | 70.6 | 83 | 81.4 | 74.2 | 84.4 | 80.1 |
| Lt Debt/FCF % | 4.2 | 11.8 | 6.8 | 16.4 | 8.8 | 14 |
Dividends, Buybacks, and the PE Mystery
Steady growth in sales has translated into dividend increases for General Mills' investors. The current dividend of $1.52 (paid quarterly) has increased 7 times out of the past 7 years which is illustrated in the data below: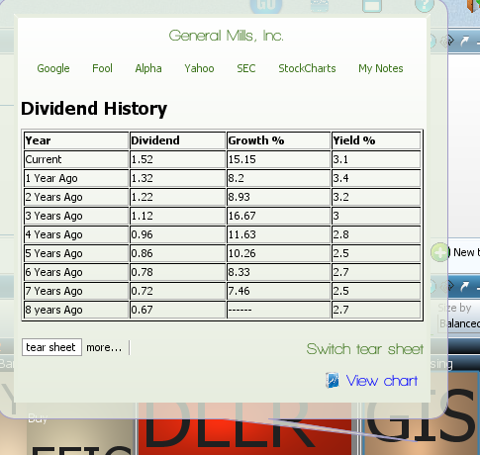 General Mills has continuously been able to decrease their number of shares outstanding through share buy-backs while increasing their dividend. According to Google Finance, General Mills currently has 640 million shares outstanding. In 2012 that number was 648 million, and in 2005 it was even higher at 715 million.
If dividend payments were completely reliant on the outstanding number of shares then from 2005 to today the dividend should have grown from $.67 to $.75. This is far from the case. From 2005 until today GIS has averaged a 10% growth in dividend while the economy has been growing around 3% a year. This tells us that GIS is experiencing robust growth despite it being know as a mature, defensive stock.
The PE of GIS currently is 17.65 while the PE of Kellogg Company sits at 23.55. The PE ratios suggest that sales at Kellogg should be growing faster than sales at General Mills, but that is not the case. Over the past 4 years the average trailing 12 month sales growth for K is 2.6% and for GIS its 4.99%. If GIS's price to earnings ratio was around Kellogg's price to earnings ratio, which sales growth suggests it should be, the price of GIS could be around $60 per share.
Low Volatility
General Mills has a beta of .18 which is in the bottom 8% of the market. For investors seeking lower volatility there are very few to no better stocks than GIS. Typically lower volatility means lower, safer returns, but for GIS that is not the case. Over the past year GIS is up 27% while the S & P 500 is up only 18%. Over the past 5 years GIS has given investors a 47% return compared to a 29% return from the market. Long-term past performance combined with recent price drop leads me to confidently say the time to buy GIS is NOW.
Free Cash Flow Frenzy
The Free Cash Flow Frenzy Stock Screener combines multiple criteria that had been revised and tested thoroughly until we had a strategy that consistently outperformed the market. The criterion that currently makes up the Free Cash Flow Frenzy Stock Screener is: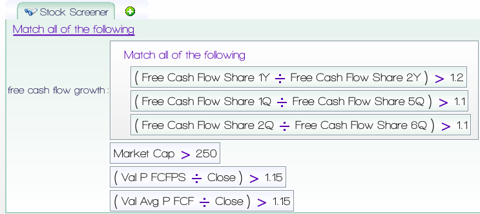 Click to enlarge
The terms above are locating stocks that are recently experiencing high growth in free cash flow, and stocks that are undervalued based on their amount of free cash flow. The result of the criteria is 19 stocks, one of them being General Mills. We are confident the Free Cash Flow Frenzy stock screener produces stocks that will out-perform the market on average based on its historical performance. We measure historical performance with our back test. Our back test buys securities as they enter a strategy then sells them as the exit the strategy.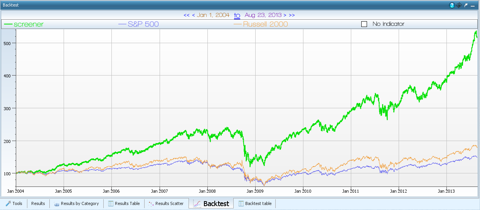 Click to enlarge
The green line in the graph above represents the strategies performance from the beginning of 2004 up until today, August 26, 2013. Starting from $100 the green line turns into $515 for a 415% total return while the S & P 500 has only given us a 50% total return. How about recent performance? Over the past year the strategy has produced a 43% return while the S & P 500 is only up 17%.
All Together Now
I have presented numerous reasons why you should add GIS to your portfolio including: GIS passing our Free Cash Flow frenzy Screen, solid fundamentals relative to its competitors, expansion into new markets and brands, a consistent and growing high dividend, share buybacks, and low volatility. Together these reasons create institutional and individual demand which should continue to drive GIS to new highs.
Disclosure: I have no positions in any stocks mentioned, and no plans to initiate any positions within the next 72 hours. I wrote this article myself, and it expresses my own opinions. I am not receiving compensation for it (other than from Seeking Alpha). I have no business relationship with any company whose stock is mentioned in this article.