So far this year, Philip Morris (NYSE:PM) has faced significant currency-related headwinds. As a result, Philip Morris has posted back-to-back disappointing quarters. This has caused the stock price for the company to fall to levels not seen since late 2012. IMO, this decline is overdone and has made Philip Morris massively undervalued. Besides valuation, several reasons to invest in Philip Morris include a compelling 4% yield, solid dividend growth, and large share buybacks.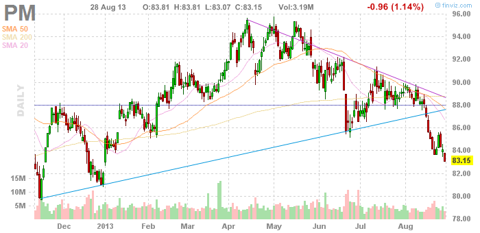 Philip Morris is trading at a discount to its historical valuation
Since early 2012, Philip Morris has typically traded at a premium PE ratio from about 17X to 18.50X. However, the stock price has fallen so much that it now trades at nearly a 16X PE. Philip Morris has clearly fallen well below its historical valuations. Philip Morris' stock price would need to gain nearly 15% if it were to regress to its 18-month average PE valuation. Do note that the TTM EPS has been trending downward, but this is mostly due to the above mentioned currency issues (strong dollar, weak euro). Excluding the impact of currency, Philip Morris' FY 2013 guidance points toward EPS growth of around 10% to 12%, which implies a PEG ratio of about 1.50X.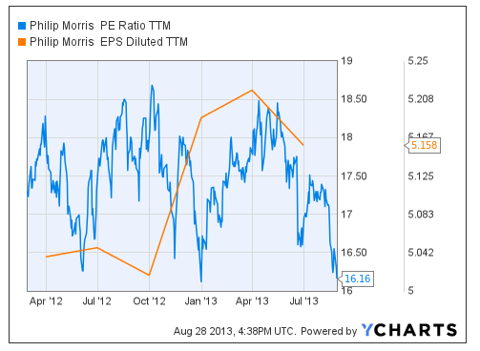 Dividend is well covered by both EPS and FCF
Some investors have noted that Philip Morris' payout ratios have crept up in recent quarters. While this is true, they still well cover the current dividend. Using EPS, Philip Morris' TTM dividend payout ratio is about 68%. This ratio is within the historical range of 60% to 70%. Somewhat more concerning is Philip Morris' FCF dividend payout ratio. Since early 2012, this ratio has been trending higher, from a low of 45% to the current 75%. However, these numbers may be misleading. Philip Morris noted in its Q2 2013 conference call that FCF was impacted by the timing of certain foreign income tax payments. In the conference call, Philip Morris reaffirmed that it expects FCF to level out as it estimates much stronger FCF growth in the latter half of 2013.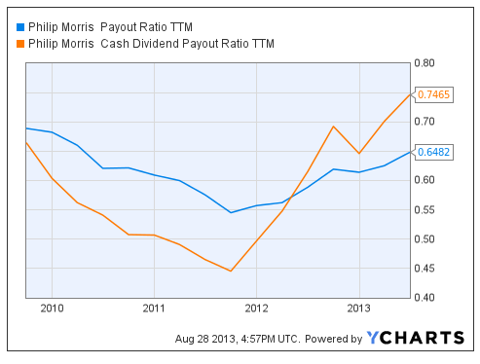 Philip Morris has a long history of dividend growth, with an increase anticipated soon
What good is a yield if it is not growing? While Philip Morris' current dividend yield of 4% is nice, investors should always demand dividend growth. In this regard, Philip Morris has continued the legacy of Altria (NYSE:MO), providing its shareholders substantial annual dividend increases since its 2008 spin off. Also encouraging is that Philip Morris is very likely to announce a dividend hike this quarter. Like Altria, Q3 has typically been the quarter when dividend increases are announced for both stocks. For a very good review of the expected dividend increase for Philip Morris please see this article from fellow SA contributor Bill Maurer.
I personally think Philip Morris' dividend increase will range from $0.05 to $0.07. While lower than prior increases, it would still amount to a 5.9% to 8.2% raise. My estimate is lower than most estimates as I think Philip Morris may want to decrease its payout ratio to more normal levels. The company has previously noted that it aims for a 65% dividend payout ratio.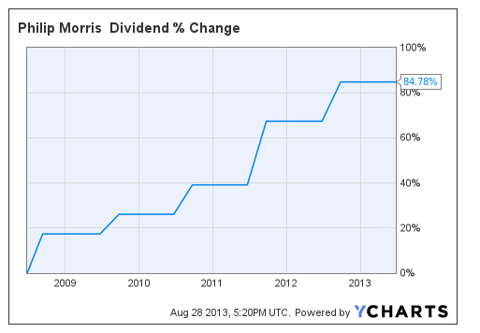 Philip Morris has been very aggressive in buying back stock
Since its spin-off from Altria, Philip Morris has been buying back large amounts of stock, repurchasing nearly 25% of total shares outstanding for nearly $31B over about 5 years. This is quite simply an astronomically large amount of capital being returned to shareholders, much larger than even dividend payments. When combining dividend and share buybacks, Philip Morris has averaged a 9.15% shareholder yield.
These share repurchases have been key in allowing Philip Morris to increase its EPS and dividends per share. In addition, they are not going to end anytime soon, with the company still having about $12B left under its current $18B, three-year stock buyback program.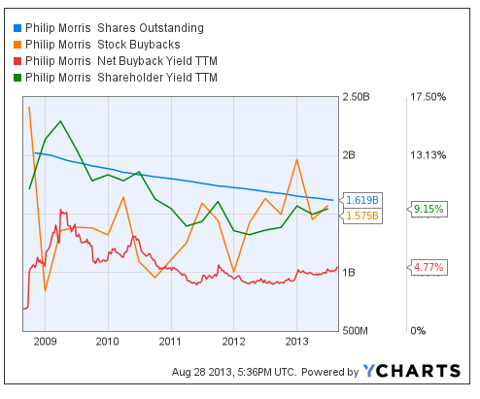 Conclusion
It is amazing that a strong stock such as Philip Morris can fall so quickly on little to no news. The recent stock price decline is a classic buying opportunity for long-term investors. At current prices, Philip Morris seems to be undervalued. The currency issues are concerning short term, but the stock buybacks and dividend yield offer compelling reasons to hold the stock.
Disclosure: I am long PM, MO. I wrote this article myself, and it expresses my own opinions. I am not receiving compensation for it (other than from Seeking Alpha). I have no business relationship with any company whose stock is mentioned in this article.
Disclaimer: The opinions in this article are for informational purposes only and should not be construed as a recommendation to buy or sell the stocks mentioned. Please do your own due diligence before making any investment decision.