With the global crisis in Syria seemingly heating up by the hour, the energy sector is thriving based on the expectation of another regional conflict. The price of oil just recently surged to a new overnight high of $112 per barrel and some experts are predicting that it could ultimately settle between $125 and $150. This type of surge is not uncommon when geopolitical or socioeconomic uncertainty rears its ugly head. We saw a similar reaction in the energy markets in 2011 when the U.S. was engaged with keeping peace in Libya.
Not surprisingly we are seeing a great deal of strength today in ETFs that track both the underlying price of crude oil as well as energy stocks that stand to benefit from higher oil prices. The United States Oil Fund (NYSEARCA:USO), which tracks the daily price of light sweet crude oil, just hit new year-to-date highs and is now more than 27% above its April low. USO has benefited from strong demand and low oil inventories during the summer peak demand season which has led to higher energy prices. Any type of retaliation or conflict in Syria could lead to a very rapid surge higher in USO as well.
One of the largest ETFs tracking energy stocks is the Energy Select Sector SPDR (NYSEARCA:XLE). This ETF is comprised of 45 large-cap companies and is heavily weighted towards the three largest holdings in Exxon Mobil (NYSE:XOM), Chevron Corporation (CVX) and Schlumberger Limited (NYSE:SLB). Combined those three stocks make up more than 37% of the fund's holdings.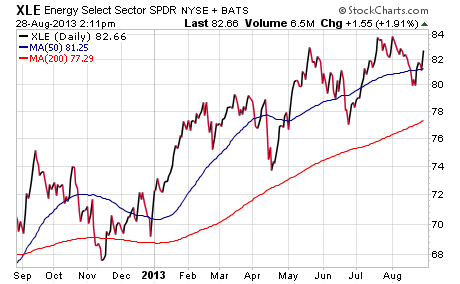 Despite bouts of volatility, XLE has gained over 15% this year amid strength in oil prices. Probably the biggest worry for this ETF is the flagging performance of its largest holding in Exxon Mobil. Exxon has failed to keep pace with the rest of the sector and is trying desperately to keep from slipping into negative territory for the year. The combination of the stock price being oversold in conjunction with the Syria conflict has propped Exxon for the time being. However, it remains to be seen whether or not this stock will be able to regain momentum for the remainder of the year.
So how should you play the energy sector given both the technical and fundamental factors at work?
Your Energy Sector Game Plan
If you believe that conflict with Syria is inevitable, then we will most likely see a continued surge in oil prices based on supply concerns. The easiest way to benefit from a surge in oil prices is to use an ETF that is directly correlated with crude such as USO. However, new investors should be aware that USO is structured as a partnership in order to participate in purchasing commodities futures contracts. What this means to you is that any investor in the fund will receive a K-1 at the end of the year that will have to be dealt with on your tax return.
One way to avoid this headache is to consider using an exchange-traded note such as the iPath S&P GSCI Crude Oil ETN (NYSEARCA:OIL). This fund tracks a very similar index to USO and will have comparable returns without the tax headache.
As for energy stocks, they may encounter more of a headwind if we see a conflict drag down the broader stock market as investors get skittish. However, they will likely hold up better than other sectors if crude oil prices continue to remain strong.
No matter how you play this sector, I highly recommend that you consider using a stop loss on any new or existing positions to define your risk. There is still the potential for a great deal of volatility in this space that can't be ignored.
Disclosure: I have no positions in any stocks mentioned, and no plans to initiate any positions within the next 72 hours. I wrote this article myself, and it expresses my own opinions. I am not receiving compensation for it. I have no business relationship with any company whose stock is mentioned in this article.
Additional disclosure: David Fabian, Fabian Capital Management, and/or its clients may hold positions in the ETFs and mutual funds mentioned above. The commentary does not constitute individualized investment advice. The opinions offered herein are not personalized recommendations to buy, sell or hold securities.